More than a fifth of all U.S. adults (22 percent) currently own tablet PCs, and of those adults roughly 52 percent of them use iPads, according to a new report from the Pew Research Center's Project for Excellence in Journalism called, "The Future of Mobile News." The remaining 48 percent of American adults own Android tablets, 21 percent of which are Kindle Fire devices, Pew says. (A year ago, 81 percent of tablet owners used iPads and 15 percent used Android tablets.)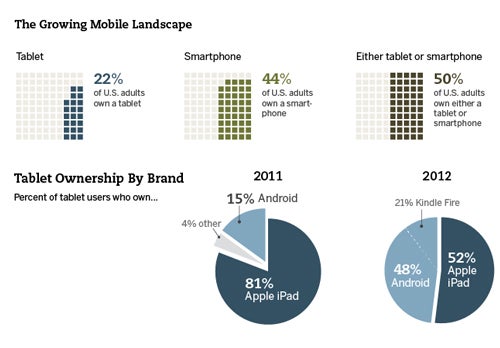 That means there's even less competition in the tablet space than there is in the smartphone market, where Android (51.6 percent) and iOS (32.4 percent) still dominate, but RIM's BlackBerry OS holds somewhere around 10 percent share and Microsoft has about 4 percent of the market, according to ComScore. No BlackBerry PlayBooks. No Windows tablets or HP TouchPads—or at least so few of them that they didn't even represent a single percentage point to make Pew create an "other tablets" category.
The Pew report is based on responses from 9,513 U.S. adults, and it is meant to study the news-consumption habits of U.S. tablet users, but it also offers some interesting insights into how Americans are using mobile devices in general.
The number of Americans who own tablets has doubled in the past year to 22 percent, according to Pew, and an additional three percent of adults regularly use tablets owned by someone else in their households, meaning one quarter of all U.S. adults frequently use tablets. (Forty-four percent of respondents own smartphones.) Of the respondents that don't currently own a tablet, 23 percent said they're planning to buy one in the next half year.
Check out the infographic below for a look at how Pew's respondents are using their tablets. And visit the organization's website for more details on the report.
AS