Microsoft's move over the past three years to an affordable cloud-based email, collaboration and productivity suite was a necessity to combat Google Apps. But getting past the education/small business level and into the enterprise has proven difficult.
A brief history: In 2009, Microsoft launched BPOS (business productivity online suite), which made lightweight online versions of Exchange, Sharepoint, Live Meeting and Office Communicator (later Lync) accessible via the cloud. Microsoft charged businesses — mostly small businesses, schools and government agencies — $120 per user, per year.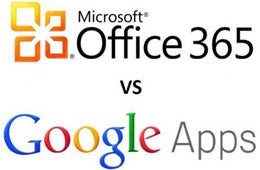 BPOS was able to curb the Google Apps surge as it provided a similar Web-based e-mail and collaboration suite with Microsoft products that many people were accustomed to using.
In late '09, MIcrosoft cut prices for the full BPOS suite by one-third, from $15 to $10 per user, per month and cut prices for its Exchange Online only e-mail offering in half, from $10 to $5 per user, per month. Google Apps — which includes Gmail, Postini hosted e-mail security and archiving, Google Docs and Google Sites — is $50 per user, per year.
Throughout 2010, Microsoft and Google went head-to-head for cloud migration business, mostly from city and state government agencies. But enterprise cloud business has been the exception, not the rule, for both companies; if an enterprise did move to Google Apps or BPOS, it was usually just to offload its labor-intensive email servers.
About a year ago, Microsoft did a much-needed overhaul of BPOS and named it Office 365, adding more enterprise-level support and new features such as the 2010 versions of Exchange, SharePoint and Lync as well as Microsoft Dynamics CRM Online and a copy of Office Professional Plus desktop version.
At the time of Office 365's release I wrote a story "Office 365: It's Not Just for SMBs" saying that enterprises are not likely to go all in for the full Office 365 suite yet, but will do a hybrid approach by, say, keeping a Sharepoint server going while farming out Exchange to the Office 365 cloud.
A year has passed and while Office 365 has predictably seen adoption by small businesses, schools and government agencies, it has yet to crack the enterprise shell.
A CIO.com feature story this week by Paul Rubens covers this subject in depth. Why such anemic Office 365 penetration in the enterprise? One reason is that the time and effort of an enterprise-level cloud migration are not worth the potential cost savings, which could take two years to recoup, according to Wes Miller, an analyst at Directions on Microsoft, who is quoted in the story.
Also, operational team members may no longer be needed if Exchange, SharePoint and Lync are moved to a cloud model. If these are the people making the decision to move to Office 365, why would they intentionally make their jobs unnecessary?
For its part, Microsoft is bolstering Office 365 reseller enterprise support and incentivizing partners to help enterprises do migrations.
The importance of Office 2013 also comes into play. The next iteration of Office, likely available early next year, is designed to stream from and be backed up to the cloud through Office 365 and Microsoft SkyDrive, while also offering traditional desktop versions.
Time will tell if Office 2013 will ease enterprise fears about migrating productivity and collaboration apps to the cloud. But for now, the enterprise is a tougher sell for Office 365 than Microsoft had planned and reflects the hesitancy enterprises still have in moving out of the data center.
Read the full CIO.com story: Office 365 Earns High Marks in Education, Struggles in Enterprise