I'll spare you another rant about Apple's Maps app, which replaced Google Maps on iDevices and seemingly infuriated just about everyone.
In fact, you won't be seeing a review of Apple Maps from me for at least three weeks, if you see one at all. Why? Because my iPhone 4 doesn't support the app's spoken turn-by-turn navigation, which I've already complained about (see "3 Things to Love about iOS 6—and 2 to Hate"). And apparently the iPhone 5 I ordered won't arrive for another three weeks.
So let's move on to a few more things in iOS 6 that are worthy of love, hate, and a big fat meh. First up, the bad stuff.
Hate: Lots of iOS Bugs
Last week, I attempted to connect my iDevice with iOS 6 to a Wi-Fi network at a café I frequent. Rather than getting online, I was stalled by an odd Apple.com Web page. Turns out, iOS checks an Apple Web page to ensure that a given Wi-Fi network doesn't require a login. And for some reason, that page was down. The issue has since been fixed. But I never had this problem in the past.
Lots of iOS 6 users continue to experience Wi-Fi headaches. Some users say the Wi-Fi option is grayed out on their devices, so they can't use Wi-Fi at all. As of this moment, there are 93 pages on Apple's Discussion Forums about the disabled Wi-Fi issue.
My CIO.com blogging colleague Tom Kaneshige experienced iOS 6 roadblocks, too. After upgrading to iOS 6 on his iPad, he spent several hours trying to resolve a problem downloading apps. Tom discovered he wasn't alone. Read his "iOS 6 Breaks My iPad" for the details.
Unfortunately, there's no Apple-sanctioned way to downgrade to iOS 5.1.1 either, according to TechRepublic. So you need to simply deal with the issues until they're resolved, return your new iDevice—or jailbreak it.
Meh: Not Impressed by Passbook.
Passbook is Apple's new app that puts your airline boarding passes, retail coupons, concert and movie tickets, and loyalty cards in one place. Because Passbook is new, not many apps in Apple's App Store support it—and yet, Apple announced Passbook back in June. Seems like that would have given Apple plenty of time to line up a lot of partners. As of this writing, however, there are only 11, with Starbucks supposedly coming on board this weekend. (Here's an iTunes Store link to Passbook apps.) Time will tell how great or not-so-great Passbook will be, but for now, it gets the meh treatment.
Love: App Store Doesn't Kick You Out During Downloads
Apparently, Apple once believed that when users downloaded an app from the App Store, they wanted to be immediately ejected from the store. Apple must have thought users were dying to see the new app's icon on their screens so they could watch the download progress bar. But with iOS 6, Apple figured out that people might actually want to stick around in the App Store after downloading something. Come to think of it, that's not such a bad idea for Apple, either, given that the company gets 30 percent of App Store sales.
Love: Email VIP Alerts
When I receive mail from a select group of people, I want to read those messages ASAP, and iOS 6's new VIP feature in mail makes doing so very easy—after some setup.
To start a VIP list, you must first open the Mail app. Then, find an email from, say, your spouse. Tap on your ball-and-chain's name in the "From" field of the email, and a box pops up to show you that person's contact info, with an option to "Add to VIP." After you start your list, go to Settings > Notifications. Make sure the Mail app is in your Notification Center. If it isn't, turn on notifications in the Mail app's settings. Then, in Mail's Notifications options, you can choose the alert style, if you want a "new mail" sound to play, and so on.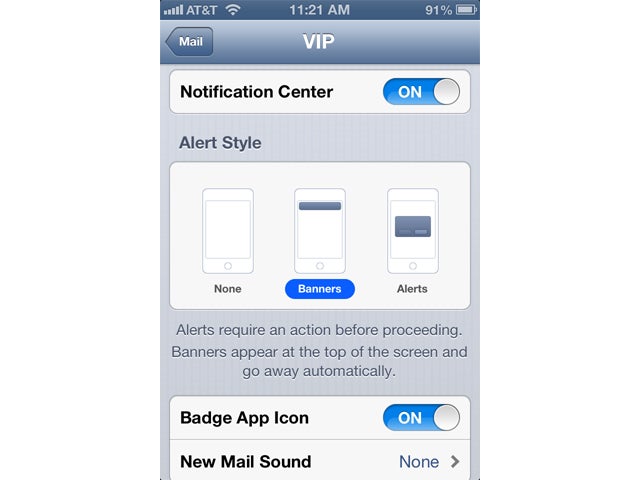 Now it's your turn. What features of iOS 6 incite your feelings of love, hate, and plain old meh? Let me know in the comments below.