The IRIScan Anywhere 3 is a battery-powered, compact scanner that makes it easy to scan paper documents for digital storage. Scanned documents can be saved in the gadget's onboard memory, to an SD memory card or on a USB flash drive.
The power button on the IRIScan Anywhere 3 scanner
IRIScan Anywhere 3: Portable, Versatile Scanner
The portable scanner has a built-in rechargeable battery that the company says is good for capturing up to 100 A4-sized (Letter) documents. It has 512MB of built-in storage space, and you can access stored files via PC by using the provided USB cable.
THE IRIScan Anywhere 3's SD-card support lets you copy images to an iPad using the Apple iPad Camera Connection Kit. In other words, workers with iPads can sync scanned documents to the Cloud or upload them to a document-management system without having to go back to the office.
My Experience with IRIScan Anywhere 3
The IRIScan Anywhere 3 is intuitive to use. The gadget has just one button, and tapping it switches the device on. You insert a sheet of paper to trigger the sheet feed mechanism, and you can turn the scanner off by holding the power button for two seconds. It will also automatically power down when not in use.
Don't expect razor-sharp text or perfect color capture with the IRIScan Anywhere 3, though. I also noticed that its sheet-feed mechanism causes the occasional skewing. But overall, the cordless scanner performed quite well in my tests; image quality was perfectly acceptable for capturing information on receipts, bills and brochures. The bundled Readiris Pro software is a powerful utility that allows you to perform OCR (Optical Character Recognition) and upload scanned documents to Cloud services including Dropbox, Evernote, Google Docs or Box.net.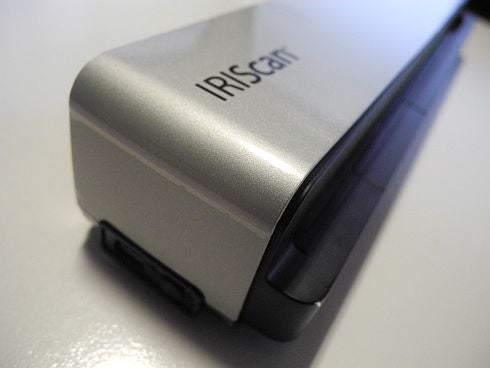 Side view of the IRIScan Anywhere 3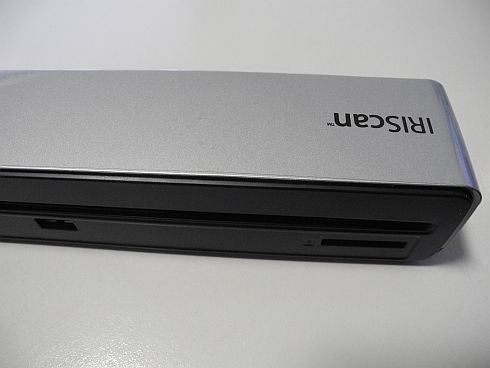 Note the USB port on the left and SD Card slot on the right
The IRIScan Anywhere 3 is charged via USB cable, which allows the gadget to be recharged from a standard USB adapter or external battery pack. (Check out my list of three great external battery packs for charging all of your gadgets here). The scanner also comes with a mail-in rebate for an SD card, a one year subscription to Evernote Premium and a license for the Cardiris Pro business-card-recognition software.
A clearly illustrated "Quick Start" sheet would have been useful. The indicator lights can be confusing, and even after reading the full manual I'm still unsure of how exactly they work.
Conclusion: IRIScan Anywhere 3
At $200, the IRIScan Anywhere 3 is a bit pricey. But professionals who deal with a lot of paper while on the road, or folks who are determined to go paperless, should find it to be a worthy investment. Standalone scanners offer higher quality scans, but the IRIScan Anywhere 3's portability gives it an advantage over desktop units.