If you frequently find yourself running low on smartphone- or tablet-battery life it may be time to pick up an external battery pack. Here's a list of three of the latest and greatest external battery packs that are designed for use with both smartphones and tablets.
(If you're an iPhone 5 user, you may also want to check out my list of "5 Top-of-the-Line iPhone 5 Cases")
HyperJuice 2 External Battery
At 1.6lbs (0.73kg), the HyperJuice 2 is the heaviest external battery featured here, but its large 27,000mAh battery will recharge your iPad, iPhone and other smartphone or tablet several times on a single charge. In fact, the HyperJuice 2 can even power a MacBook–with an Apple MagSafe Airline Adapter–for up to 18 hours of power. An OLED screen shows detailed battery information, including the percentage of power remaining, battery temperature and the estimated time to fully charge (or discharge). Finally, a modular design allows battery cells to be upgraded individually.
Price: $300
Sony CycleEnergy (CP-F2LSAVP)
Announced earlier this week, the Sony CycleEnergy "CP-F2LSAVP" external battery has a lithium-ion polymer battery and a unique half-inch thick design. Its slim profile and light weight of 6.9 ounces (198 grams) make it possible to use your smartphone while recharging. It has a battery capacity of 7,000mAh and a 2.1A output. And you can charge two smartphones simultaneously via its two USB ports. The CP-F2LSAVP should be released in Japan on November 14, though it's unclear if the battery pack will be available in the United States.
Price: $89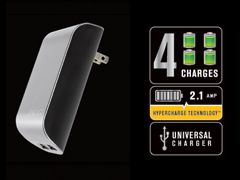 ZAGGsparq 6000
Designed to be a heavy-duty portable power station for both smartphones and tablets, the ZAGGsparq 6000 offers 6000mAh of juice via two USB ports. And it can also be used as a wall charger for your devices. According to ZAGG, built-in Hypercharge technology provides 2.1A output, which can recharge your device up to four times faster than a standard USB charger. The ZAGGsparq 6000 has 5 LEDs to indicate battery level, and it is available now.
Price: $100