Microsoft may be Nokia's exclusive mobile partner, but do the folks at Redmond really have Nokia's back?
That question came into the spotlight this week as phone maker HTC and an enthusiastic Steve Ballmer announced two new smartphones running Windows 8: the Windows Phone 8X HTC and Windows Phone 8S HTC. At the announcement, Ballmer, standing with HTC CEO Peter Chou, called the 8X "truly a Windows Phone hero product … Together with HTC, we have a very clear branding and go-to-market strategy."
HTC President Jason Mackenzie followed that by stating that the two new phones "are the signature phones of Windows Phone 8." This is clearly a shot at Nokia, flavored with a more passive aggressive message from Microsoft to Nokia: Sell some Windows Phones because we'll gladly put marketing muscle behind someone who can.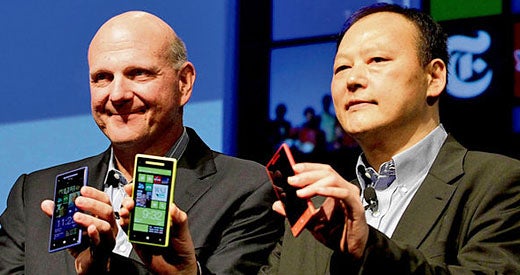 Microsoft CEO Steve Ballmer and HTC CEO Peter Chou.
Microsoft CEO Steve Ballmer and Nokia CEO Stephen Elop.
Notice that the words "Windows Phone 8" are in the official title of the HTC phones, but are not in Nokia's new Lumia 920 and 820 phones.
After almost two years on the market Microsoft's Windows Phone platform has not been able to break through to consumers. U.S. mobile market share for Windows Phone currently sits at 3.8 percent, according to online market tracker, comScore. Putting the actual name of the OS in the official name of the phone is a, seemingly obvious, way to increase brand awareness.
With mobile competitors as daunting as Apple and Google, Microsoft is going to do whatever it takes to compete, partner loyalty be damned, says veteran tech analyst Roger Kay.
"Microsoft will saddle up as many handset makers as possible with Windows Phone 8," says Kay. "Google and Samsung are on the ropes from Apple's legal action, and Apple is still problematic with many enterprise customers. BlackBerry, Symbian and webOS are no longer factors. So this is a great moment for Microsoft to take its best shot."
Both Windows Phone 8 phones from HTC are good-looking phones with solid specs that are comparable to the Nokia Lumia phones (though no wireless charging from HTC). The higher-end phone, the 8X, has a 4.3-in. Gorilla Glass display capable of 720p (1280 x 720) resolution, weight is a little under 4 oz., it has a Qualcomm 1.5GHz dual core processor, 16GB of storage, and an 8-megapixel camera.
Although there may be some double-cross going on here, it's really just two companies – Microsoft and HTC — serving their own interests.
Microsoft needs to start moving Windows Phones immediately, so shifting to HTC, a brand more popular than Nokia in the U.S., and putting Windows Phone 8 in title are both sound strategies. HTC is likely suffering from Android fatigue (competing with Samsung and Motorola on Android can't be a lot of fun) and is therefore happy to embrace a new friend in Microsoft.
Nokia is understandably not happy with HTC. The company's marketing chief Chris Weber responded with some fightin' words via Twitter and an official statement, accusing HTC of "tactically rebranding its products" while Nokia commits to building a franchise exclusively around Windows Phone.
As if Nokia has a choice, this being an exclusive partnership and all.
As analyst Kay mentioned, maximizing phone volume for the holidays is all that matters so it's understandable that Ballmer is committing a little adultery here.
But still, this latest spat between HTC and Nokia shows that Microsoft's partner-driven model of the PC market may create havoc and infighting in the more competitive smartphone game.