The maker of the ioSafe family of fireproof, waterproof data-storage products this week took the wraps off its new ioSafe N2 Network-Attached Storage (NAS) appliance. The dual-drive NAS offers fire and water protection, and adds network connectivity, RAID, and a handful of additional features. It also uses a Synology DSM motherboard.
Disaster-Proofed Network-Attached Storage
The ioSafe N2 NAS runs on the open-source DSM operating platform, which means the ioSafe N2 supports PCs, Macs and other mobile platforms out-of-the-box for fast file sharing on a local network, as well as global accessibility over the Internet. In fact, DSM can be configured to enable two ioSafe N2 units to perform block-level backups over the network.
Unlike your typical NAS, the ioSafe N2 not only comes with the company's robust fire and water protection, it can also be bolted to the floor. The N2 holds two 3.5-inch or 2.5-inch hard disk drives (HDD) of up to 4TB capacity each, according to ioSafe. Other notable specifications: a Gigabit LAN port; two USB 3.0 ports; one USB 2.0 port, an SD card slot; 512MB of DDR RAM; and a weigh of 28lbs (12.7kg).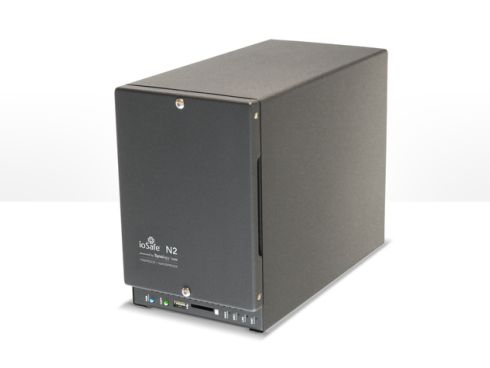 The ioSafe N2 Network-Attached Storage prototype
The ioSafe N2 with its front door and waterproof door removed
The NAS appliance has a built-in SD card reader
ioSafe eschewed a standard product release and opted instead to put the N2 project on www.indiegogo.com for funding.
"If you surf around the internet, you'll see ioSafe products everywhere – both in the news and for sale. You might think we don't need Indiegogo but we do," explained founder Robb Moore on the N2's Indiegogo page. "We've been growing quickly over the last four years which is, for the most part, fantastic. The downside is that growth can be painful if you're paying for next month's growth with sales from 4 months ago while doubling every year."
The ioSafe team is looking to raise $150,000 to pay for high-volume production tooling, component orders and various emissions and testing certifications.
How to Get the ioSafe N2
The diskless model of the ioSafe N2 will be priced at $599, and it is currently being offered for $499 until the funding period closes on October 18. (Shipping is free in the United States, but additional charges may apply for certain regions and Canada).
As a bonus, early supporters who snag one of the 100 units under the "Extreme Early Bird" offer will get additional benefits including a bonus of 2TB storage capacity for every $250,000 raised. This is applicable up to a maximum of 6TB, which means you could get a fully decked-out ioSafe N2 with two 3TB HDDs for $500 if the project hits $750k funding.
Read more about the ioSafe N2 or watch the video below for more information.