The ZAGGfolio for the iPad 3 is a slim folio-style case with a detachable keyboard that's designed specifically for use with Apple's new iPad. The ZAGGfolio's removable Bluetooth keyboard and built-in stand are ideal for on-the-go tablet typing. When detached, the keyboard also serves as a dock for your iPad or other compatible tablets.
Side view of the ZAGGfolio
The ZAGGfolio fits extremely well, and its design is well thought out. Precise cutouts provide easy access to the iPad's dock connector, power button, volume controls and slider lock. The iPad's speakers and cameras also aren't blocked, but its corners are covered to protect them from bumps and drops.
A latch mechanism locks securely into place when opened, and an embedded magnet automatically puts the iPad to sleep when the cover is closed.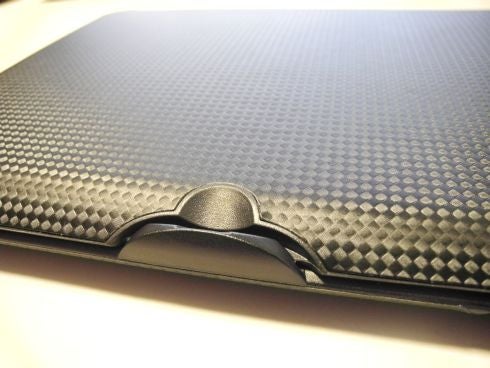 The latch mechanism locks securely into place
Side profile of the ZAGGfolio
The keyboard can be easily detached without the use of any tools. Users who are familiar with ZAGG's product line will quickly see the similarities between this keyboard and the ZAGGkeys SOLO. But the ZAGGfolio doesn't support Android tablets. When the keyboard is removed the ZAGGfolio still functions as a protective case.
Note: You'll want to be careful when removing the keyboard. I wasn't so careful, and I ended up cracking part of the plastic rail that hold the keyboard in place. Setting the ZAGGfolio on a table or flat surface before removing the keyboard should prevent this from happening to you.
Microfiber lining inside the ZAGGfolio
When detached, the keyboard functions as a dock that works with a number of tablets
Conclusion: ZAGGfolio for New iPad
The ZAGGfolio for new iPad is available in a wide range of colors and styles, and the polyurethane version costs $100 for both the keyboard and folio case. The leather folio case will set you back an additional $30. If you already own the ZAGGkeys SOLO keyboard, you can buy the folio case without keyboard for $30.
In my opinion the ZAGGfolio is one of the most versatile keyboard-and-case combinations currently available for the iPad. When the ZAGGfolio is equipped with both a keyboard and an iPad it feels somewhat heavy, but overall it's an excellent combination of elegance and protection.