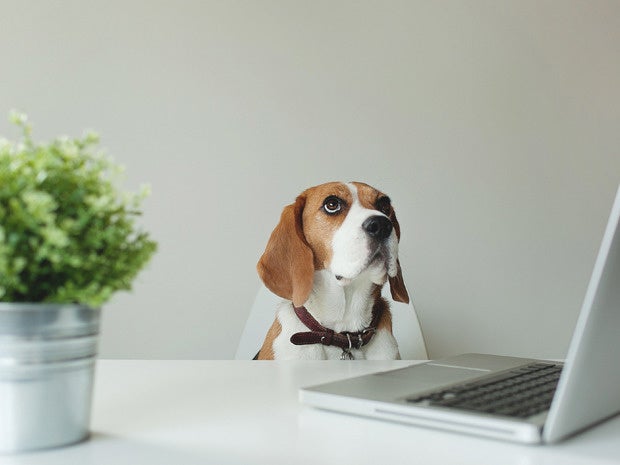 9. Pets must be supervised
"Even the best-behaved pets get into trouble now and then, especially in a new environment," says Radak. So only "bring your pet to work on days that you can keep an eye on [him or her]. Have a lot of meetings? Working on a deadline? Going out to lunch? Maybe that isn't the best day to bring Fido to work."
"Each employee has a task and babysitting or tending to your dog is not his or her job," says Steve Acree, owner, Seismic Audio Speakers, a dog-friendly business. "If your dog is constantly following other employees or going in to other offices or begging for food while employees eat, then he or she should be left at home."
10. The pet must be comfortable being around people (other than its human)
"Nothing's worse than having someone bring in their dog and for the [dog] to spend the entire time barking, or to growl if you get too close," says Jason L. Bauman, junior SEO associate, Trinity Insight, an ecommerce consulting and optimization company that allows employees to bring their dogs and cats to work as long as a few basic rules are followed.
"We constantly have people coming in and out of our office, so any dog that is in the office needs to be trained well enough that they don't jump on an unsuspecting visitor," says Jake Lane, growth analyst, LawnStarter. "While we all love dogs in the office, not all of our visitors do. If the dog can't handle new guests, we ask that they are leashed [and in] an area where they won't cause any issues with guests."
11. The pet must be OK around other animals
"We haven't had many days where two employees brought their pets in at once," says Bauman. "But the last thing we want is for two pets to get into a fight, or one to be terrified of the other."
12. The animal can't be super hyper
"We work in a small office that covers two levels connected by stairs," says Bauman. "Since we spend most of our time researching and writing, the last thing our productivity needs is a dog that will run up and down the stairs nonstop, or get excited whenever anyone walks by our office door."
13. Come prepared
"Make sure that if you bring your dog in to work, that they have everything they will need throughout the day," says Lane. "Whether that is their favorite toy, food or a bed, it's best to make sure that they will be well accommodated so you can work through the day."
14. Clean up after your pet
Bring plastic baggies with ties for taking care of dog poop. And if your dog has an "accident" inside the office or office building, be prepared to clean it up.
Also, "don't forget the fur remover brush!" says Elinor Mills, vice president of content and media strategy at Bateman Group, an integrated PR and social media communications firm. This way "you can clean up before an important client meeting, [and] your co-workers will thank you when they see traces of your pet [fur] on their clothes. In a pinch scotch tape works great too."