7 tech giants share their core values
Companies such as Apple, Amazon and Google are so entrenched in American culture, it's hard to remember that they're businesses with a mission and company culture. MidAmerican Nazarene University studied these seven companies to determine what they value most outside of the bottom line.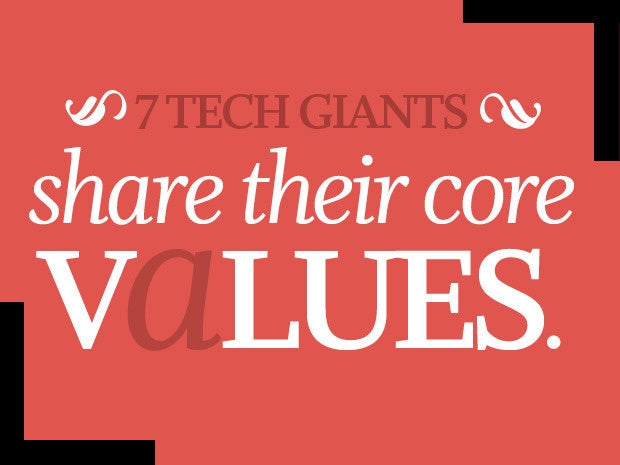 Tech giants share their core values
Tech companies often seem so large that it's easy to forget they were once startup businesses. And, along the way, successful businesses take time to develop strong mission statements based off the core values of the company.
What values lie at the core of the country's most successful businesses? MidAmerica Nazarene University gathered data on the seven biggest tech firms in America to catalog and rate the core values of each company. While some of the values are obvious, such as communication and excellence, others might surprise you.
Apple
It's probably an understatement to say that Apple has made its mark on the tech industry since it was founded in 1976; it's hard to go a day in America without seeing that familiar Apple logo in coffee shops, airports, offices and anywhere else people tote their devices. The company has changed the way consumers view devices by emphasizing high quality and aesthetics as much as software and hardware. But, while we know what Apple values in its products, what does it value internally as a company?
The first on Apple's list of values is that it believes its main purpose as a company is to bring great products to the planet. The company also values simplicity and avoids complexity, be it in hardware or software. This simplicity also extends to only working in markets that the company feels it can contribute to and saying "no" to projects in order to maintain a strong focus on building quality within a few areas. As a company, Apple also believes in maintaining ownership and control over technologies beyond Apple products.
Ultimately, Apple values excellence throughout the entire company, from storefronts to corporate offices, and believes that as a company it can admit when it's wrong and learn from its mistakes. It's also one of the only companies to list "saying no," as a core value, but according to the data from MidAmerica Nazerene University, it does share a number of values with other companies including selectivity, collaboration, simplicity and courage.
Google
According to the MidAmerica Nazarene University, Google's leadership values were derived from Project Oxygen, when analysts interviewed 400 Google employees to discover the most important values for leaders. Google, once a revolutionary search engine, has become a mainstay in the technology industry with a long list of software and hardware to its name -- and it hasn't gotten there by mistake.
One of the most important values for Google is empowerment and avoiding micromanagement. But while micromanagement is off the table, Google still values productivity and results, and believes that management should maintain a healthy interest in direct reports surrounding their success and overall well-being. Google also thinks management should help employees realize their career development goals and guide them on the path to success by fostering a clear vision and strategy for the team.
Google focuses on openness, general ethics and corporate citizenship to motivate workers to help keep the tech giant a major player in the industry. It's also one of the only companies to list fun and freedom as core values, but it also shares quite a few other values with other companies on the list, including selectivity, openness and democracy.
Microsoft
Another veteran in the technology industry, Microsoft's core values are straightforward and to the point. In fact, many of Microsoft's corporate values are what most people would most likely expect from any company.
These values include integrity, honesty and openness, which compared to some other principles listed here, seem vague. As a company, Microsoft also cares about personal excellence as well as constructive self-criticism and continual self-improvement. All of this is fostered by an expectation of mutual respect, which is something that workers in any industry would hope every company values.
To Microsoft, it's less about innovation and democracy, and more about each employee as an individual. The company values self-motivated workers who are invested in self-improvement, who can learn and build from mistakes and help foster an open and honest work environment. Interestingly, it is one of the only companies on this list that rate self-criticism and self-improvement high on its list of core values. When considering the company's history with lukewarm receptions to certain products -- like the infamous Windows Vista -- it's easy to see that Microsoft takes this self-criticism and improvement to heart by listening to consumers and constantly trying to improve its software and products.
IBM
IBM has been a mainstay in technology since the 19th century and is one of the few tech companies that can boast that type of heritage. In addition to its longstanding history, employees from IBM have earned a total of five Nobel Prizes, four Turing Awards, five National Medals of Technology and five National Medals of Science. With those accolades, it's safe to bet that the company has spent some of its time since 1880 working on developing a strong mission statement.
IBM values respect for the rights and dignity of every individual and delivering the best possible customer service to the consumer. Other values include excellence as a way of life, which means that every part of the business needs to be operating at full capacity, and that managers need to be effective leaders with a sense of passion for the job and aggressive management. As a company, IBM also values its stockholders, viewing them as the company's source of job security and revenue.
Similar to other companies on this list, IBM is dedicated to excellence and innovation, but it's the only company of the seven to list an obligation to stockholders as a core value and priority. Overall, IBM is focused on being a "good corporate citizen" and offering fair deals on quality goods and services.
Oracle
Another long-standing tech company Oracle, founded in 1977, focuses on developing and marketing computer hardware systems and enterprise software products; you might know the company best for its branded database management systems.
Oracle's list of corporate values starts with integrity, mutual respect, teamwork and communication. The list goes on to include innovation, customer satisfaction, quality, fairness, compliance and ethics. It's important to the company that employees treat one another with mutual respect to foster a healthy and open working environment.
It's one of the only companies on this list that cites communication and compliance as part of its most important values, according to MidAmerica Nazarene University. Like Microsoft, Oracle also values integrity and honesty, while it shares a dedication to innovation with Amazon and Google.
Facebook
Facebook's principles are listed right on the website and it's clear they've put stime and effort into developing this list of core values. First and foremost, Facebook's mission is to deliver the "freedom to share and connect," giving people the ability to share and connect in various mediums and formats. Next, Facebook values "ownership and control of information," stating that people should be able to decide who to share information with, how to share it and retain the ability to take the information with them if they choose to leave the service. Finally, the company wants to establish a "free flow of information," so that people have a quick and easy way to share information.
After that, the rest of the values Facebook lists are mostly centered around general human rights, with a focus on equality, social value and transparency. More than any other company on this list, according to the study, Facebook cares about creating an equal playing field for users and wants everyone in the world -- regardless of location, economic status and nationality -- to have access to Facebook's services.
Amazon
If you're a die-hard Amazon fan, you might remember that the company started out as an online bookseller, and only later expanded into the behemoth online marketplace it has become since it was founded in 1994. Now the business not only sells a staggering amount of products, it also produces popular consumer electronics like the Kindle ereaders and Fire tablets. And if that wasn't enough, it's also offers one of the largest cloud infrastructure services, which has attracted the likes of Netflix and Instagram.
So what are the corporate values that have helped Amazon grow to what it is today in such a short time? Well, perhaps unsurprisingly, the first core value on Amazon's list of leadership principles is "customer obsession." According to Amazon, "leaders start with the customer and work backwards," so while leaders are aware of competitors, they are always more interested and focused on the customer. After this customer-centric view, Amazon encourages ownership, simplicity, a sense of being right, strong hiring practices and high standards. As a company, Amazon also wants employees to think big, be decisive, stay frugal, foster trust and be able to admit when things need to change.
Amazon is one of the only companies that lists frugality as a core value and it also has a unique focus on staying detail-oriented. Meanwhile, it shares a desire to stay speedy with Google and, like Apple, Amazon focuses on simplicity, courage and ownership.
Copyright © 2015 IDG Communications, Inc.
Next Up: Check out these related slideshows