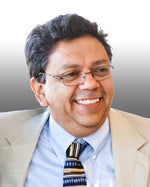 The power and utilities sector will play a key role in achieving the net-zero targets ahead of us. More than 130 countries have committed to or are considering such targets, UN data shows. But attention will increasingly center on coal, oil, and natural gas. Burning hydrocarbons for electricity and heat is the largest single source of global greenhouse gas emissions (GHGEs), and accounts for 25% of total atmospheric discharges.
Decarbonization, a term used to describe the process of reducing atmospheric carbon dioxide (CO2) resulting from human activity, will be central to achieving our common climate goals. Decarbonizing the power sector, given its role an infrastructural prerequisite for transport, industry, and other economic sectors, will help keep global atmospheric temperature increases to 1.5°C.
Combined approach to a complex problem
In practice, reducing carbon emissions from the power and utilities industries will require a multi-layered approach that includes migrating to greener energy supplies and phasing out inefficient fossil-fuel plants.
But achieving true decarbonization will need humans to embrace the transformation ahead of us by accessing the best available data to resolve challenges while improving resiliency and adding value to industrial operations. The solution is two-pronged: digital technologies can identify and show the path forward for industry, while human insight, creativity, and experience will be essential to unlocking these value gains at every step on the industrial transition.
The Connected Worker evolves with technology
These value gains are incremental. As digital connectivity between people and their work environment increases, so too does the potential value to be gained.
Let's look at the Connected Worker Value Curve from LNS Research. At the lowest level of connectivity, digital data inputs can strengthen worker safety and flag equipment problems. Near the top end, big data, analysis, and visualization will offer predictive insights for prescriptive operations. Go one step further and an autonomous plant can be remotely operated and monitored. The curve is helpful because it allows us to think of Connected Worker as a spectrum rather than an abstract concept.
How the Connected Worker supports decarbonization
The following use cases indicate how connected workers can use digital technologies to augment decarbonization efforts, from plant design and execution to operation and maintenance.
Data-centric engineering and design optimizes the development of new renewable generation assets and helps find ways to optimize the operation of existing generation.
Unified project execution solutions de-risk capital projects by forming a layer of risk protection via enhanced process governance, best-in-class change management, and data-centric construction planning and execution for on-time and on-budget delivery.
Asset performance management tracks the health and functioning of plants and other assets, while optimizing for proactive maintenance execution.
Smart field devices are equipped with extended operational and diagnostic capabilities. When utilized to their full capabilities, smart field devices enable visibility into asset health, such as identifying a sticky valve before it becomes blocked or receiving an early warning that a motor's power consumption is abnormally high.
Mobile inspection rounds can be used for the execution of standard inspections with real-time analysis of operating variables to dynamically trigger proper actions. This ensures the operator performs the proper tasks, at the right time, correctly following the accepted procedure resulting in increased safety and reliability.
Real-time enterprise data management allows grid operators to collect, store, display, analyze, and report on operational and asset health-related information.
Contextualized actionable information facilitates the convergence between OT and IT systems, enabling a holistic view of plant operations that leads to faster and more informed decision-making.
Connected Workers are here to stay
Industrial businesses see people as the most effective way to realize change. Digital workforce solutions are now a priority for 71% of businesses, according to a recent AVEVA survey.
In total, 99% of C-suite respondents see a connected workforce as key to success, where workers use real-time digital tools, connected by the cloud, and AI-infused analytics that provide guidance and decision support. The global energy and utilities industry lays greater priority to the connected workforce than other industry sectors, with 58% of businesses claiming a very strong focus on the area.
As pressure to achieve quick decarbonization increases, workers will need to be supported in making the best decisions with technological solutions, such as by way of centralized digital assets that offer granular information and indicate the most efficient and sustainable routes to action.
We have a limited time ahead of us to achieve the most significant transformation in the history of the power sector. While decarbonization requires a multilayered approach, it is the emerging breed of Connected Workers that will deliver a cleaner and greener future for us all.
To find out more about how digital technologies and the connected worker can transform the power sector, please click here.