By Cori Land, Corporate Strategist, DataStax
Definition of virtuous circle (noun):
a chain of events in which one desirable occurrence leads to another which further promotes the first occurrence and so on resulting in a continuous process of improvement (Merriam-Webster)
You might have seen "data is exploding" stats before, but they are so staggering—they're worth showing you again:
180 zettabytes: Research firm IDC's estimate of annual data creation and replication by 2025, an increase of 123ZB over 2020 (a 23% CAGR)
$8 trillion: The value of global data estimated by The Economist, which also estimates that the value of all data in the United States is approximately $2 trillion.
33%: The premium in price-to-earnings ratios realized by companies that capture the expanding value of their data, according to Accenture.
The important question now is, what do we do with all this data?
The digital transformation bonanza of the 2010s produced mountains and streams of data from digitized operations and customer interactions. Now, organizations are in the midst of figuring out how to wring value out of all of the data a digital business creates.
Where leadership excels: discovering, leveraging, and operationalizing data
Data-driven leaders are using data to gain competitive advantage through better customer experience or greater productivity. Data drives a virtuous circle: data is both exhaust from and fuel for their business operations. For example, Lyft collects ride history data through its mobile app, enabling the company to know more about the ride sharing market than taxi companies ever did. Lyft uses this data to optimally deploy resources and sustain its advantage.
This "data generates revenue generates data" pattern is becoming common among market leaders and emerging within the majority of enterprises.
A recent survey by DataStax and research firm Enterprise Management Associates, of 514 key enterprise decision makers and executives found that 23% of respondents identify as data-driven leaders: they are excellent at discovering, leveraging, and operationalizing data; 49% identify as "mainstreamers," having operationalized most of their data strategy but still see room for improvement; and 23% identify as laggards–they are either just beginning to formalize or are in the process of implementing their data strategy. (2% of respondents are outliers: they don't have plans or are just beginning to plan how they'll implement their data strategy.)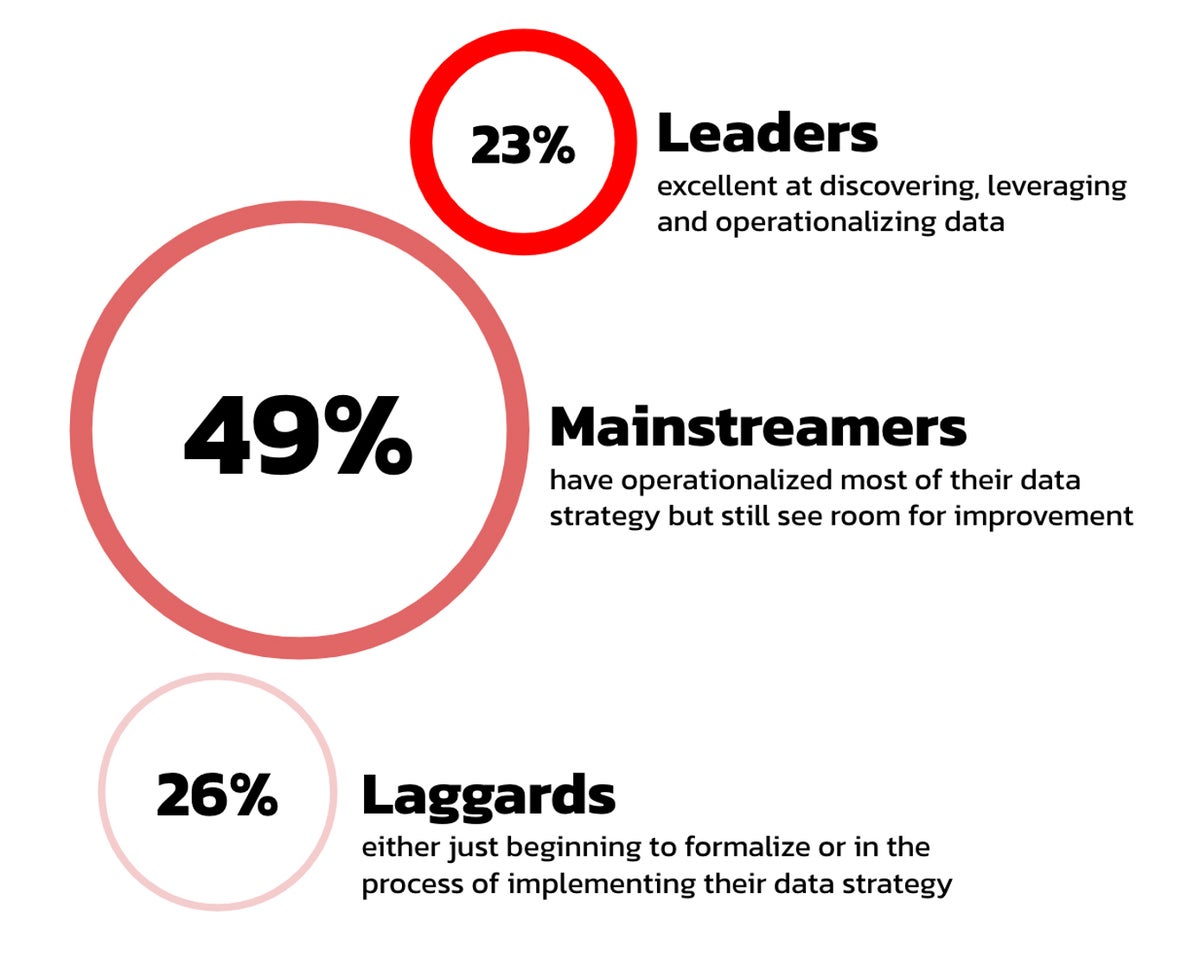 Is it the chicken or the data? Leaders use more data–and get more from it
Leading companies' critical applications involve more data. Two-thirds (66%) of leaders' critical apps use more than 500 terabytes (TB), whereas the plurality of laggards (46%) have less than 100TB involved in their critical applications.
The survey also asked companies to reflect on how they are using data to create revenue. 92% of data-driven leaders report that their data has a material impact on how they generate revenue, versus 74% of mainstreamers and 55% of laggards.
Leaders are ahead because of how they use data, not just how much they use. The data begets revenue begets data rhythm is self-fulfilling: leaders' excellence at discovering, leveraging, and operationalizing data lets them capture more value from their data, increasing their appetite for even more data.
DataStax and EMA
DataStax and EMA
Get cooking: Activate your data
You have digital experiences generating data. The technology you need is readily available–you can pick it up as open source software or get it as a cloud service. You don't have to wait until you have solved which comes first, the data or the revenue. Jumpstart your virtuous data circle by beginning with one use case. Work backwards–where might data light up your customer experience or advance your operational efficiency?
You might begin with the most widely-adopted workload among the enterprises we surveyed: user profile management (59% of companies run it in production and 24% are underway with getting it there). With user profile management, you can turn on personalization by activating a user's preferences, interests, and interactions to serve a tailored experience. McKinsey found that great personalization can lift revenue by 40%. What's more, 78% of consumers are more likely to repurchase from a brand with great personalization, demonstrating the data-begets-revenue-begets-data pattern as repeat buyers generate a richer user profile with each shopping session.
So, let's get started! Don't get left in the dust as everyone else races to the other side of digital transformation—turning their data into value, again and again and again.
Learn more about how leading companies drive revenue with data in the free report, The State of the Data Race 2021.
To learn more about DataStax, visit us here.
About Cori Land:
Cori is a corporate strategist at DataStax. They combine their background in economic analysis, corporate innovation, and organizational design to help companies find a new way forward out of ambiguity and inertia. Cori specializes in surfacing empirical data and empathetic listening to help leaders find new confidence in their strategic decisions. Cori holds an MBA from the Haas School of Business at the University of California, Berkeley, and lives in San Francisco, California.