By Prashant Gupta, Christophe Boyer, and Arun Sivadas
Global enterprises pivot to the cloud to address shifts in business and technology. This shift has been accelerated by disruption brought about by the Covid-19 pandemic. Enterprises operating SAP systems need to adopt a holistic migration approach for SAP S/4HANA since technical support for SAP ERP Central Component (ECC) ends in 2027.
Amazon Web Services (AWS) has been running SAP workloads since 2008 with more than 90% of new features being built based on customer requests. More than 5,000 active customers run SAP on AWS, which informs the development of new features that help customers get more value from their SAP landscapes. Customers can accelerate innovation by extending their SAP S/4HANA systems to more than 200 AWS services to leverage data lakes, IoT, machine learning, and other advanced technologies, enabling them to drive remarkable business results.
Infosys is a Premier Consulting Partner of AWS and brings intellectual property with advanced tools like Infosys Cobalt. Under Infosys Cobalt, we have developed several solutions and blueprints which accelerate SAP cloud migration. Infosys has collaborated with AWS to develop a comprehensive framework. It incorporates data insights and inputs from stakeholders, allowing enterprises to make data-driven decisions about the optimal migration approach. The options for SAP S/4HANA migration include:
Cloud migration followed by SAP S/4HANA conversion
Cloud migration with SAP Business Suite (Suite on HANA / SOH) followed by SAP S/4HANA conversion
SAP S/4HANA conversion followed by cloud migration
SAP S/4HANA conversion and cloud migration together
Greenfield – SAP S/4HANA transformation on the cloud
SAP S/4HANA cloud transformation with extended edition or RISE with SAP edition
Each option has advantages as well as disadvantages, which need to be evaluated before developing a roadmap for migration. Infosys has developed a RoadMap Options Selection Decision Matrix to help enterprises navigate the migration. Stakeholders can decide the weightage for decision parameters such as value potential and fitness for purpose. It is configurable to incorporate additional parameters, and suitable for specific industries such as finance or manufacturing.
The Infosys team holds discussions about the options with the customer who in turn rates each decision parameters on a scale of 1 to 5 (1 being the least strong and 5 being the strongest intent).
As shown in the table below, the client has updated the weightage and rated each decision parameters. Final scores are then derived from a combination of weightage and scores by stakeholders.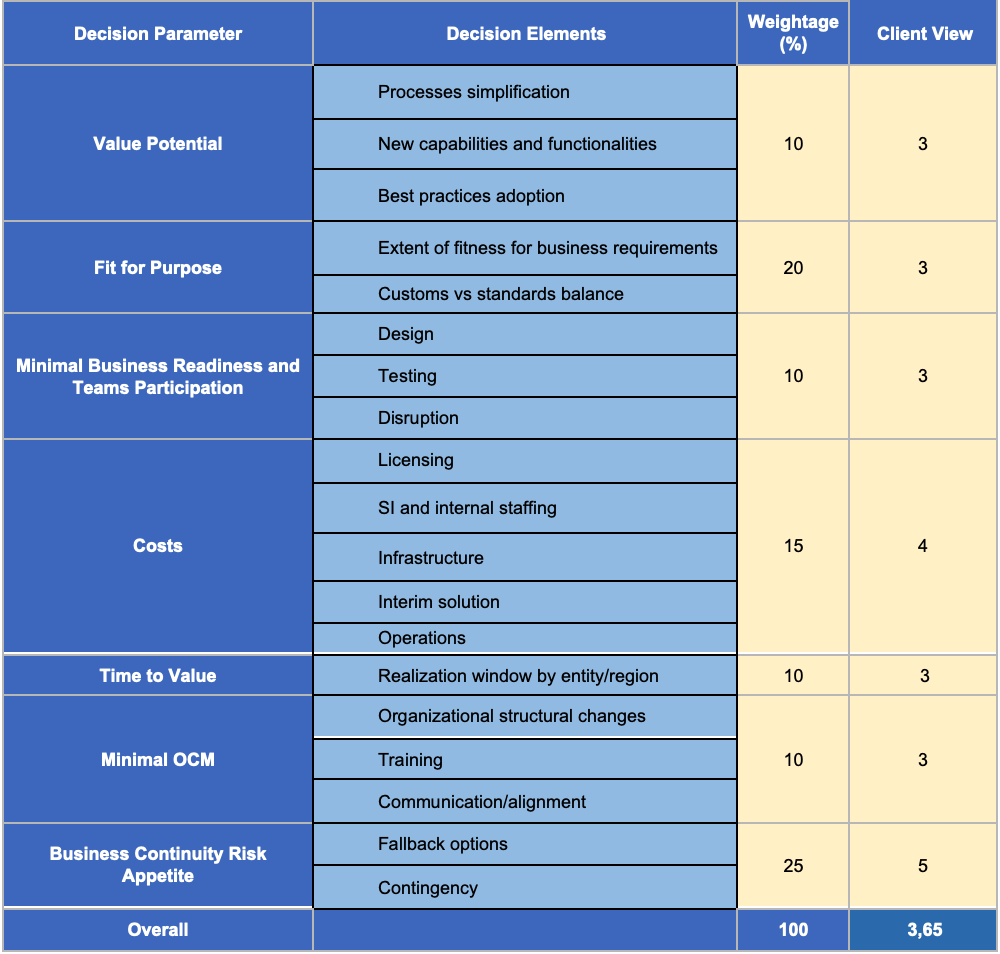 Likewise, all transformation options need to be rated on a scale of 1 to 5. Infosys Transformation SMEs had previously analyzed each scenario and rated each decision parameter based on what they see in our transformation programs worldwide and in the market.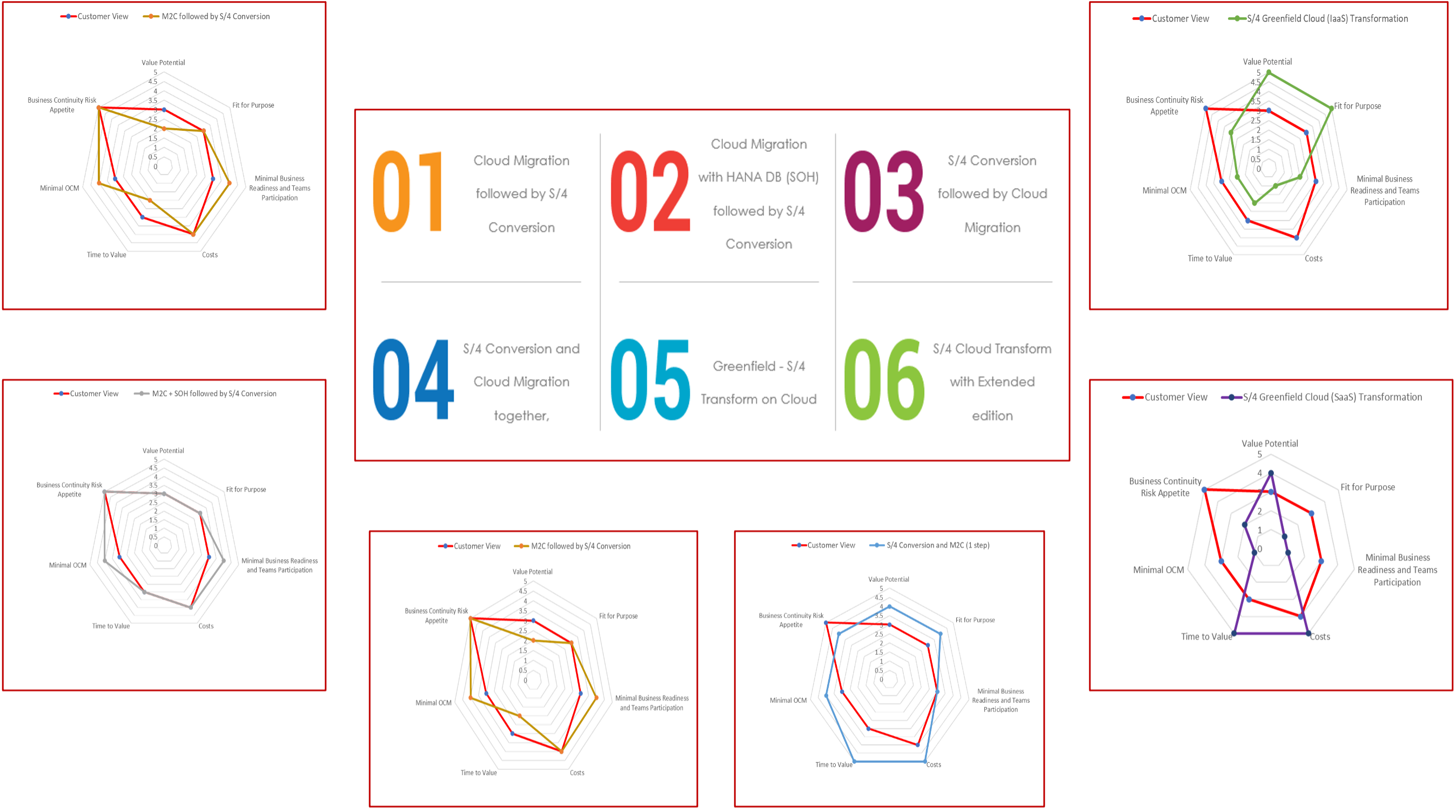 The final score is compared with industry benchmarks/Infosys programs of a similar scale for the most suitable outcome. If you observe the Spider Web analysis above, option 2 comes out as the preferred way to go as this has maximum touchpoints between the customer's viewpoint with industry benchmarking.
When the approach is finalized, the Infosys team uses its iCloud Discovery tool for an inventory of SAP Advanced Business Application Programming (ABAP) and JAVA system IDs (SIDs), along with details of application hosts and databases, operating system/database type and versions, hardware configurations, SAP product type, SAP kernel, support pack (SP) stack components, CPU and RAM statistics, database size and historical growth, transport routes and Unicode status. It visualizes the entire SAP landscape, creates optimal pathways, and simulates the effects of planned changes to systems before the migration, ensuring predictability in project outcomes.
The inventory serves as inputs to develop our iCloud Build framework that constitutes the bill of materials on the AWS cloud, ensures high availability (HA) and disaster recovery (DR) options, and recognizes the region for factors such as data residency or localization. The framework offers flexibility for stakeholders who are provided with options of hosting charges to be incurred based on pay as you go (PAYG)/reserved instances (RI) options, selected regions, and HA/DR strategy. In addition, the landscape architecture diagrams are created for all options.
The framework helps devise a plan to identify the top two pathways during workshops with business stakeholders. A machine learning algorithm shares lessons after matching the current project with projects of a similar scale.
The framework also reveals the ABAP remediation required and how much can be auto-remediated without undertaking the conversion/migration. It also suggests the impact on testing when this program is executed.
In addition, in-built effort estimators assess the effort required for the top two options encompassing aspects such as AWS Foundation, virtual machine (VM) build and provisioning, SAP build, migration, etc.
The framework also suggests the SAP licenses required based on business mapping of the enterprise. It recommends optimization of licenses based on usage patterns in the past 18 months. For instance, if a business user does not use the highest level of authorization, the framework suggests a downgrade to a lower version. Similarly, it proposes indirect or digital licenses based on key documents created using interfaces in SAP.
An automation like AWS Launch Wizard is triggered in relevant phases to affect a business transformation in industrialized mode for enhanced reliability. AWS Launch Wizard dramatically simplifies the provisioning and configuration of SAP S/4HANA environment on AWS with a guided experience based on the customer's requirements.
The big picture — of cost, risks, benefits, and reduction by automation — is presented to the enterprise, allowing decision makers to make a data-oriented decision.
Infosys has successfully executed such a business transformation for more than 20 global enterprises across industry verticals.
About the authors:
Prashant Gupta – Director and GTM Lead for SAP on Cloud Europe, Infosys
Christophe Boyer – Senior Director and Head of SAP Digital Activities and Sales for France, Nordics, BeNeLux and CIS countries, Infosys
Arun Sivadas – Partner Solution Architect – SAP, AWS