Dell Technologies and Cloudera have collaborated to deliver best-in-class solutions for analytics on optimized infrastructure for nearly a decade, since the dawn of the Big Data era. During this time, we have jointly developed numerous solutions for flexible, scalable, and enterprise-class analytics applications based on Cloudera software and Dell EMC infrastructure.
These analytic solutions have grown to encompass far more than Apache Hadoop. The modern data platform includes a multitude of capabilities and applications that span the complete data lifecycle, including data ingest and collection, data engineering and enrichment, data warehousing, data analysis, reporting, and even predictive analytics with AI and machine learning.
Our latest release is a Dell Technologies Validated Design for Analytics entitled Data Management with Cloudera Data Platform on Intel-powered Dell EMC Infrastructure. This release features Cloudera Data Platform (CDP) Private Cloud Base 7.1.7 and Dell EMC PowerEdge Servers with 3rd Generation Intel® Xeon® Scalable Processors.
CDP Private Cloud Base, previously known as CDP Data Center, contains the best of the legacy Hortonworks Data Platform (HDP) and Cloudera Distribution for Hadoop (CDH) along with numerous new features and capabilities. Plus it contains the most extensive set of upgrade enhancements and upgrade pathways from previous releases to date.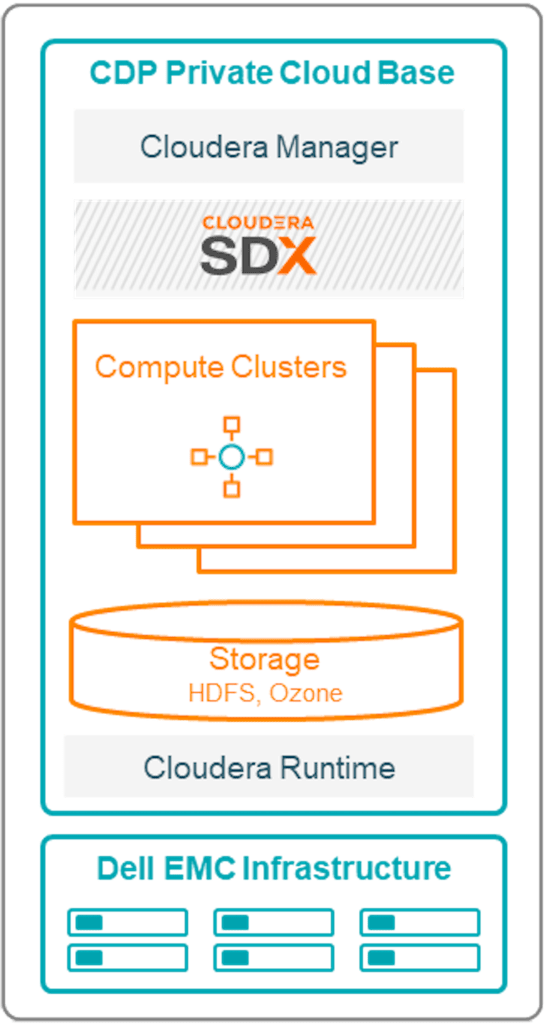 Dell
CDP Private Cloud Base is the on-premises version of Cloudera Data Platform and includes the following primary components:
Cloudera Manager is the comprehensive management and administration tool that supports automated deployment and configuration, customizable monitoring and reporting, robust yet effortless troubleshooting, and zero-downtime maintenance.
Cloudera SDX is the Shared Data Experience. Independent from the compute and storage layers, SDX delivers an integrated set of security and governance technologies built on metadata that delivers persistent context across all analytic capabilities in the multi-tenant data platform.
CDP includes a wide selection of analytic applications that run on compute clusters, including Spark, Hive, Impala, Hbase, MapReduce, and Solr, to name just a few.
CDP includes multiple storage options, including traditional HDFS and Apache Ozone, a scalable, redundant, and distributed object store for Hadoop.
And it all runs on the latest Dell EMC server, storage, and networking infrastructure that has been architected and optimized as a complete, PowerEdge, PowerScale and PowerSwitch, integrated solution for Cloudera Data Platform.
What's new in this release
In addition to all the core capabilities of Cloudera Data Platform, CDP Private Cloud Base 7.1.7 introduces:
Support for Dell EMC PowerEdge Servers with 3rd Generation Intel® Xeon® Scalable Processors, with performance-optimized configurations designed and validated for both infrastructure and worker nodes.
Support of Dell EMC PowerScale storage, a highly flexible scale-out network-attached storage solution that can be used as the primary HDFS storage, and which allows the compute and storage capacities to be scaled independently.
Access to all the new features and capabilities of the CDP Private Cloud Base 7.1.7 software, including

Enhancements to Cloudera Manager, including security fixes to multiple embedded libraries, making this the most secure release of CDP PvC Base yet.

SDX updates for improved platform and data governance and security.

Ozone features for full high availability.

Streaming enhancements including integration between Kafka and Atlas for better scalability.

And more, with information on all the new features in release 7.1.7 located here.

Significant upgrade enhancements are present in this release, to help customers with their move to CDP Private Cloud Base, including:

In-place upgrades are available for all supported CDH and HDP past versions, including CDH 6.1, 6.2, and 6.3, and HDP 2.6 and 3.1, without having to build a new cluster.

Documented rollback procedures are available for CDH 6.x and for HDP 3.1.

An upgrade companion guide is available to complement the upgrade documentation that guides you through your upgrade journey. You can see the upgrade companion here.
Why it matters
CDP Private Cloud base is important for three main reasons. First, for new deployments, CDP Private Cloud Base is a complete stand-alone instance of Cloudera Data Platform that delivers powerful analytic, transactional, and machine learning workloads with scalable compute and storage. It contains the latest and greatest features of the Hortonworks and Cloudera heritages, plus so much more, and is thus the best choice out there for a comprehensive data platform.
Second, for upgrades from legacy CDH and HDP environments, CDP Private Cloud Base is the ultimate endpoint. This release fulfills Cloudera's vision for in-place upgrades from all supported CDH and HDP versions.
And third, CDP Private Cloud Base is the basis for the latest innovation from Cloudera, CPD Private Cloud Data Services. Together, Base and Data Services form the complete CDP Private Cloud offering. The Data Services include a set of containerized self-service analytic experiences that run on Kubernetes, including Data Engineering, Data Warehouse, and Machine Learning services. CDP Private Cloud Data Services are available today from Cloudera and will be available soon as part of a Dell Technologies Validated Design for Analytics.
All documentation, including the White Paper, Design Guide and solution brief, can be found on the Dell Technologies Info Hub for Analytics. Information on all of Dell Technologies' solutions for analytics can be found on our Analytics Solutions page.