With more options than ever before, customers will not stand for being treated in a generic, impersonal manner by a business. Today's customers want their problems solved quickly and efficiently using the information they have provided. If a customer has entered an order and a business acts like they don't know about it, that's a problem. Customers also want to know the companies they entrust with their data have mature security and privacy in place.
To meet these demands and ensure superior customer service, companies must have technology that ensures quick access to customer data. It must also meet privacy and data protection requirements for data sovereignty. That's where data fabric enters the equation. Read on to learn how companies can deploy an enterprise-class data fabric to expand the power of analytics and AI and fully support the customer experience.
How is data involved in creating a better customer experience?
To truly provide the personalized and efficient support that customers now expect, companies must understand their customers more deeply than ever before – what products they liked in the past, what products they use today, and what they might like in the future. Achieving constant awareness of your customer takes a mountain of data. Fortunately for today's organizations, data is available to make this level of omniscience possible. But if companies are just collecting data and have no way to efficiently put it to use, potentially valuable data becomes a cost center that can actually erode customer loyalty and confidence. To truly gain a level of omniscient understanding that leads to a better customer experience, companies must have the right tools to harness all the data at their disposal. What is required to put data to effective use?
A flexible data architecture
Technology that allows companies to analyze and deliver data where it's needed and at the right time is crucial to producing a better customer experience. To achieve this, companies need a data architecture that provides a highly granular view of their customers. The architecture must be flexible and adaptable, so new data can be incorporated and changes can be made without causing major technological upheavals. The problems we face chasing omniscience about customers are constantly evolving. The tools and solutions evolve to keep pace. The data architecture we implement must handle these changes in a forgiving manner. Additionally, the architecture must make data available to developers, analysts, and other staff to use whenever they need it in a way that protects the integrity and security of the individual data event.
A data fabric brings together data of all forms — from the edge to the cloud — and provides services for discovery, governance, quality, and transformation. This architecture truly puts data to use at scale to improve customer experiences.
Secure and governed access to the data
A well-built data fabric does to data architecture what Kubernetes did for applications. It allows companies, and all the users of data within those businesses, to have a complete view of available data. This doesn't mean every user has access to every piece of customer data — a data fabric allows for safeguards and rules to be put in place to ensure each user has access to only the data they should. A data fabric does this by creating containerized datasets that can easily be shared, protected, and used for analytics and to bolster the customer experience. And it does this at scale, which is crucial. Companies that do not manage data with the right architecture will eventually be swamped by volumes of unwieldy data within their current structures. A data fabric creates identifiable units of shareable data and can deliver them as fast as possible to where they're needed, acting as a well-governed citizen of the business with security built in.
Making real-time a reality
The pressure for instant answers only grows. To really allow for real-time data use, data must be mobile and close enough to the end customer for businesses to be able to respond immediately to events as they arise. A data fabric must allow data to move at real-time speeds because the data should ideally be proximal to where it is needed most. A data fabric is a hybrid, multi-platform environment, which means companies can move data within it, react to the scale of the customer events as they occur, and scale their infrastructure to positively impact the customer experience. For example, if a customer has just purchased a product at a store and calls customer service, the service representative must have that most recent transaction information available to provide the best assistance possible.
Expand the power of analytics and AI to meet customer expectations
Going forward, the current business landscape will only become more competitive. Only companies that can ensure positive customer relationships can stay ahead. Data is just a record of life's events. The more complete record one has, the easier it is to make a decision. With a proper data fabric, one can master that record of life's events and decode the picture data paints for the future. To learn more about how a data fabric expands the power of analytics and AI to help enterprises deliver a better customer experience, check out the many benefits and use cases of HPE Ezmeral Data Fabric.
____________________________________
About Jimmy Bates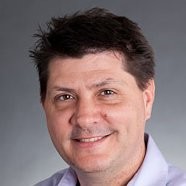 Jimmy Bates, Director of Solutions Engineering, Presales, HPE Ezmeral, has extensive experience in delivering real-time analytics solutions for military, energy production, and telecommunications environments. He has been in emerging technologies for the last 25 years. From dial-up, fiber, and big data, to Kubernetes, he brings a background built on enabling digital transformation successfully to every business.