18 most powerful wireless networking companies
Our list of power players in enterprise networking, and beyond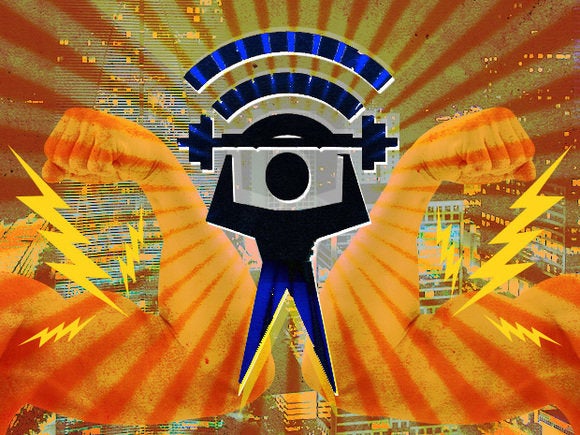 Wireless big shots
It's a wireless world, of course, and one only likely to get less dependent on physical connectivity in the future – but what that future looks like will depend a lot on the companies exerting the strongest influence on the industry. We checked in with analysts and tapped our own institutional expertise to create this list of the companies that, in our opinion, are the biggest influencers in enterprise wireless networking and beyond.
RELATED: 8 Hot Mobile Startups to Watch
AirWatch
Acquired by VMware in 2014, AirWatch remains the consensus mobile device management titleholder. The acquisition, according to Gartner's most recent Magic Quadrant report for the MDM market, has broadened AirWatch's capabilities, and helped keep the company among Gartner's "leaders." The company also is taking a leadership role by working with vendors like IBM and MobileIron through endeavors such as the AppConfig Community to establish a common approach for enterprise app configuration and security. Read more.
Apple
Beyond the obvious BYOD angle – iPhones are arguably the most important devices to game-plan for, given the company's 18% global smartphone market share, per IDC's latest figures – Apple's wearables could become key considerations in the increasingly critical IoT field. The company also helped push beacons and Bluetooth for location services farther into the mainstream, and through partnerships with IBM – and recently SAP – Apple has become more aggressive and organized in going after the enterprise market.
AT&T
AT&T, like other major telecoms, is critically important to the world of wireless, not least because your BYOD traffic is very likely to move across their LTE networks at some point. AT&T boasts an extensive stable of business wireless subscribers – the company claimed to have about 47 million postpaid customers in that segment in its most recent financials.
Broadcom (sorta)
As the company is fond of boasting, the vast majority of all Internet traffic touches Broadcom silicon at least once. Broadcom's chips are the basis for a huge proportion of the wireless networking infrastructure in use worldwide – analytics and analysis firm Trefis says that the company accounts for 30% of the market. That said, the company has announced that it is selling its entire wireless arm to Cypress Semiconductor for $550 million, so much of that infrastructure might have a different label on its chips in the near future.
BrocadeRuckus
Now a part of Brocade, after being acquired in April for $1.5 billion, Ruckus is notable for being a leading player in the important area of cellular-to-Wi-Fi offloading, according to Gartner analyst Tim Zimmerman. Like several other recent mergers in the space, the idea is to combine Ruckus' expertise at the wireless edge with Brocade's presence in the data center.
Cisco
No getting around this one – as the 800-pound gorilla of the network in general, it should surprise no one to learn that Cisco is among the most influential wireless companies out there. Cisco's Meraki brand, acquired in 2012, is the cornerstone of its enterprise wireless offerings. Along with HPE/Aruba, it's the only other company ranked in the "leaders" quadrant of Gartner's latest wired and wireless LAN magic quadrant report.
D-Link
Best known as a router and modem company, Taiwan-based D-Link boasts a diverse lineup of connected devices, and actually outsold more established rival Netgear in the wireless LAN space last year, according to Gartner's Zimmerman.
Dell/Aerohive
OK, so they didn't exactly merge, but Dell and Aerohive are so closely partnered in the wireless space that it's easiest to consider them a single entity for our purposes. The pair's collaborative hybrid networking system leverages Dell's switches and Aerohive's access points for a robust, unitary network offering.
Facebook (maybe)
A dark horse, we know – but the social network is sneaking into the wireless world in several ways, offering free Wi-Fi in exchange for location data, planning drone-based Internet service for underserved areas, and even acting as its own ISP in India.
Google
In general, Google's influence on wireless networks is indirect – its various services are a huge source of both wired and wireless traffic, and Android holds an increasingly dominant role in the mobile platform market, controlling around 80% of it globally. But the company has also hinted at a more direct role on the airwaves with Project Fi, a Wi-Fi/LTE hybrid service intended to replace traditional mobile carriers.
HPE/Aruba
HP Enterprise's acquisition of Aruba isn't a seamless folding-in of a smaller company – Aruba's still mostly operating as before, it's just also acting as HPE's wireless division. This gives HPE a newly potent presence in the wireless sector, particularly in the campus market, where Aruba has traditionally been very strong. HPE/Aruba is No.2 behind Cisco in the worldwide WLAN market based on revenue (about 17% in 2015), according to IDC.
Huawei
The Chinese firm, though "effectively banned from selling its network equipment to tier-one U.S. wireless carriers like Verizon and AT&T," according to FierceWireless, expanded its footprint among smaller service providers in the U.S. to the tune of 10% or 15% last year, with more growth on the way. Huawei is also the third-biggest seller of smartphones globally as of IDC's most recent tracking research, having moved 32.4 million devices in the fourth quarter of 2015.
Intel
Despite recent news that it would end its Atom mobile SoC line, the world's biggest chipmaker still has a major presence in wireless modems and is thought to be the manufacturer for the next iPhone's Wi-Fi component. But the company's focus on wireless appears to be tightening further, as CEO Brian Krzanich has said that IoT, mobile devices and the automotive sector would be front-and-center after a major reorganization.
Netgear
Despite a shrinking share of the service provider market, Netgear's retail wireless hardware business has closed the gap and then some, with the company reporting a 30% increase in sales, to $157.5 million, in its latest quarterly results last month. It's also one of the five companies certified by CableLabs earlier this year to manufacture DOCSIS 3.1 modems.
Qualcomm
Wireless means mobile, and Qualcomm is the company behind the silicon in most non-Apple smartphones sold in the U.S. today, despite a recent uptick in competition from firms like MediaTek. According to the latest numbers from Strategy Analytics, Qualcomm still controls 59% of the $21.1 billion global cellular baseband market. What's more, Qualcomm is investing heavily to be a big play in one of the potentially high-flying pieces of the IoT: drones.
Ubiquiti
In an increasingly commoditized IT landscape, Ubiquiti is the white-box vendor of Wi-Fi – which is potentially a very good thing to be, according to Forrester analyst Andre Kindness. Ubiquiti has a somewhat lower profile than many of the companies on this list, since it's more popular overseas, but that might change in the near future.
Verizon
As one of the two biggest wireless service providers in the U.S., Verizon boasts 107 million postpaid retail connections as of its latest financial reports. In a BYOD world, some of your traffic is almost guaranteed to be traveling on Verizon's network. Not resting on its laurels, Verizon has been investing heavily in network upgrades – including an NFV OpenStack cloud deployment across five U.S. data centers – to support emerging applications.
Zebra Technologies
IoT has been a theme lately in the wireless world – and in this slideshow – so it's important to recognize that, while Illinois-based Zebra Technologies may appear to be just a humble printer company at first glance, it's also an innovator in tracking and location-based products and services. Everything from monitoring the movement of goods to tracking NFL players on the field is part of Zebra's catalogue.
Copyright © 2016 IDG Communications, Inc.
Next Up: Check out these related slideshows