As highlighted in Fortune Magazine's recent article Best Companies to Work for 2022, "coming out of the pandemic, workers want the ability to choose where, when, and how they work." Many companies are offering employees what they want. In fact, the article states that "58% of knowledge workers have hybrid work arrangements as of January 2022, according to data from the Future Forum Pulse survey."
Employees say they will go back to the office part time — or as needed — if they have trust in the managers of building facilities to keep them safe. For example, employees want to be aware of air quality throughout a building, current occupancy levels to maintain social distancing as needed, real-time meeting room availability, and signage with interactive maps of location, environmental status, and alerts for out-of-bound conditions to avoid — golf party on 4th floor! — or join.
In this extremely tight workforce market, talent are asking for these basic habitability requirements as table stakes to join an organization. It behooves IT and facilities teams to work cooperatively to provide the safety benefits employees demand — and deserve. But creating smarter workspaces by adding new layers of technologies to monitor and report on environmental conditions, manage hot-desking and meeting space availability, and proactively alert employees and building managers about significant changes across a campus is expensive. Or is it?
What if IT, OT, and real estate managers could take advantage of the existing Wi-Fi infrastructure along with collaborative applications, sensors, and cameras already in place, to create smarter workspaces, instantly?
The issue is not whether the existing wireless and sensor equipment and applications can be used to provide the necessary levels of information and security, but rather if there is a unifying fabric that ties them into a meaningful meta-view for managing smart workspaces. Let's look at some examples of what is readily achievable with the right IT infrastructure.
Unify Wi-Fi infrastructure and sensors for spacial monitoring
I can't think of any office campus environment that is not permeated with Wi-Fi access points, wireless controllers, and switches with built-in Power over Ethernet (PoE). These networking essentials provide a readily available infrastructure for monitoring the movements of people and devices throughout buildings. High-end access points also come equipped with sensors for air quality, temperature, and humidity. These sensors report continuously to the smart network switches which in turn aggregate data to the network management consoles and applications that provide real-time monitoring and alerts about environment conditions. Got cameras? Of course. Since they are already connected into the IT network, you can use their video data and footfall sensors to measure occupancy and traffic to add to the real-time awareness of occupancy conditions.
Now let's combine the information from the existing IT infrastructure to create interactive displays for employees and facilities managers.
Blend CAD and Wi-Fi maps into 3-D smart maps
If you take your building CAD maps and Wi-Fi access point maps and run them through a SaaS 3-D modeler, the result is a new way of viewing the layout and accessibility of every floor in a building. With interactive displays strategically placed on each floor and available via mobile application, the workforce gets instant information on environmental conditions, room availability, and occupancy levels.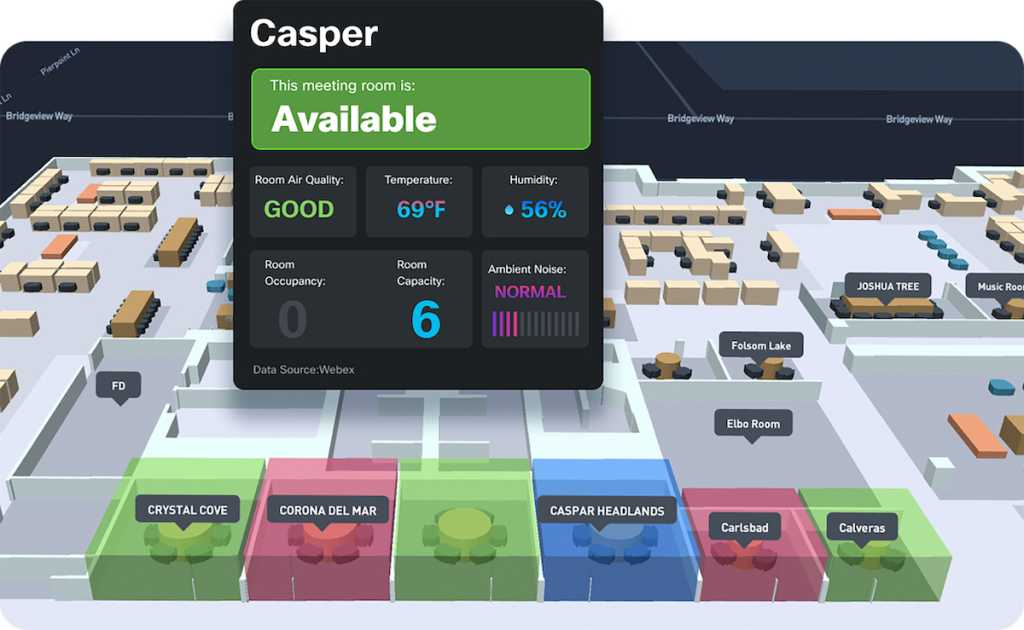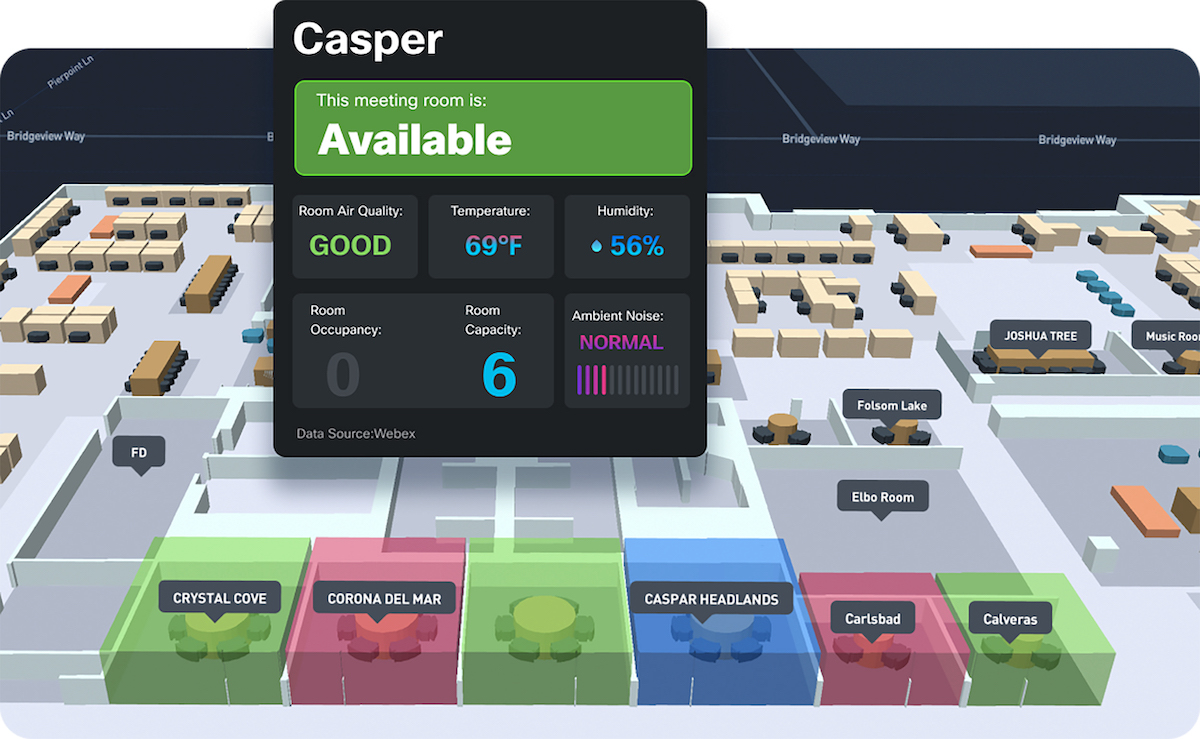 Cisco
Integrate collaborative applications
Now incorporate your collaborative video equipment and applications in meeting rooms.
Viewing the 3-D map on the interactive panel, people can see that there are a dozen conference rooms with names and locations. Eight are red and thus occupied (already?) and four are green and unscheduled. Data from the conference room collab video screens relay this information to the management console to keep constant track of room availability. Simply touch a green room to put a hold on it. Now you can have a meeting without wandering around hoping to get lucky. Need a hot desk for a few hours? That's in the map, too. The desk's wiring is hooked into the network switch's PoE, telling the smart spaces application what desks are and aren't in use, so you can reserve it with just a touch. Mapping provides a stress-free way to ensure employees visiting the office on occasion can easily navigate the gauntlet of workspaces.
Business benefits add up quickly with smart workspaces
Utilizing smart workspace technologies not only maximizes space optimization, it also improves employee experience and productivity by saving time spent trying to find meeting rooms. Businesses also realize cost savings by understanding energy utilization. Organizations can turn as little as $1 per square foot per year in IT infrastructure to realize benefits up to $9 per square foot per year.
With the right IT infrastructure in place today, you can make the workplace smarter tomorrow and maximize your return on investment in IT today.
Visit Cisco Smart Workspaces to learn more.