Top 10 states for software jobs
The software industry has an enormous impact on the U.S. economy and employment nationwide. Based on data from Software.org: the BSA Foundation's survey, ten states stand out as your best bet for software jobs.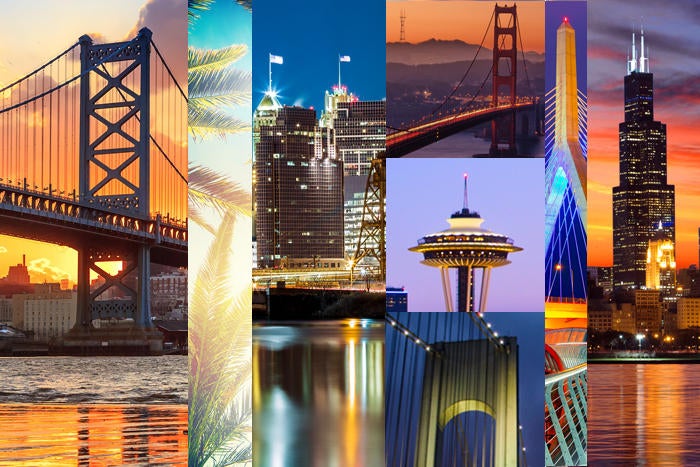 Top 10 states for software jobs
Software has an enormous impact on our lives, but the impact on employment is even greater than expected, according to research from Software.org: the BSA Foundation, an international alliance that advocates on behalf of the software industry. According to a 2017 study from Software.org: the BSA Foundation, the software industry directly employed 2.9 million people in the U.S.; but when including indirect and induced impacts, that number rose to 10.5 million jobs, according to the research. The study also shows that, since 2014, the number of jobs directly created by the software industry has increased 14.6 percent.
Software.org worked with The Economist Intelligence Unit (EIU) to compile publicly available data from IMPLAN, the National Science Foundation, the U.S. Bureau of Economic Analysis, the U.S. Bureau of Labor Statistics, the U.S. Census Bureau and EIU itself. To estimate the total contributions of the software industry to the U.S. economy, the EIU analyzed the direct contributions and estimated indirect and induced impacts using various economic multipliers.
"What's so interesting is how widespread the impact is. We expected states like California and Washington, but even states like Nebraska, Alabama and Utah showed a significant impact on their economies from software," says Victoria Espinel, president and CEO of BSA. "This time, we also saw incredible growth in states like Kansas, Nebraska and Louisiana — sometimes growth of 30 percent, 35 percent."
Here are the 10 states where software is having the greatest impact based on direct contribution to GDP, direct number of software jobs created and total number of software, software-related and software-adjacent jobs created.
1. California
The heart of the software industry lies in Silicon Valley and the San Francisco Bay area, so it's no surprise that California tops the list. The Bureau of Labor Statistics also shows that in California, the average software salary was $206,000.
2. New York
New York's Silicon Alley makes the New York City metropolitan area a hotbed for software jobs. The Big Apple also boasts numerous financial and digital creative agencies, all of which are dependent on software and related jobs.
3. Texas
One of the fastest-growing tech hubs in the U.S. is in Austin, Texas, also known as the Live Music Capital of the World. A business-friendly tax policy and low cost of living allows the software industry to thrive here.
4. Washington
Amazon, Microsoft and Expedia all call Washington state home, and in 2013, it was named the most innovative state in the U.S., even beating out California for that honor.
5. Virginia
Virginia's proximity to the U.S. capital in Washington, D.C., makes it a bedroom community for government employees, but cities like Richmond, Fairfax, McLean and Newport News all have thriving tech communities.
6. Massachusetts
Boston has emerged as a major player in the software industry, and the proximity to Massachusetts Institute of Technology, Boston College, Boston University and other research-centric schools ensures an elite and innovative talent pool for software companies.
7. Illinois
While there are software companies and hot software jobs available across Illinois, Chicago's emerged as a thriving digital and creative hub as well as being a major hotspot for the software industry.
8. New Jersey
The Garden State's proximity to both the New York City and Philadelphia metro areas puts it in a unique position. New Jersey is also home to many legal firms and pharmaceutical companies, all of which need talented software professionals.
9. Florida
With its warm, sunny climate, low cost of living and business-friendly tax policy, Florida is attracting more and more software industry jobs.
10. Pennsylvania
Cities like Pittsburgh and Philadelphia are obvious centers for software industry innovation, but even in the capital city of Harrisburg, software jobs continue to thrive.
Copyright © 2017 IDG Communications, Inc.
Next Up: Check out these related slideshows