As awesome as the original hyperconverged infrastructure (HCI) experience was, aggregation had its limitations.
A little over a decade ago, HCI redefined what data storage solutions could be. Even though early platforms did little more than consolidate compute, storage, and networking components in a single chassis, the resulting hyperconverged node was revolutionary. Compact, scalable, and simple to manage, the all-in-one solution aggregated physical devices into an on-demand, fluid pool of resources. HCI could be set up in minutes in virtualized environments and managed by IT generalists.
Intended to bring order to the administration of IT resources and to help companies get away from sprawling siloed storage solutions, HCI did more than that: it improved the experience of IT administration. The entire infrastructure could be monitored and managed from a single console. Improvements over the years added data protection and services such as deduplication and compression to the trailblazing platform, resulting in lower operating costs and even easier management. Every new feature made HCI more efficient and simpler to use.
Inevitably, as the technology gained traction, limitations were exposed. Organizations that required six-9's resiliency, high performance, and efficiency across multiple sites could not deploy HCI without making compromises that impacted availability, provisioning, and total cost of ownership (TCO).
In a recent survey by the Enterprise Strategy Group (ESG), 92% of respondents said the ability of HCI nodes to scale compute and storage resources independently was either "important" or "critical." 1 To achieve independent scalability, enterprises typically turn to more complex, costly 3-tier solutions comprised of components from various vendors. But what they are really looking for is a solution that provides the hyperconverged experience without compromise: the simplicity, efficiency, and other benefits of HCI without the cost of overprovisioning at scale.
No compromise HCI meets today's business needs
Today, HCI has evolved into a cost-effective, agile approach to infrastructure that fits a much broader spectrum of workloads. Modern platforms spanning both all-in-one HCI and new disaggregated hyperconverged infrastructure (dHCI) deliver the hyperconverged experience without the limitations of those original systems.
Modern HCI overcomes past compromises and eliminates tradeoffs by offering higher availability, AI-driven intelligence, better performance, flexible scale, and lower costs. Powerful and efficient, the new technology is driving better business outcomes across multiple industries. Benefits include radical simplification via automation, increased app performance, advanced remote work strategies, comprehensive data protection, and the enabling of hybrid cloud.
Disaggregated architecture for resilience and independent scaling
Disaggregated hyperconverged architecture employs a software-defined storage framework that streamlines storage operations by abstracting physical resources into logical pools of capacity with virtual machine (VM) based data services and policy-based automation. This innovative architecture seamlessly enables app and data mobility across hybrid cloud without requiring applications to be rearchitected.
HPE Nimble Storage dHCI is an intelligent platform designed specifically for business-critical applications and mixed workloads at scale. Easy-to-use management tools have been designed to handle much of the underlying architectural complexity, allowing administrators to manage every part of the infrastructure through a single pane of glass, as you do with other HCI solutions. Independent scaling of performance and capacity support any workload, from transactional databases that need more performance to data warehouses that need more capacity.
The disaggregated solution guarantees 99.9999% data availability and, according to an ESG Economic Validation report, it lowers cost, eliminating overprovisioning and delivering 2.5X cost savings with flexible, independent scaling of compute and storage.
For industry-leading protection against ransomware, HPE Nimble Storage dHCI can be combined with Zerto disaster recovery and data protection software. While this level of cyber resilience does add cost to the overall solution, the ESG validation report reveals that dHCI delivers up to 59% TCO savings compared to other vSAN-based HCI solutions over a five-year period. And Zerto can deliver 279% ROI over 3 years from reduction in planned and unplanned downtime, reduced resource requirements for both DR and backup, and avoided costs related to major data center migrations, according to a Forrester impact study.
All-in-one building blocks for simplicity
For edge to core applications, an all-in-one HCI solution is ideal for general purpose, edge, and virtual desktop infrastructure (VDI) workloads. Linear scaling minimizes up-front investment, allowing IT organizations to simply and cost-effectively expand compute and storage resources at the same time.
Each node has all the resources it needs—CPU, RAM, and storage—for its VMs and applications. With linear scaling, data is stored across all nodes in a cluster. Multiple copies of data striped across nodes keep it always available, even in the event of a failure. As more nodes are added, the file system grows dynamically, redistributing data evenly to every node. Each node added to the cluster increases the aggregate storage, memory, CPU, and network capacity, thus increasing cluster performance.
The fully integrated HPE SimpliVity solution offers simple management, two-node high availability, built-in data protection, and data hyper-efficiency across all edge sites and data centers. Infrastructure and advanced data services are packed into a surprisingly compact, scalable building block, making it easy to start small and grow.
Built-in data protection and security provide essential resilience and disaster recovery to keep data safe—and even mitigate losses—on-premises, in the cloud, and from edge to core. Onsite backup targets can be leveraged for on-premises backup, and integrated services mitigate ransomware threats for off-site disaster recovery.
The right HCI for your environment
Businesses are looking to modernize their private cloud and multi-cloud deployments to offer cloud operations everywhere. But, as organizations increasingly adopt a data-first approach to digital transformation, many find themselves mired in data management complexity.
The new generation of HCI provides a simple, automated approach to data and VM management – precisely the approach that modern IT environments need. VM-centric management allows IT admins to focus on business outcomes, instead of dealing with complicated infrastructure issues behind the scenes.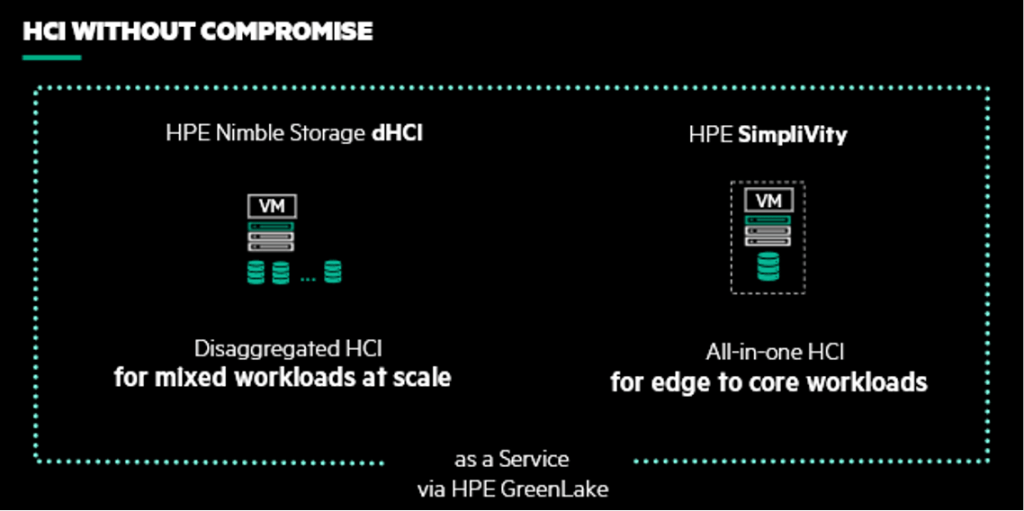 HPE storage, hyperconverged, and data protection solutions are available as HPE GreenLake cloud services, so you can choose the right fit for your environment and workloads. The on-demand, pay-per-use model provides hardware, software, and expertise on-premises, as needed.
The bottom line: HCI has come a long way since its inception. Flexible and affordable, modern HCI addresses many more use cases, including private cloud and dedicated cloud infrastructure to power all of your applications.
Want to experience HPE Nimble Storage dHCI now? Take a test drive.
Looking to consolidate and simplify? Convert existing HPE ProLiant servers to HPE Nimble dHCI storage solutions.
____________________________________
About Chuck Wood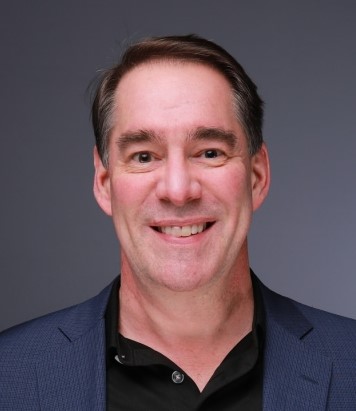 Chuck Wood is Senior Product Marketing Manager with HPE Storage. He has 20 years of product management and product marketing experience in virtualization, storage, and networking, and currently focuses on evangelizing HPE solutions for software-defined datacenters, edge computing, and cloud. He holds a Bachelor of Science Degree in Electrical Engineering from Brown University.