The weirdest, wackiest and coolest sci/tech stories of 2016 (so far)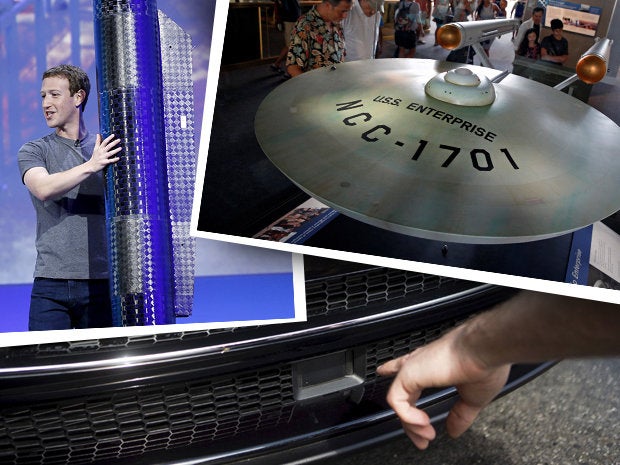 A more common sight
A sign warns against the use of drones outside the Quicken Loans Arena at the site of the recent Republican National Convention in Cleveland.
Drone art
An aerial performance, featuring 100 illuminated drones, flies above the Sydney Harbour Bridge and Opera House during the Vivid Sydney light festival in Sydney, Australia in June.
Drone service
A Zipline delivery drone flies by the drop zone after releasing its payload during a flight demonstration at an undisclosed location in the San Francisco Bay Area. Zipline uses drones to deliver medicine in Rwanda.
Tesla Autopilot car mode under the gun
The interior of a Tesla Model S is shown in Autopilot mode. The NHTSA said in June it was opening a preliminary investigation into 25,000 Tesla Motors Model S cars after a driver of one of the vehicles was killed using the Autopilot mode.
Not your father's McHale's Navy
The 132-foot long autonomous ship "Sea Hunter", developed by DARPA, is shown docked in Portland, Ore., after its christening ceremony, April 2016. The unmanned ship will undergo two years of testing – mostly trying to avoid other ships at sea through a camera-radar system.
Space beauty
NASA's Hubble Space Telescope this year captured a spectacular fireworks display in a small, nearby galaxy, which resembles a July 4th skyrocket.
Space junk
DARPA recently said that it had finished integrating seven space-watching networks that will feed tons of new Earth-orbiting junk data into what the agency calls "the largest and most diverse network of space situational awareness networks ever assembled." DARPA's OrbitOutlook (O2) program brings seven previously separate new space sensor networks together that could ultimately feed into the United States Space Surveillance Network (SSN), a worldwide network of 29 military radar and optical telescopes operated by the Air Force as well as NASA, the FAA and other entities that could use the information.
Jupiter gets a tank
NASA's Juno spacecraft, once described as a flying armored tank, reaches its destination: Jupiter. The spacecraft will spend a year surveying Jupiter to find out, among other things whether there is a solid core beneath its multi-colored clouds, how much water is in its atmosphere and map Jupiter's magnetic and gravity fields. Underneath its dense cloud cover, Jupiter holds secrets to the fundamental processes and conditions that governed our solar system during its formation, NASA said.
Scam scourge
The FBI's Internet Crime Complaint Center (IC3) recently said the scourge it calls the Business Email Compromise continues to rack-up victims and money – over $3 billion in losses so far. The BEC scam is typically carried out by compromising legitimate business e-mail accounts through social engineering or computer intrusion to conduct unauthorized transfers of funds, the IC3 stated. The impact of the scam is detailed in the IC3 stats: Since January 2015, there has been a 1,300% increase in identified losses; domestic and international victims: 14,302 in US; 22,143 worldwide; combined dollar loss: $960,708,616 in US; $3,086,250,090 worldwide.
Cisco: IP traffic will surpass the zettabyte level in 2016
IP traffic will grow in a massive way as 10 billion new devices come online over the next five years. Those were just a couple of the amazing facts found in Cisco's 11th annual Visual Networking Index look at all things in the communications world. Some of the more pertinent facts from the report include: Smartphone traffic will exceed PC traffic by 2020. Smartphones will account for 30% of total IP traffic in 2020, up from 8% in 2015. Traffic from wireless and mobile devices will account for two-thirds of total IP traffic by 2020. By 2020, wired devices will account for 34% of IP traffic, while Wi-Fi and mobile devices will account for 66% of IP traffic. In 2015, wired devices accounted for the majority of IP traffic at 52%.
Creaky systems
There are some seriously old IT systems at work in the federal IT arsenal and some that are 56 years old have no real retirement date. A report from the Government Accountability Office found that agencies reported using several systems that have components that are, in some cases, at least 50 years old. For example, the Department of Defense uses 8-inch floppy disks in a legacy system that coordinates the operational functions of the nation's nuclear forces. In addition, the Department of the Treasury uses assembly language code—a computer language initially used in the 1950s and typically tied to the hardware for which it was developed," the GAO stated.
The Martian author questions space travel to Mars
When it comes to living on Mars, the human body is simply not suited to living for long periods in zero-g. Until this issue is solved, we have no hope of landing humans on the surface of Mars, nor can we create permanent residences in space. That was the crux of the testimony given to the House Committee on Science, Space, and Technology recently by best-selling author of The Martian, Andy Weir. "Astronauts who spend months in zero-g suffer bone loss and muscle degradation. Once they return to Earth, they have to be carried out of their capsule by ground crew. It takes days, sometimes weeks for them to re-adapt to gravity because their muscles are simply too weak to stand. Imagine, then, a crew of astronauts setting foot on the surface of Mars after eight months in space to get there. They would be unable to move, let alone execute their mission," Weir said.
Tiny wireless
A DARPA-funded research team said recently it had developed a tiny component for silicon-based circuitry that could double the radio-frequency (RF) capacity for wireless communications—offering faster web-searching as well as the development of smaller, less expensive and more readily upgraded antenna arrays for radar, signals intelligence, and other applications. The work was led by Columbia University electrical engineers and funded under DARPA's Arrays at Commercial Timescales program, which is looking to develop wireless electronic components that can be integrated into larger, more advanced systems quickly.
FBI moves car cybersecurity issues to forefront
The National Highway Transportation Safety joined with the FBI in warning consumers that the increasing number of computers in the form of electronic control units (ECUs) that control numerous vehicle functions from steering, braking, and acceleration, to the lights and windshield wipers make them vulnerable to potential cybersecurity problems. "While manufacturers attempt to limit the interaction between vehicle systems, wireless communications, and diagnostic ports, these new connections to the vehicle architecture provide portals through which adversaries may be able to remotely attack the vehicle controls and systems. Third-party devices connected to the vehicle, for example through the diagnostics port, could also introduce vulnerabilities by providing connectivity where it did not exist previously," the FBI stated.
DARPA: Show us how to weaponize benign technologies
The Defense Advanced Research Projects Agency was created years ago because the US didn't want to be surprised again by any major new technological developments (specifically in response to the surprise launch of Sputnik in 1958) and ensure that the US should do any surprising. With that in mind the agency launched a potentially scary program called "Improv" that looks at what DARPA calls today's "bustling tech marketplace with an inventor's eye and imagine how easily purchased, relatively benign technologies might be converted into serious security threats."
NASA wants a supersonic transport
NASA wants to put a supersonic passenger jet back in the sky that promises to a soft thump or supersonic heartbeat as the agency called it -- rather than the disruptive boom currently associated with such high-speed flight. The "low-boom" aircraft known as Quiet Supersonic Technology (QueSST) will be built by a team led by Lockheed Martin Aeronautics which will get $20 million to develop baseline aircraft requirements and a preliminary aircraft design.
Einstein was right: Gravitational waves exist!
In one of the great astronomical discoveries scientists in February said they made direct observation of gravitational waves -- ripples in space-time foretold by Albert Einstein 100 years ago. Physicists said the detected gravitational waves were produced during the final fraction of a second of the merger of two black holes – that were about 29 and 36 times the mass of the sun, to produce a single, more massive spinning black hole. This collision which happened about 1.3 billion years ago, had been predicted but never observed, according to the National Science Foundation.
Beam me up Scotty
Visitors to the Smithsonian Air and Space Museum see the fully restored original USS Enterprise model from the 1960s "Star Trek" TV series in Washington July 2016. The USS Enterprise is one of the highlights in the museum's newly renovated and reopened Boeing Milestones of Flight Hall, coinciding with the 40th anniversary of the museum.
CIA: the fine art of investigating flying saucers
Most people don't typically associate the Central Intelligence Agency with historical UFO investigations but the agency did have a big role in such investigations many years ago. But earlier this year the agency issued a release called "How to investigate a flying saucer." In the article the CIA talks about the Air Force's Project Blue Book which investigated public reports of UFOs and operated between 1952-1969. Project Blue Book was based at Wright-Patterson Air Force Base near Dayton, Ohio. Between 1947 and 1969, the Air Force recorded 12,618 sightings of strange phenomena — 701 of which remain "unidentified."
Yikes
Scientists at the Imperial College London says that they have developed a robotic rectum that may help doctors and nurses detect prostate cancer. The idea is the device helps train doctors and nurses to perform rectal examinations by accurately recreating the feel of a rectum, as well as providing feedback on their examination technique. The device contains small robotic arms that apply pressure to the silicone rectum, to recreate the shape and feel of the back passage.
Big jet for big space access
It is likely to be the world's largest aircraft. At roughly 1.3 million pounds and using six 747 jet engines, the Stratolaunch is designed to ferry rockets to a high altitude and release them where they can blast into Low Earth Orbit to deliver satellites. Stratolaunch is Paul Allen's — who is not only the cofounder of Microsoft but a big space enthusiast — idea for making space travel an on-demand type of business.
Branson readies revamp of SpaceShipTwo
Richard Branson poses after unveiling the SpaceShipTwo, a second iteration of the aircraft. It is a six-passenger two-pilot vehicle meant to ferry people into sub-orbital space. It replaces a ship destroyed during a test flight in October 2014, in Mojave, Calif.
NASA's electric plane
NASA has begun testing a 14-motor electric plane to demonstrate that electric propulsion can make planes quieter, more efficient and more environmentally friendly. The X-57 Maxwell features 12 engines on the leading edge of the uniquely designed wing for take offs and landings and one larger motor on each wing tip for use while at cruise altitude.
Mermaid robot
Humanoid Diving Robot OceanOne, with a humanoid torso and a mermaid-like tail section, studded with thrusters and sensors to keep the mer-bot swimming. The OceanOne team said in April they want their robotic coworker to eventually find work in disaster relief, ship repair, oil and gas drilling, and other oceanographic research.
Solar bus
Buses with solar panels installed on their roofs to gather electricity are seen in a parking lot in Hangzhou, Jiangsu Province, China.
World's biggest solar tower
Construction workers install heliostat mirrors during the construction of a 787 foot solar-power tower in Israel's southern Negev Desert. The world's tallest solar-power tower is being built off a highway in the Negev Desert in southern Israel.
Like
Facebook CEO Mark Zuckerberg holds a propeller pod of the solar-powered Aquila. Facebook said in July 2016, it had completed a successful test flight of a solar-powered drone that it hopes will help it extend internet connectivity to every corner of the planet.
Copyright © 2016 IDG Communications, Inc.
Next Up: Check out these related slideshows