10 acquisitions driving Oracle's cloud strategy
Oracle follows a pattern of either acquiring companies that bolster its existing market position in areas such as ERP or CRM, or buying firms that help it fill in gaps in the company's broad portfolio. CIO.com explores 10 key cloud deals Oracle has made over the years.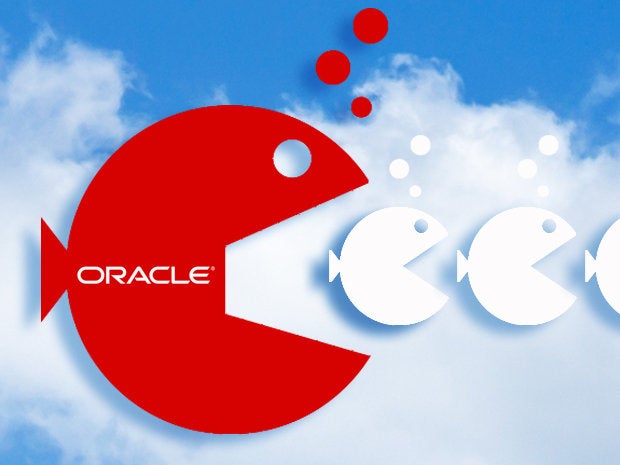 Oracle craves cloud companies
Since 2010, Oracle has been steadily acquiring cloud software companies, particularly SaaS providers that can help the business software maker grow its market share for software rented over the internet. The deals, including last month's $9.3 billion blockbuster bid for NetSuite, are crucial for the company's ability to keep pace with challengers such as SAP, Salesforce.com and Microsoft, all of which are forging their own aggressive strategies in the cloud.
Oracle follows a familiar pattern of either acquiring companies that bolster its existing market position in areas such as ERP or CRM, or buying firms that help it fill in gaps in the company's broad portfolio, says Gartner analyst Chad Eschinger, who covers the company closely. In chronological order, CIO.com explores 10 key cloud deals Oracle has made over the years.
RightNow
In 2011, Oracle initiated the first of several acquisitions of cloud-based customer engagement entities when it purchased RightNow Technologies for $1.5 billion. The company specialized in helping enterprises support customers via call centers, the web and social networks. Although Oracle had already long offered CRM solutions via its PeopleSoft and Siebel Systems acquisitions, RightNow gave Oracle an offering to challenge Salesforce.com, which was already the leading cloud CRM provider. Oracle would go on to acquire several CRM and marketing cloud companies.
Taleo
In early 2012 Oracle ponied up $1.9 billion for Taleo, a leading provider of cloud-based human capital management software that had cultivated 5,000 customers over the years. The deal was viewed as a counterweight to SAP's $3.4 billion purchase of HCM provider SuccessFactors. It also pitted Oracle squarely against another larger cloud provider with traction in Workday.
Eloqua
Marketing automation in the cloud was the result of Oracle's $810 million deal for Eloqua in late 2012. Perhaps not coincidentally, the merger came after Salesforce.com, an Eloqua partner, unveiled its own Marketing Cloud automation suite. If the RightNow pickup seemed like Oracle was dipping its toe in the CRM water, time proved that Eloqua was just getting started in its marketing spree.
BigMachines
Oracle in 2013 snapped up BigMachines, whose cloud-based configure, price, quote, or CPQ, software helps salespeople quickly put together and price complex orders, for an undisclosed sum (but Business Insider reported Oracle paid $400 million). The technology, used by 275 companies at the time, essentially automated a lot of the grunt work salespeople had conducted in the past, using spreadsheets or even cocktail napkins.
BlueKai
Continuing its obsession with customer-focused engagement solutions, Oracle in 2014 landed on BlueKai, which aggregates data on consumers and offers it to marketers via its platform. The software and data enable marketers to produce targeted marketing campaigns to reach consumers via the web and on mobile devices. If there was any doubt Oracle was gunning for Salesforce.com, this deal put that to rest. Salesforce.com was also intensely focused on targeting customers via any digital means. Fortune reports that Oracle paid more $400 million for BlueKai.
Datalogix
In a highly complementary deal to the BlueKai buy, Oracle in late 2014 coughed up $1.2 billion for Datalogix, which provides target advertising based on consumers' spending habits. Oracle said that the companies will provide marketers with a richer understanding of what consumers do, say and buy, allowing them to measure the effectiveness of their different campaigns and advertising channels.
Opower
Oracle's $532 million deal for Opower extends its customer engagement to the energy utility vertical. Its software, which stores and analyzes billions of meter readings, helps improve customer service and meet regulatory requirements for the likes of PG&E, Exelon and National Grid.
NetSuite
Oracle's $9.3 billion deal to acquire NetSuite ratchets Oracle's cloud power to another level in financial management software, an area where the company has an embarrassment of riches. When Oracle closes the deal for NetSuite – a company in which Oracle founder Larry Ellison already owns a greater than 40 percent stake – it will have five ERP products, joining Oracle ERP Cloud, E-Business Suite, J.D. Edwards and PeopleSoft, says Gartner analyst Chad Eschinger. "There is going to be a lot of confusion, especially in sales and marketing," about how to position the products, Eschinger says.
Eschinger says how Oracle situates NetSuite in its ERP portfolio will be crucial for CIOs. If Oracle positions NetSuite as a midmarket solution does that mean NetSuite customers who find themselves growing have to move to one of Oracle's other suites? It remains to be seen.
NetSuite customers who have deliberately stayed out of Oracle's large universe may view the deal as a nuisance. Customers of both vendors, such as Land O'Lakes, look forward to the product synergies. CIO Mike Macrie tells CIO.com, "Oracle provides scale and enterprise access globally and Netsuite provides quality SaaS products and a partner network from which Oracle can further expand."
Oracle executives are supremely confident in the move, with CEO Mark Hurd saying that Oracle and NetSuite's cloud applications will "coexist in the market forever."
Behind Oracle's cloud strategy
Reflecting on Oracle's cloud M&A strategy, Gartner analyst Chad Eschinger says Oracle appears more focused than it has been in the past. "They obviously want to acquire solutions that are filling white space in industry specific verticals," Eschinger says. But deals such as NetSuite also show that they also want to create cloud analogs to existing on-premise apps.
That strategy appears to be working; Oracle has generated more than $12 billion in cloud software sales over the past year. However, Oracle's cash cow remains very much in the on-premise world, with only about 8 percent of its revenues coming from its cloud business.
Copyright © 2016 IDG Communications, Inc.
Next Up: Check out these related slideshows