As a professional writer and avid reader, I consume books like fat men eat Quarter Pounders with Cheese.
However, unlike those greasy burgers — which now go for a cool $2.50 each as part of McD's gluttonous "McPick 2" combo — books and ebooks are expensive, especially new titles and hardcovers. I read at least two books a week, and at an average of $10 each, that's $80 a month and nearly $1,000 a year.
So when I walked through the doors of the recently renovated Boston Public Library (BPL) a few months ago, a colorful sign advertising the library's digital collection immediately grabbed my attention. Wait, I thought. You can get free ebooks, audio books and magazines from the library?
It almost sounds too good to be true, but yes, many U.S. libraries integrate with popular mobile apps to provide gratis access to their digital media collections. In most cases, you need only a library membership and email address (for account creation) to access thousands of digital books, magazines and even movies. 
OverDrive for libraries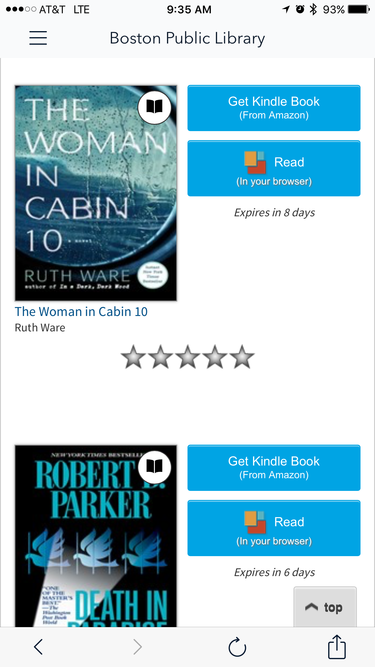 If you have an account at your local library, you may be able to access its digital collection via the OverDrive app, which is available for Android, iOS, Windows Phone, Chrome browser, Windows 8 and 10, and Amazon's Kindle Fire HD. You simply create an OverDrive account using an email address and your library information (account number and login PIN), download the app, and you're ready to check out ebooks and audio books.
OverDrive integrates with the digital collections of libraries in Boston; Chicago; Houston; Los Angeles; New York City; Philadelphia; Portland, Ore.; and San Francisco, just to name a few locations. OverDrive's "find a library" tool makes it easy to locate your nearby libraries that support the service. The rules and regulations on checkout and return durations may vary, but at the Boston library, you can checkout as many as 10 titles at a time, for two weeks each. eBooks are available in Kindle format, or you can read them in a browser window. When you're done with a book, you can check it back in to make space for another download. The process for checking out audio books is similar.
You sometimes have to wait for new books or very popular releases, but in many cases, obscure titles or older books from popular authors are immediately available. Perhaps best of all, you don't have to handle physical library books that have been in countless filthy hands, in countless bathrooms. And you never have to return to the library to return a book, or pay late fees — when your loan period expires, the book is automatically returned.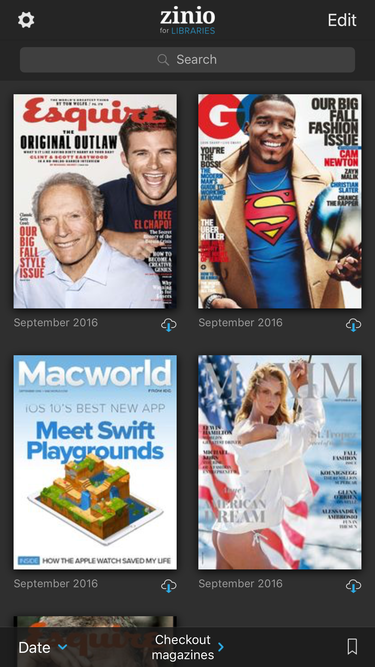 Zinio for libraries
Zinio is a popular digital magazine service that also works with many public libraries' online magazine collections. Like OverDrive, you need only have a library account, with online login information, to access piles of magazines.
The Zinio app is available for Android, iOS and Windows 8, and though its interface is a bit clunky and takes some getting used to, that's a small price to pay for free magazines. The app has hundreds of the latest magazines in genres including Art & Photo, Automotive, Business & Finance, Entertainment, Health & Fitness, Home & Garden, Men, Music, Sports and Women.
Again, not all public libraries integrate with Zinio, but your local library's digital collections page on its website should specify the services it supports. 
Get free digital music and movies from your library
I haven't yet downloaded or tried the BPL's app for music and video, called Hoopla, but it apparently gives you access to free ebooks and audiobooks, as well. Other libraries likely offer additional options.
Just a few minutes surfing your library's website could yield an endless supply of free ebooks, audio books, music, video and movies. In some cases, you may have to visit your library in person to create or renew your account, and retrieve the necessary login details. But that's not such a bad thing. Gazing at the piles of "real" books and remembering what it used to be like for people who wanted to check out the latest bestsellers provides some valuable perspective on how lucky we are today to have immediate access to vast digital libraries at the (literal) tips of our fingers. 
AS