Now that Fitbit updated its Charge HR fitness tracker with Charge 2 ($150 to $180), and its Flex with the new Flex 2 ($100), you have to wonder when we'll see a "Zip 2," a "One 2," or a new "Surge 2." And what cool features might the updated versions offer?
Here are some highly subjective suggestions for future iterations of those three Fitbits. The suggestions aren't based on rumors, nor do I have any specific knowledge of Fitbit's plans, because company declined to provide insight on its future product releases.
Fitbit Zip 2 feature wishlist
Fitbit first announced Zip in September 2012, an eternity ago in terms of tech products. Seriously, when's the last time you purchased a "new," four-year-old gadget?
However, at $60, Zip remains Fitbit's most affordable tracker, and it's a good fit for people on limited incomes who want to track their activities. Due to the low cost, companies often give Zips away as part of their fitness or wellness programs, as well.
Zip, or a similar Fitbit with limited features and a low price, will very likely continue to be part of the company's lineup for the foreseeable future. But a refresh would be nice. Here are some enhancements I'd like to see.
Slightly smaller form factor.
Replaceable battery that lasts for a year. (Fitbit says the current battery can go for up to six months.)
More colors. (Zip is currently available in four colors).
Vibrating alarms, so you can manually add reminders to work out, stand up and move around during the workday, and wake up in the morning.
Fitbit One 2 feature wishlist
Fitbit's One tracker ($100), which you wear in a pocket or clip to a bra strap or belt, is just as long in the tooth as Zip, having also been introduced in September 2012. And yet, it remains one of my favorite Fitbits because of its low price, "pocketability," and altimeter, which counts the floors you climb.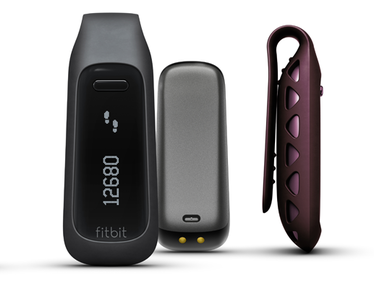 Here is a set of features that would help make a worthy sequel to One, without cannibalizing the features of Fitbit's new Flex 2, which also costs $100.
Automatic sleep tracking. (You have to manually start and stop sleep tracking on the current One.)
Automatic exercise recognition.
A screen that's easier to read in bright sunlight.
A battery that lasts three weeks or longer. (Fitbit says One's battery lasts 10 to 14 days.)
A new name — "One 2" sounds like the opening line of a nursery rhyme.
Fitbit Surge 2 feature wishlist
Fitbit's most expensive device, Surge, costs $250, and it's two years old. Surge is also the only Fitbit with built-in GPS, which serious runners prefer for its precision when tracking routes, distance and pace.
Surge has lots of other features, including a monochrome screen that, like Zip's, is easy to read in bright sunlight, heart-rate tracking, call and text notifications, and music controls.
So what would make Surge 2 better than the current model?
A thinner, lighter design.
A swimproof design and automatic swim-workout tracking.
The ability to change bands.
Longer battery life. (Fitbit says Surge lasts for up to seven days, or up to 10 hours of GPS use.)
Built-in audio playback, so you could listen to playlists via Bluetooth headphones without a smartphone.
Cardio Fitness Level and Score features, which are currently only available in Charge 2.
Interval Mode training, also exclusive to Charge 2.
Relax mode, which is again a Charge-2-only feature.
Another new activity-and-wellness tracking feature (or two) that's unique not only to Fitbit devices but all activity trackers.
To that last point, Fitbit CEO James Park said advanced tracking features, such as blood-pressure monitoring, are on the company's to-do list, and a Surge refresh would be a good place to introduce those advancements. And new health-and-activity tracking tools will be essential if Fitbit wants to remain a step ahead of competitors, especially Apple and Garmin.