Best laptop bags: Our favorites for commuting, traveling, and charging your devices
We found some of the best laptop bags for every situation, whether you're commuting everyday to work, traveling abroad, or want to charge your devices on the go.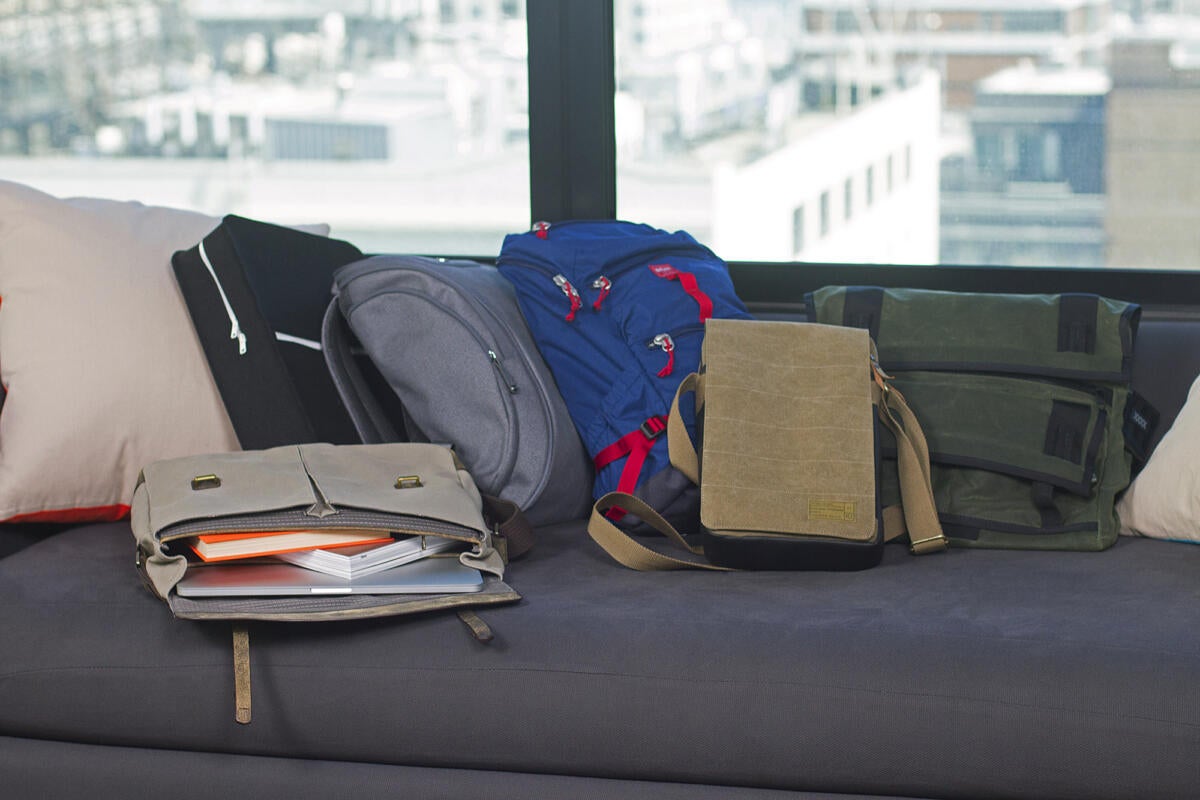 Next to a laptop itself, a laptop bag is one of the most important purchases you can make. With so many laptop bags and backpacks to choose from, it would be an idle exercise to try to find the best laptop bag out there. Instead, we'd rather help you find the right laptop bag for any situation, like commuting everyday to work, traveling abroad, or charging your devices on the go.
To be considered in this review of laptop bags, each product had to have a designated laptop sleeve or compartment. These bags can all fit up to a 16-inch laptop, except where noted. Keep checking back as we review more laptop bags and backpacks and continually update this guide.
Best commuter bag: Booq Cobra Squeeze
Leave it to Booq to make a laptop backpack that's both compact and spacious at the same time. The company's Cobra Squeeze (MSRP $195, available on Amazon) is the VW Beetle of laptop backpacks, using a dome shape so you can stuff as much as possible without creating weird bumps or needing an oversized backpack. The Cobra Squeeze has a dedicated laptop sleeve that can fit up to a 15-inch MacBook Pro or a 16-inch Lenovo Ultrabook. Then there's a second sleeve for tablets. On either side of the backpack, you'll find easy-to-reach zippers for storing your smartphone. These side pockets have extra padding to avoid scratches.
This backpack's unique turtle-shell design also helps redistribute the weight so that your shoulders don't feel worn out throughout the day. The shoulder straps are padded and curve inwards, which is very helpful, too. Furthermore, the Cobra Squeeze uses a water-repellant fabric in case of a rainy day, and the company has instituted a serial number tracking system to help recover lost Booq bags, making one a worthwhile investment.
Best messenger bag: Timbuk2 Proof
Timbuk2's Proof Messenger Bag (MSRP $228, available on Amazon) is a nice-looking messenger bag with a separate sleeve that can fit a 15-inch laptop. In the main compartment, there's plenty of room to stuff an external keyboard and a mouse, as well as an iPad mini and a textbook. The main adjustable strap seems a little short, however, and a taller person might want a longer strap so that the bag will rest lower on their body. For additional stabilization, the Proof Messenger Bag comes with an additional cross-body strap that you can wrap around your waist, perfect for biking across town. For every other situation, this strap is fully removable.
Timbuk2's Proof bag is made of waxed canvas to protect your belongings from the rain. It also has sturdy zipper and genuine leather trim that are promised to last a very long time. Because of all the premium materials used, the Proof Messenger Bag is a little pricey, but Timbuk2 has a reputation for making quality products, and the company offers a lifetime warranty, so the higher price tag is worth it.
Best charging backpack: STM Drifter Energy
STM's Drifter Energy backpack (MSRP $240, available on Amazon) has been recently upgraded to include a Joey rechargeable energy pack, so that you can have your very own charging station wherever you go. The Drifter Energy's 3500mAh battery was able to recharge an iPhone 6s twice before being completely drained. Best of all, the iPhone can stay securely stored inside the backpack while charging. The main compartment has straps and pouches to organize your cords so they don't get tangled up while traveling, and the battery comes equipped with temperature sensing to prevent it from overheating.
This backpack was designed for keeping your electronic gadgets charged, but also protected. The laptop sleeve, which can fit up to a 15-inch MacBook Pro, is padded and attached to the back of the bag, as opposed to the bottom. That way, your laptop will remain suspended above the floor when you set your bag down. You can store your phone and camera on the top fleece-lined pocket to prevent scratches, or bumping around with the other stuff in the main compartment.
Best-looking bag: M.R.K.T. Evan Backpack
If you want to make an impression, wearing this stylish backpack is a good way to start. The Evan Backpack (MSRP $125, available on Amazon) is the product of Mad Rabbit Kicking Tiger or M.R.K.T., a Los Angeles-based company that was started by a Harvard architect. So, inspired by architectural concepts, this backpack is surprisingly spacious and sturdy, with a felt interior that makes it water repellant. Its unique look literally stopped strangers in their tracks, so be prepared for people asking you where you got it.
Evan never lost its curved-rectangular shape, even after we tossed it around a few times, stomped on it, and stuffed it to the max. In fact, the Evan Backpack may seem too precious to carry any substantial load, but it was able to accommodate a 15-inch MacBook Pro, two textbooks, a hardcover novel, a water bottle, and an iPad mini to boot. The backpack zipped up perfectly, and it retained its cool-looking shape throughout the day even with all that gear stuffed inside. 
Best travel bag: Incase EO Travel Backpack
Incase is known for making stylish, top-notch accessories, so it's no surprise that their travel backpack is the reigning champion in this category. The EO Travel Backpack (MSRP $179.95, available on on Amazon) stores up to a 17-inch MacBook Pro in a separate sleeve so you can get to it quickly without having to shuffle all your other stuff around. And boy, can it fit lot of stuff, as the main compartment expands by 35 percent when you release the compression straps on the side. 
The EO Travel Backpack has a clamshell design so you can open it completely and lay it down flat, so you can easily pack all your things before a big trip. The shoulders straps are padded to soften the weight, and the back is made of breathable mesh so your back won't get quite so sweaty during long travels. The backpack is also made of water-resistant fabric in case you travel to a stormy destination. And, of course, it's allowed as a carry-on luggage.
Best under $70: Hex Infinity Cross-Body
By packing only the essentials, Hex's Infinity Cross Body bag (MSRP $69.95, available on Amazon) can save you a lot of time before leaving the house. And essentials can mean a 12-inch MacBook or an 11-inch Surface tablet, as this bag as enough room for that. The main compartment has a laptop sleeve that's padded with super-soft fleece to prevent any scratches. Tablets can fit in the exterior pocket in the back for easy access. Right on the front there's an organizer that can fit any sized smartphone and even an iPad mini.
The flap covering the organizer has a magnet closure that will stay secure as you dash across the street. The straps are sturdy and adjustable, but they aren't padded. This laptop bag his perfect for people with an ultra-portable laptop and because of its cross-body design, it's also great for biking. 
This story, "Best laptop bags: Our favorites for commuting, traveling, and charging your devices" was originally published by Macworld.
Copyright © 2016 IDG Communications, Inc.