12 tech gifts that should be on your holiday wish list
We reviewed a lot of gadgets and services in 2016, including suitcases that lock themselves and apps that turn tablets into additional displays for laptops. Here are our top 12 recommendations for tech tools that make unforgettable holiday gifts.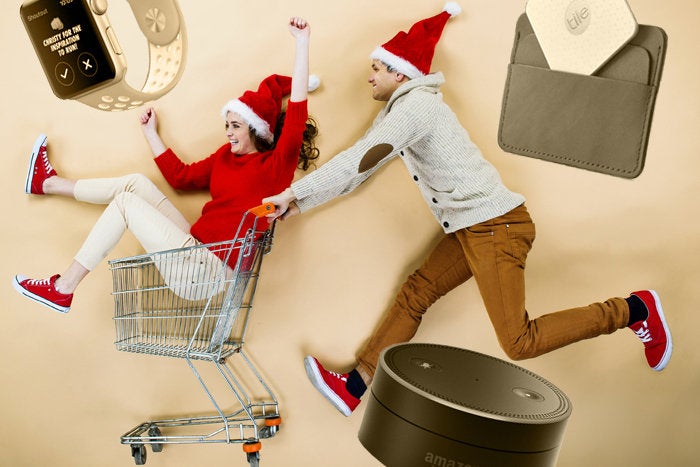 Great gifts for geeks
How can you wow that special techie on your gift list this holiday season? Or perhaps more importantly, how can you find the perfect gift for yourself? We pondered these questions and picked a select list of products we tested (and loved) during 2016, all of which are guaranteed to please.
We chose the following nine devices with the frequent business traveler in mind. Along with hardware, we included three mobile software tools that will come in handy for any and all holiday travelers. In other words, these 12 products will help you either make a gift-buying decision, get from points A to B, or both.
Best fitness tracker: Fitbit Charge 2
Fitbit released four new wearables in 2016, the best of which is Charge 2 [ Find it on Amazon ]  ($150). It's a feature-packed update to the company's popular but aging Charge HR wristband. With the exceptions of marathoners and swimmers, Charge 2 is the best overall activity tracker for the average person. It's the first Fitbit device to offer an interval workout mode, cardio fitness level and scores, and "relax mode," with guided breathing sessions of two or five minutes. Charge 2 also has lots of other features, including heart-rate tracking, automatic sleep tracking, and one of my favorites, reminders to move. You can switch the bands, too, or opt for one of two special editions for $30 more than the base price.
Best smartwatch for fitness buffs: Apple Watch Nike+
The Nike edition of Apple Watch ($369 for 38mm, $399 for 42mm) [ Find it on Apple.com ] is the same price as Apple Watch Series 2 with a sport band, but it has a cool, exclusive Nike band (available in four different colors). The perforated bands weigh slightly less than Apple's standard sport bands, and they let your sweaty wrist "breathe" a little during exercise. You also get a handful of proprietary Nike watch faces along with all of the other cool features that come standard in Series 2, such as built-in GPS, and ocean and pool swim workout tracking. (All Apple Watch Series 2 models are water resistant up to 50 meters).   
Best activity tracker and GPS watch: TomTom Spark 3
The TomTom Spark 3 Cardio + Music [ Find it on Amazon ]Remove product link isn't as attractive or as easy to use as Apple Watch. For $250, however, you get a GPS fitness watch built by TomTom, a GPS company, with lots of features, including multiple sport tracking (with swim support), 24-hour activity tracking, sleep tracking, and an optical heart-rate sensor. Also, Spark 3 Cardio + Music is currently the only dedicated GPS fitness watch that lets you stream music to Bluetooth headsets, no smartphone required. The reasonably priced bundle includes Bluetooth headphones that sound good, though they lack a built-in mic for calls. You can also follow specific routes by downloading and installing GPX location files to the watch. 
Best smart suitcase: Bluesmart Black Edition
Bluesmart's second "smart" carry-on rollaboard is expensive at $600. If that price doesn't scare you off, it's worth a look for its handsome black and gray fabric, capability to easily store laptops and gadgets, and its "smarts." The smart features include tracking via GPS, Bluetooth and the Bluesmart mobile app; a built-in battery that can recharge USB-connected devices; a built-in luggage scale that displays the bag's current weight in the Bluesmart app when you pick it up by its top handle; and a built-in TSA lock, which can be used to automatically lock or unlock your bag based on your proximity to the suitcase. In my tests on a domestic American Airlines flight, the bag fit well in the overhead bin and glided nicely down the cramped airplane aisle.
Best 'dumb' rolling bag: RIMOWA Salsa Deluxe Hybrid Business Multiwheel
Speaking of expensive, RIMOWA's Salsa Deluxe Hybrid Business Multiwheel bag costs $650. However, you can cram an insane amount of stuff into this compact, four-wheeled carry on. It features a convenient, external zipper compartment for your laptop, tablet or other gear. The bag comes in four colors ("yachting blue" is my favorite), and it features the distinctive, grooved RIMOWA look, which has been a hit with some celebs. Check out this video to see the bag in action.
Best virtual assistant in a speaker: Amazon Echo Dot
With Amazon's second-generation Echo Dot [ Find it on Amazon ]  ($50), you can tell your home stereo system what you want to listen to using voice commands. The built-in Alexa virtual assistant can also do lots of other things, such as order an Uber or Lyft ride, help make a purchase (on Amazon, of course), and catch up on the latest news stories via "flash briefings." Echo Dot's compact size makes it an ideal desk companion (provided you don't annoy coworkers), and it works well as a bedside table alarm clock (without a clock face). Echo Dot's built-in speaker is decent, and you can even use it to play white noise to help me focus on your work. It does not, however, deliver a rich audio experience.
[ Disclosure: The author currently consults for a company that has Amazon as a client. ]
Best ereader: Kindle Oasis
Starting at $290, you'll pay a lot for Amazon's Kindle Oasis [ Find it on Amazon] Remove product linkRemove product link dedicated ereader. That price is worth it, though, if you travel for long periods and don't want to carry another charger.  Amazon says the batteries in the ereader and its included cover last for "months." Kindle Oasis is also the thinnest, lightest Kindle available; it weighs only 4.6 ounces without the cover. Two dedicated buttons let you easily page forward or backward, and you can flip the Oasis around to access the buttons if you're left handed. Long battery life aside, dedicated ereaders rock because they help keep you focused, and their screens are well suited for use outdoors or in bright light.  
[ Disclosure: The author currently consults for a company that has Amazon as a client.]
Best Bluetooth trackers: Tile Mate and Tile Slim
The Tile Mate  and Tile Slim Bluetooth trackers make great stocking stuffers. Both devices help you find and track missing items to which you attach them, using Bluetooth and the Tile app. If a Tile is nearby, you can prompt it to play a little ditty, to locate it by sound. If it's not within the necessary proximity, you might be able to find your item by tapping the Tile user community. Tile Mate attaches to key rings and currently costs $25 each, with volume discounts available. Tile Slim ($30, with volume discounts) is thinner and lacks a keychain hole, so it's better suited for use in a wallet. Tile Slim's volume is slightly lower, as well, a potential disadvantage when trying to locate a missing item with sound.
Best laptop charger: Dart
A laptop charger as a memorable holiday gift? Before you roll your eyes, consider FINsix's Dart [Find it on Amazon ], which the company says is "the world's smallest laptop charger." The 65-watt charger weighs just 85 grams and is only 3 cubic inches, according to FINsix. That's noticeably smaller than many standard "bricks" that ship with today's laptops. The charging cable also includes a 2.1-amp USB port that you can use to charge your smartphone or another gadget. Dash comes in five colors, too. Unfortunately, it's currently only available for PCs, but a FINsix spokesperson said a USB-C connector for MacBooks and new MacBook Pros should ship by year's end.
Best productivity app during holiday travel: Duet Display
It's not easy to take multiple monitors on trips. But if you have an iPad tablet and a Mac or PC laptop, the Duet Display app is the next best thing. After you install the app on your iPad and computer, you connect the two devices using the iPad's cable, and your tablet becomes a second display. You can either extend or mirror your computer's display, and because the app connects via a cable instead of wireless, the iPad display is generally responsive and quick. Duet Display costs $20 and is well worth the price.
Best flight rebooking tool: Freebird
Traveling during the holidays — and winter months — often means flight delays or cancellations. If you're traveling on business, and the travel agent purchased flexible (and more expensive) airplane tickets, you have options. Otherwise, Freebird, a mobile-friendly, website-based flight rebooking service, is worth a look. Freebird costs $19 for one-way flights and $34 round trip. You need to purchase the service at least two days before you travel. If your flight is cancelled or delayed by more than four hours, you're notified via SMS. The text includes a link to Freebird's mobile site, where you can browse available flight options. If you find one that works, Freebird books and pays for it. Freebird also covers you if you miss a connecting flight due to a delay.
Best GPS navigation app: Waze
Waze is arguably the most popular GPS navigation app. It definitely has a lot more style and personality than Google Maps, though Google actually owns Waze. No other nav app gives you turn-by-turn directions voiced by Tyler Perry's Madea, that's for sure. Waze added some useful new features throughout the year, too. If you give Waze access to your calendar, for example, its "Planned drives" feature lets you know when it's time to leave for an appointment, based on current traffic conditions and previous patterns. The app then starts to navigate to your destination. Also of note, rumor has it that Waze is the preferred navigation app among San Francisco Lyft drivers due to its warnings about traffic police and red-light cameras. And you'll also appreciate Waze's help when trying to find parking.
Copyright © 2016 IDG Communications, Inc.
Next Up: Check out these related slideshows