20 years ago: Hot sci/tech images from 1996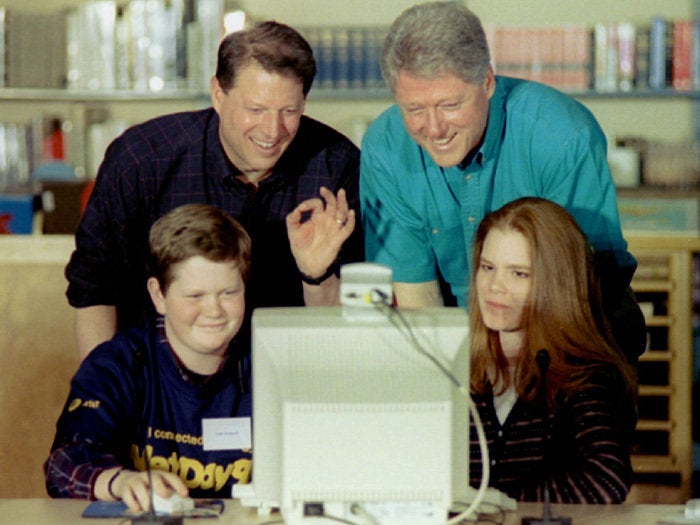 Pulling cable
Vice President Al Gore gives the OK sign as he and President Bill Clinton participate in an Internet demonstration at Ygnacio Valley High School with students Luke Rockwell (L) and Julie Allen. The president and vice president earlier helped wire the school so the connection with the Net was possible.
Related: 20 years ago: Hot sci/tech images from 1995
Not the iWatch
A Nippon Telegraph and Telephone Corp employee demonstrates a newly developed wristwatch-shaped handy-phone system which weighs just 70 grams. The company said it was able to make the product so small by installing a dialing function that responds to the human voice, instead of incorporating dial buttons. It hopes to market the product within two years at a retail price of about $463.
Cyber Wedding
With a battery powering his laptop, groom Joseph Perling prepares Feb. 13, for his "Cyberwedding" held Feb. 14 at Venice Beach, Calif. His bride Victoria Vaughn said her vows separately in Hollywood, Calif., and the minister will perform the ceremony from his church's computer in Beverly Hills, Calif. The ceremony took place over the Compuserve Network.
Remember the network computer
Two engineers of Taiwan Acer Computer Group final check their new product "network computer" before a press conference in Taipei June 18. Acer plans to unveil a new $500 "network computer" called the AcerBasic line, hoping to cash in on the global internet craze. The AcerBasic will offer easy-to-use, low-cost internet access and very little else, reflecting a growing computer industry experiment with limited-function computer "appliances" that are far cheaper than typical multi-function personal computers.
Videoman?
Sony shows off a personal liquid crystal display (LCD) monitor, Glasstron, and a video compact disc (CD) player in Tokyo. The company that gave the world music Walkman is taking personalized entertainment into a new dimension with its latest gadget -- an individual movie screen mounted in a headset. Sony Corp said it would launch the PLM-50 Glasstron later this month that will allow individual viewing of movies and video discs.
Oldie but goodie
The Kodak Digital Science DC20 camera, pictured here at the COMDEX show in Chicago, is Kodak's first in a series of affordable point and shoot digital cameras targeting the rapidly growing market of home-computer users.
Digital Equipment
Computer enthusiast Holger Stockey, of Germany, drives a virtual reality race car at the COMDEX computer convention in Las Vegas. Digital Corp. sponsored the Fast Track Tour to showcase their Alpha technology, a 64-bit, 500MHz chip workstation - the world's fastest.
Video killer!
Shop attendant Hironori Kobayashi demonstrates a 98,000-yen (about US$860) digital video disc (DVD) player as it becomes available for sales in Japan, Nov. 1. The DVD, expected eventually to sweep away prerecorded video movies, compact discs and CD-ROMs.
Larry Ellison
Oracle Corp chairman Larry Ellison gestures as he participates in an international computer technology forum, September 1996. Ellison has previously criticized the PC as an over elaborate, opaque device as the computer industry has been driven by arguments about the most sensible direction it should take.
Big Blue and Gerstner
International Business Machines chairman Louis Gerstner speaks at a press conference in New York held to announce an electronic banking venture, Integrion Financial Network, between IBM and 15 banks, Sept. 9. The partnership will offer network based banking services to customers of member banks.
Space monkey
A monkey called Multik and aged four, looks through the glass of its capsule before being launched, along with bugs, snails and flies, into orbit from the northern cosmodrome of Plesetsk, 600 km from Moscow, on Dec. 24. The Russian satellite Bion 11 is expected to return to Earth in two weeks after which Multik and another monkey, Lapik would be tested for effects of weightlessness and then returned to their zoo.
Mr. Roboto
Japanese carmaker Honda displays the world's first "human" robot in this undated photo. Honda announced Dec. 20 that it had developed the first human-shaped robot which can move independently and do basic manual tasks. The result of 10 years of research, the battery-powered robot is 180 cm (six feet) tall, weighs 210 kg (462 pounds) and looks like an astronaut in a space suit. The robot has an autonomous control process and can walk and go up and down stairs or slopes without having to have detailed walking instructions input, Honda said.
The set top battle
Stephen A. Weiswasser (L) chief executive officer of Americast accepts delivery of the first of at least 3 million digital set-top boxes from Zenith Network Systems President William Luehrs. The set-top boxes will let consumers receive the next generation in home entertainment.
Buzzing around
Visitors to a Beijing exhibition of electric vehicles and substitute fuel vehicle technology held at a major hotel, look over a Chinese-made electric passenger car. The MT001, a lead/acid battery-powered Super Electric Vehicle, is built in China's southern Hainan Island. It can carry two adults and one child, has a range of 120 kilometers at 40 kilometers per hour, has a top speed of 80 kilometers per hour and costs $5,500.
Long trip
The landing of the space shuttle Columbia at the Kennedy Space Center in Florida ended a mission which broke the record for time in space for a shuttle, lasting 18 days.
Mars Pathfinder
A Delta II rocket streaks skyward from the Cape Canaveral Air Force Station Dec. 4, carrying the Mars Pathfinder, and is shown in a time exposure as news photographers follow the flight. The moon is the bright object at lower left. The vehicle is expected to arrive on Mars on July 4.
Moon living?
The Clementine spacecraft is launched aboard a Titan II missile from Vandenberg Air Force Base, California, in this Jan. 25, 1994, file photograph. Radio beams from the U.S. missile-defense satellite have spotted what seems to be a bed of ice in a crater near the South Pole of the moon, a discovery Pentagon officials said Dec. 3 could open the way to a permanent, rocket-supplied human colony on the moon.
Mars explorer?
Howard Eisen, Chief Rover Mechanical Engineer from NASA's Jet Propulsion Laboratory, demonstrates a model of the rover which NASA hopes will explore the surface of Mars.
Stealing micros
A photographer takes pictures of fake microprocessors which police found by an Asian trader together with other computer pieces and cash, during a news conference in Munich.
Those public phones
Passersby in Copacabana make phones calls from booths of different sizes in Rio de Janeiro. In an effort to help all Brazilians gain access to public phones, state phone company Telerj installed mini-versions of their "big ear" (orelhao) telephones for the handicapped. In this case, however, the woman at left preferred to use the smaller version rather than wait in line.
When shuttles ruled
The space shuttle Columbia lifts off from the Kennedy Space Center carrying NASA's oldest active astronaut. The $2 billion spaceship, the oldest of NASA's four shuttles, lifted off after an 11-day delay caused by rocket booster problems and high wind. The five crewmembers, including 61-year-old Story Musgrave, expect to spend 16 days in space to deploy two satellites on a scientific mission.
The electric car that started it all
General Motors' Lansing Craft Centre plant manager Maureen Midgley (L) guides a GM EV1, driven by GM Chairman John Smith, up the ramp of an auto hauler during the first drive-away of the electric vehicles from the Centre in Lansing.
Ice, ice baby
This image shows two views of the trailing hemisphere of Jupiter's ice-covered moon, Europa. The left image shows the approximate natural color appearance of Europa. The image on the right is a false-color composite version combining violet, green and infrared images to enhance color differences in the predominantly water-ice crust of Europa. Bright plains in the polar areas (top and bottom) are shown in tones of blue to distinguish possibly coarse-grained ice (dark blue) from fine-grained ice (light blue). Long, dark lines are fractures in the crust, some of which are more than 3,000 kilometers (1,850 miles) long. This image was taken on Sept. 7, 1996, at a range of 677,000 kilometers (417,900 miles) by the solid state imaging television camera onboard the Galileo spacecraft during its second orbit around Jupiter.
Mars probe
A McDonnell Douglas Corp. Delta II rocket lifts off from Cape Canaveral Air Station in November, carrying the Mars Global Surveyor probe at the start of its 10-month interplanetary voyage to the Red Planet. Surveyor, the first of three spacecraft destined for Mars this year, will have photographed 99% of the planet's surface by the end of one Martian year (687 Earth days).
Text AND voice
A salesman demonstrates the Magicom 2000, a U.S.-made digital two-port telephone that lets users communicate by voice and writing simultaneously.
Mars and Texas
A Texas-sized dust storm swirled around the Martian north pole for months, as shown in these images taken by the Hubble Space Telescope Sept. 18 and Oct. 15, 1996, and released by NASA Nov. 4. The storm is about 600 miles across and was probably a result of large temperature differences between polar ice and the dark regions to the south, which are heated by the springtime sun. Scientists believe it to be the first time that one of Mars' famous dust storms has been located near the receding north polar ice cap. The presence of water on Mars, even in polar ice, is significant to the inquiry on whether life might have existed on the planet.
Solar power
Switzerland's entry "SCHooler Spirit" solar car makes its away along the Stuart Highway past a giant windmill on day four of the World Solar Challenge Oct. 30. "SCHooler" is placed second behind Honda's "Dream" car in the field of 47 cars and 15 solar bicycles, in their 3000 km race across Australia to Adelaide.
Cool solar car
Japan's Honda "Dream" solar car makes its way past a large salt lake on the fourth day of the World Solar Challenge.
When hard drives ruled
Maxtor shows the company's newly developed hard disk. The hard disk, with 5.1GB of formatted capacity, is one of the most powerful disks in the market and worth $555.50.
Jupiter moon
New topographical detail of Jupiter's moon Ganymede is seen in this stereoscopic view, which is a computer reconstruction of two Galileo images.
Neptune wild weather
Earth's hurricanes, cyclones and typhoons are nothing compared to the wild weather on Neptune, according to a movie made by the Hubble Space Telescope and another NASA telescope, scientists said Oct. 24. The Hubble has been used to assemble a time-lapse movie using a full 16-hour rotation of Neptune, shown here in two images made by Hubble's Wide Field Planetary Camera.
Cindy Crawford!
Model Cindy Crawford poses with Michael Bolanos, president of the online service Entertainment Drive, at the launch of the new web site www.eDrive.com in New York Oct. 21. Crawford chatted live with fans.
Pre-Fiat
Chrysler Corporation previewed this prototype of a proposed ultra-low-cost car, the CCV, for emerging markets such as China, during a series of briefings Oct. 15 at Chrysler headquarters. The CCV features an all-plastic body on a full-steel frame with a two-cylinder, 0.8-liter engine, with a projected fuel economy of 4.7 liters per 100 kilometers (50 mpg).
More Mars
An artist's drawing shows the Mars-96 probe, which is being assembled in the Lavochkin research center in Moscow, Oct. 7. Twenty countries are taking part in the project of creating this probe, which weighs 6 tons and will be launched in November from Baikonur cosmodrome in Kazakhstan. The probe is expected to reach planet Mars within one year to explore its surface.
Tiny camera
Here we see Sony's digital still camera at the Japan Electronics Show 96 preview at Makuhari Messe in Chiba. The 280g palm-size camera can store 58 images in standard mode and 108 in economy mode, has a color Liquid Crystal Display viewfinder on back of the camera, and is to go on the market in October for $793.
Nintendo rules
A youngster tries Nintendo newest video game player N64as others wait their turn at the Toys R Us store in Raritan, N.J., Sept. 29 on the first day of the official release of the new video game player in the United States. Nintendo hopes to draw first blood with the launch of N64, a 64-bit gaming system that had been delayed for one year.
The Mir spacestation
Russia's Mir space station, which is docked with the space shuttle Atlantis, is seen from inside the space shuttle with New Zealand in the background.
Remember Chernobyl?
General view of the Chernobyl nuclear power plant. It was reported that radiation level rose sharply inside the plant's ruined fourth reactor and scientists are investigating whether this could lead to a chain reaction.
You have mail
Steve Case, (L) chief executive of America on Line, shakes hands with Richard Grasso, chairman of the New York Stock Exchange as trading of AOL began for the first time on the big board Sept. 16.
Netscape!
Misako Kokubo, chief planner of Sanyo Electric Co Ltd, accesses the Netscape homepage to demonstrate the firm's new Internet Television, model C-28WNT1, while she enjoys autumn grand sumo tournament on the TV in Tokyo Sept. 9. Sanyo announced today that it will begin selling their Internet televisions, which have their own browser software. Cost? About $1,800.
High-tech Titanic
The port bow railing of the Titanic lies in 12,600 feet of water about 400 miles east of Nova Scotia as photographed earlier this month as part of a joint scientific and recovery expedition sponsored by the Discovery Channel and RMS Titanic. Scientists plan to illuminate and then raise the hull section of this legendary ocean liner.
Saving fuel
International environment group Greenpeace unveiled a custom-designed car called SmILE at the Museum of Transport in Lucerne, Aug. 13. Greenpeace said the vehicle proved that the automobile industry could easily cut fuel consumption in half in existing models. SmILE, which stands for Small, Intelligent, Light and Efficient, was created by Swiss engineers who streamlined and lightened the body of a current Renault model Twingo and implanted a new, highly efficient engine.
Still looking for life
The first potentially historic evidence of extraterrestrial life - possible microscopic life-forms from Mars - will likely spur "a worldwide mission" to explore the red planet, the head of the U.S. space agency said Aug. 7 in reference to sample taken from this 1.9 kg Martian meteorite, named simply ALH 84001, which was found on Antarctica. An unmanned Pathfinder spacecraft is due to be launched in December 1996, for arrival on Mars July 4, 1997 carrying a 264 kg lander and a 10.5 kg rover towards its final destination for exploratory work in the red planet's Ares Vallis region.
Apple CEO Amelio?
Apple Computer CEO Gilbert Amelio delivers one of several keynote addresses to several thousand Apple Macintosh computer enthusiasts and computer professionals gathered for the opening day of Macworld Expo in Boston.
Next-gen space shuttle
Aerospace giant Lockheed-Martin Corp was awarded a contract worth nearly $1 billion to build the next generation of space shuttles, Vice President Al Gore announced July 2. This is a computer visualization of Lockheed Martin 's proposed Reusable Launch Vehicle.
Ouch
A skeleton sits in a Saab car seat at the international auto exhibition in Turin which gets underway April 24. The skeleton is being used to demonstrate a new Saab mobile head-rest concept which they claim should lessen neck injuries.
Smart cars
The Honda Motor Company, with backing by the Tokyo government will display new cars as part of a regional traffic system called the Intelligent Community Vehicle System (ICVS) at an exhibition in Tokyo from April 23. The model ICVS-1 (shown), a single-seater hybrid-engine vehicle for commuting, will be part of display as an idea on a possible future transport system on Tokyo's crowded streets.
Not the Fitbit
A special computer chip is laced in shoes of a runner at the 100th Boston Marathon near the start of the massive race in Hopkinton, April 15. The chip allows sensors to track and time the runners. Over 40,000 runners are expected to be watched by over 1 million spectators in the massive sporting event.
Gates and Exchange
Microsoft's chairman Bill Gates addresses a conference at the Comdex exhibit in Mexico City, Feb. 27. Gates announced plans to make its final release of its Exchange electronic mail software that week too.
IBM and chess champion Kasparov
World Chess Champion, Garry Kasparov glances up at Feng-Hsiung Hsu from IBM while contemplating his next move during his match against IBM's Deep Blue, at the ACM International Computer Chess Champion on Feb. 17. Of the six matches, there were two draws, the computer won one and Kasparov won three.
Gore powers-up ENIAC
US Vice President Albert Gore, (L), honorary chairman of the "Electronic Numerical Integrator and Computer" (ENIAC) for the 50th anniversary celebration, throws the switch to start up one section of the computer.
The jet that never was
An artist's drawing of a small fighter jet designed by the aerospace team of McDonnell Douglas Corp., Northrop Grumman Corp. and British Aerospace was released Washington press conference. The airplane has no vertical tailpiece. The McDonnell team is in competition with two other aerospace teams to build a joint fighter for use by the Air Force, Navy and Marine Corps under the Pentagon's "Joint Advanced Strike Technology" program.
Distance surgery
Dr. Luc Vanderheyden (L), a Belgian surgeon at St. Lucas hospital in Bruges, uses robotics and computer technology to lead an operation on Feb. 9 on a patient in Nieuwegein, the Netherlands, over 200 kilometers (125 miles) away. Although surgeons have been using computers and robotics for over a decade, the doctors said this was the first time the technology had been used on a patient in a different country.
Home banking mystery
MasterCard International Chief Executive Officer Eugene Lockhart believes that smart cards, equipped with an electronic chip and a personal identification number, would be introduced to the market within five years. A MasterCard survey showed that 79% of respondents said home banking is likely to be a very common practice throughout Asia/Pacific within five years.
Clinton the cable puller
President Bill Clinton, with help from Vice President Al Gore, scaled a ladder as he worked to wire Ygnacio Valley High School so that it could connect with the internet on Net Day March 9, 1996. Volunteers worked at schools all across California to wire them to the Net.
Sun power
Scott McNealy, President and Chief Executive Officer of US software powerhouse Sun Microsystems, gestures as he participates in an international computer technology forum in September.
Copyright © 2016 IDG Communications, Inc.
Next Up: Check out these related slideshows