I'm a huge fan of Apple's iOS devices. I use my iPad Pro and iPhone 6s Plus every day, and they do quite a lot for me. I can't imagine life without them.
I have the 12.9-inch version of the iPad Pro and I love it for certain things such as reading web pages, listening to audiobooks, reading comics, and using various apps. But I don't love it as much when it comes to reading ebooks.
The iPad Pro has a beautiful screen, but it's also too big and heavy to be a comfortable e-reader. Even the smaller versions of the iPad such as the iPad Air and iPad mini tend to be a bit clunky for reading.
My iPhone is obviously better as an e-reader than the iPad Pro since it is smaller and easier to hold, but even the iPhone has its drawbacks when it comes to ebooks. I tend to use the iPhone when I'm out and about to grab a few pages when I have a few minutes to kill. But I would not want to use it as my main e-reader.
These days my go to device for reading is the Kindle Oasis, and it is quite simply the best e-reader I've ever used.
The Kindle Oasis is more ergonomical for reading than the iPad or iPhone
When Amazon first released the Kindle Oasis, many people were shocked at how different it was from all previous Kindles. Amazon not only slimmed down the Kindle Oasis in terms of weight and size, it radically redesigned the Oasis to be the perfect one-handed e-reader.
The Oasis has most of its weight on the side with the page turning buttons, and that makes it far easier to hold than any version of the iPad, including the iPad mini. It's even better than my previous Kindle (the Voyage),
The lighter weight and ergonomic design of the Kindle Oasis make it absolutely perfect for one-handed reading. There is no other device that I've used that is as good for one-handed use.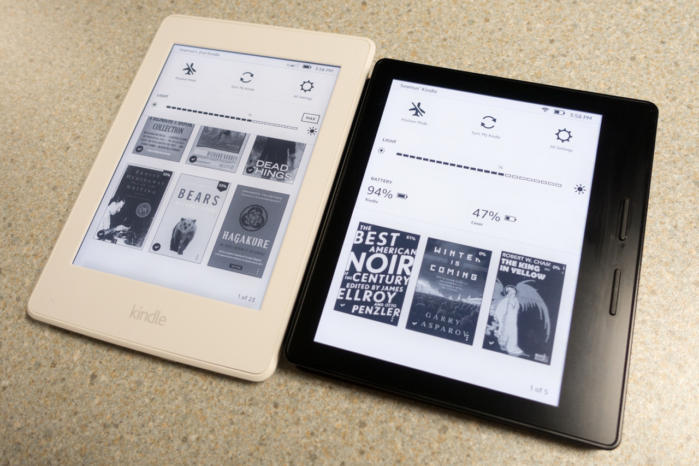 For example, the Kindle Oasis without its cover weighs only 131 grams. Compare that to my iPhone 6s Plus which weighs 192 grams without a case, and you can see there's a significant difference when it comes to one-handed reading. The Oasis also obviously weighs much less than any model of the iPad.
While weight and ergonomics might seem like relatively unimportant things on the surface, they are very important if you are someone who reads a lot and thus holds your e-reader for any length of time. Those extra grams will weigh on your hand after an hour or so of holding your reading device.
Another problem with iOS devices and reading is that they are quite slippery without some kind of a case on them. I've tried to mitigate this by using egrip tape on the back, but they are still much harder to hold than my Kindle Oasis. If you add a case to make the iPhone or iPad less slippery, you are also adding a significant amount of weight too.
The ability to easily hold an e-reader is very important to me because I suffer from tendonitis in my fingers and also carpal tunnel. So trying to tightly hang onto a slippery iOS device can potentially irritate my wrists and fingers. The last thing I need is to put additional strain on my fingers or wrists by holding a reading device with unnecessary weight.
E-ink is easier on the eyes than the iPad and iPhone's LCD screens
One of the other reasons I prefer reading on the Kindle Oasis is that I've found its front-lit e-ink screen to be much easier on the eyes for extended reading sessions. The back-lit LCD screens in my iPad Pro and iPhone work great to grab a few pages here or there, but can be a bit hard on the eyes for reading for an hour or more.
I also stare at my iMac's screen for quite a few hours each day, so when I want to read a book the last thing I want to see is another LCD screen. It's just too much to curl up with an iPad or iPhone after working on a computer all day.
The e-ink screen on my Kindle Oasis helps gives my eyes a welcome rest from all of the back-lit screens I stare at each day.
Page turning buttons are better than swiping
Another way that the Kindle Oasis beats the iPad and iPhone for reading is that it has buttons to press to turn pages. Pressing a button instead of swiping might not seem like a big deal until you start reading a long book.
I don't mind swiping on my iPhone's screen if I am just reading a few pages here and there. But it is quite annoying to have to do so when I want to read continuously for long periods of time.
The page turning buttons on the Kindle Oasis are placed perfectly for most people's hands. You never have to remove your fingers from where you hold the Oasis, and you never have to touch the screen on the Oasis to turn a page (the Oasis' screen is a touch screen so you have the option of swiping if you really want to do so).
Once you get used to pressing the buttons on the Oasis, it's just downright annoying to have to swipe the iPad or iPhone's screen to turn a page in your latest book.
Is the Kindle Oasis worth the cost if you own an iPad or iPhone?
Some folks might think it's overkill to have a separate device for reading if they already own an iPad or iPhone. After all the Kindle Oasis sells for around $289 for the Wi-Fi only version and $359 for the 3G version. In terms of e-readers, the Oasis is not considered cheap.
But if you are someone who loves to read, and who spends a significant amount of time reading, then the Oasis is worth every cent. Oh sure, you can read on your iPad or iPhone but it's not nearly as pleasant an experience compared to the Oasis.
The iPhone and iPad are designed to do many things, and for the most part they do a lot of them very well. But the Kindle Oasis is designed for one thing and one thing only: reading. The Oasis provides the best reading experience of any device I've ever used, including the iPad and iPhone.
Did you miss a post? Check the Eye On Apple home page to get caught up with the latest news, discussions and rumors about Apple.
This article is published as part of the IDG Contributor Network. Want to Join?