12 top tech fields of the future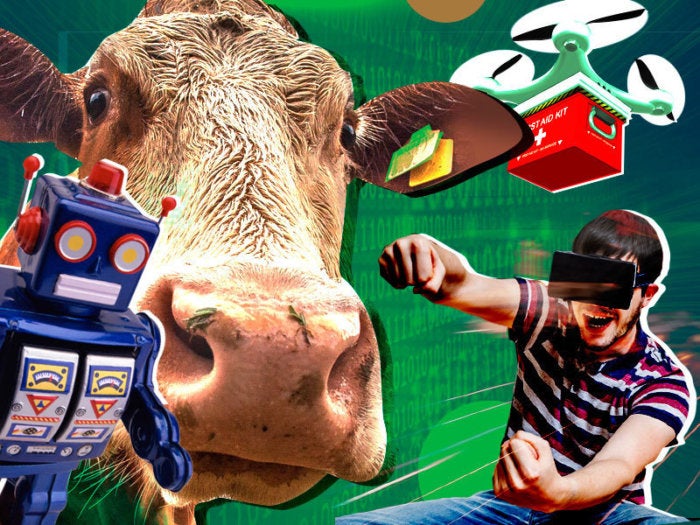 Top jobs
Tech jobs of the future will include programmers, analysts, application and system developers, database and network administrators, engineers, designers, architects, scientists, researchers, statisticians, specialists, project and system managers, system and data integrators, technicians and tech support, quality controllers, trainers, and consultants in each of the following 12 areas. (Read the full story: Hot jobs of the future.)
Robotics
If you're a science fiction fan, you've already had a glimpse of the future of robotics/robots. Picture robot maids, waiters, bartenders, bellhops, home care specialists, and even rescue bots that use sonar, heat/light sensors, motion detectors, and cameras to locate anything from a lost child to a sunken ship. Also, look for bots in manufacturing, medical, utilities, transportation, agricultural, automotive, military, infrastructure, and hundreds of other industries.
Drones
In the future, drones (like robots) will be everywhere; for example, in security, entertainment, military, deliveries, environment, emergency and rescue, media drones, scanning drones, camera drones, drones with lasers, microphones, packages, drugs, bombs, and anything that can be carried, copied, or coded.
3D Printing
3D printing will provide an endless number of products including bridges, buildings, homes, and even automobiles, plains, and trains. In the future, anything (physical/tangible) that our minds can conceive will be realized using 3D printing technologies.
Self Driving Cars
Self-driving cars are just the beginning of "driverless" technologies. Eventually, there will be driverless buses, trucks, trains, planes, ships, and anything else that currently requires a human to navigate.
Smart Cities / Smart Buildings
Smart cities, buildings, and houses are already in use across the globe. This industry will only get bigger and expand across all areas of construction.
Smart Farming & Agriculture
Smart farming and agriculture will include atmospheric water harvesters, air and soil sensors, crop sensors, equipment telematics, livestock biometrics, and many other automated computer technologies.
Artificial Intelligence / Machine Learning
Everything computerized or electronic will, eventually, include AI or ML tech. In the future, machines will sense, reason, act, and react like humans making everything else on this list possible. Machine learning is defined as the field of study that gives computers the ability to learn without explicit programming, while Artificial Intelligence is about machines that exhibit intelligence through rules, logic, and/or algorithms.
Virtual Reality / Augmented Reality
VR is an artificial, computer-generated simulation of a real life or fantasy environment, experience, or condition that exploits audio and visual stimulation. AR stacks layers of computer-generated enhancements on top of existing realities, so we can interact with those realities. The options for the entertainment industry are endless, but also valuable for learning/training, science, medicine, manufacturing, construction, and dozens of other industries.
Nano Technology/Nano Science
Still in the research-and-development phase, nano science, which includes microscopic nanites (aka, nanomachines) function at highly elevated operational speeds. These tiny machines can replicate themselves or work collaboratively to build other machines such as nanochips, nanorobots, or nanobots. Working on a microscopic scale, these "nanites" can diagnose, treat, and even cure disease by locating and healing or destroying invading bacteria or viruses. In addition to healing humans, this tech could extend to animals, food, and even the environment (water, air, soil).
Security
Security, whether cybersecurity or actual, physical security, will be a fast-growing area. In fact, there are estimates that we're already facing a shortage of 1 million security professionals. And things are expected to get worse as attackers get more sophisticated and as the number of potential targets explodes. Imagine a world of billions of Internet of Things (IoT) connected devices. And imagine that every 'smart' home device and every smart city device is also a potential attack target for hackers.
Holographic and Three-Dimensional Entertainment
Three dimensional chess, holographic games and movies, and interactive maps, blueprints, dash boards, catalogs, manuals, presentations, and more that float above various consoles will be available for every industry. Imagine using a holographic system to perform a heart transplant on a virtual patient that coaches the doctor as he works and informs him of options, errors, and progress?
Holo-phones/Wrist Watch Phones
Wrist watch phones and wireless tech is already prevalent and can only expand. Holo-phones are available now, but not yet viable. The future of wireless and holo-phones may include embedded microchips so everyone is connected. The Internet of Things would then also become the Internet of Human Beings.
Copyright © 2017 IDG Communications, Inc.
Next Up: Check out these related slideshows