How much do CIOs really make? Pay packages of 25 Fortune 500 execs revealed
CIO salaries are nothing to sneeze at, but they don't tell the whole compensation story. Here's a look at how bonuses, stock awards, perks and other compensation add up.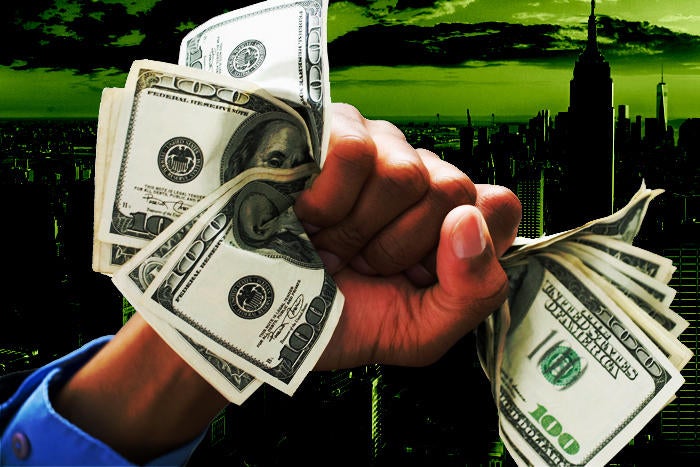 CIO salary: We'll show you the money
CIO salaries in the U.S. range from $170,500 to $287,000, according to Robert Half's 2018 Salary Guide for Technology Professionals. But salary is just the beginning. Cash bonuses and equity awards can propel pay packages into the millions.
To find out how much CIOs at giant global companies really earn, we scoured the proxy statements of the 500 largest U.S. companies (according to Fortune's ranking) and found 25 that disclosed CIO pay. In the following slides you'll find the details on the latest pay packages for which there's information, mostly from 2016, organized from lowest to highest paid. Flip to the final slide for more information on how we compiled the data.
Michael Guggemos, CIO, Insight Enterprises
After serving more than a decade in the U.S. Army, Michael Guggemos entered civilian life in 1994 working for Motorola, where he assembled cell phones on the night shift at the company's Illinois factory. He worked his way up to corporate VP of IT there before taking the CIO job at Insight Enterprises in 2010. Although he's the lowest-compensated exec on this list, his income still went up 6% year over year.
Salary: $398,989
Bonus: $225,230
Stock awards: $375,022
Perks and other compensation: $8,535
TOTAL: $1,007,776
Robert D. Mills, SVP and CIO, Tractor Supply Co.
Robert Mills has worked for a wide spectrum of companies in different fields, from Allstate Insurance to Rockwell International. He began climbing into the C-suite at Sears, where he started out in 2001 as an IT Customer Relationship Leader and eventually served as VP and CIO for the online business unit. A stint as CIO for Ulta Beauty followed before he joined Tractor Supply Company in 2014. While he made a pretty penny in 2016, his pay dropped by 6% compared to the previous year due to a smaller bonus.
Salary: $397,692
Bonus: $112,200
Stock awards: $149,959
Option awards: $349,988
Perks and other compensation: $20,316
TOTAL: $1,030,155
Jon Stevens, SVP of operations and CIO, CDW
Like many execs on this list, Stevens wears multiple hats, responsible not just for IT at CDW but for the company's distribution centers, transportation facilities and customer relations as well. He's been in his current role since 2009 and at the company since 2001. His income saw a 34% dip compared to 2015, driven in part by a much-reduced bonus.
Salary: $321,750
Bonus: $591,255
Stock awards: $199,985
Option awards: $128,925
Perks and other compensation: $9,914
TOTAL: $1,251,829
Bob Ingram, EVP and CIO, Erie Insurance
Bob Ingram's educational background is in business and finance—he has a finance and accounting MBA and a business management undergraduate degree—but after a decade consulting at Accenture, his career shifted to technology, heading a $500 million tech transformation at USAA. He served as CIO at Safeco and The Hartford before moving to Erie Insurance to take charge of their IT strategy.
Salary: $456,923
Bonus: $383,640
Stock awards: $414,024
Change in pension value and nonqualified deferred compensation earnings: $149,015
Perks and other compensation: $25,338
TOTAL:  $1,428,940
Elizabeth Hackenson, CIO and SVP of technology and services, AES
Elizabeth Hackenson led technology operations at Alcatel-Lucent before joining AES in 2008, where she eventually rose to take responsibility for a wide range of services from the technical (IT, cybersecurity) to beyond (insurance programs, internal auditing). Her salary saw a healthy 14% jump in 2016, but it represented her swan song at AES: In September of 2017, she moved to Fortium Partners as a consultant.
Salary: $433,000
Bonus: $412,216
Stock awards: $597,537
Perks and other compensation: $4,330
TOTAL: $1,447,083
James Foster, EVP product supply, enterprise performance and IT, Clorox
James Foster rose through the ranks at Clorox, where he began work in 1997, and like several other top tech execs on this list he didn't start out in IT: instead, his first jobs at Clorox were in the company's supply chain organization. He rose to become the Senior VP in charge of the Global Product Supply organization, and then in November 2014 had enterprise performance and IT added to his portfolio. That promotion turned out to be the capstone of his Clorox career, as he left the company on December 1, 2017. Still, his 2016 earnings put him among the highest-compensated tech execs out there.
Salary: $462,334
Bonus: $295,150
Stock awards: $262,182
Option awards: $262,434
Change in pension value and nonqualified deferred compensation earnings: $126,691
Perks and other compensation: $68,151
TOTAL: $1,476,942
Chad Lindbloom, CIO, C.H. Robinson
It probably shouldn't be surprising that tech execs with finance backgrounds manage to end up in the money, and Chad Lindbloom is no exception. He began his career at C.H. Robinson as a staff accountant in 1990, and he was the company's CFO for 15 years before taking on the CIO job in 2015. At $1.7 million, his compensation saw a bit of a dip compared to the previous year.
Salary: $590,000
Bonus: $236,759
Stock awards: $470,598
Option awards: $354,186
Perks and other compensation: $10,600
TOTAL: $1,662,143
Keith Rohland, CIO, US Foods
Keith Rohland made a jump from finance to food when he moved to his current company from Citigroup in 2011. As CIO, he's in charge of all IT functions, including strategy, systems development and infrastructure. A reduced (but still not insignificant) bonus in 2016 meant a drop in total income of about 12%.
Salary: $499,863
Bonus: $798,949
Stock awards: $161,761
Option awards: $446,969
Perks and other compensation: $29,868
TOTAL: $1,937,410
Eric A. Dorne, Chief Administrative and Information Officer, United Natural Foods
Eric Dorne has worked most of his career at the intersection of tech and food: he spent thirty years at The Great Atlantic & Pacific Tea Company, the parent of various supermarkets like A&P, Pathmark and SuperFresh, working various IT jobs, eventually rising to CIO. He took on the CIO job at United Natural Foods in 2011, and in September 2016 he took on additional duties to become the Chief Administrative Officer as well, putting him into the company's top-paid executive ranks. With more than $1.6 million in stock awards, Dorne received the highest percentage of his income from equity this year of anybody on this list.
Salary: $379,031
Bonus: $193,202
Stock awards: $1,640,326
Perks and other compensation: $9,524
TOTAL: $2,222,083
Tyler Best, EVP and CIO, Hertz
Tyler Best knows cars and IT: he's held senior IT roles at Vanguard Car Rental, Budget Rent-a-Car, and Ally Financial, which used to be GM's lending arm. He took the CIO job at Hertz in early 2015, overseeing the company's global IT functions. He's the person on this list who saw the biggest drop in compensation — it's down over 60% from 2015 — but that's mainly because Hertz offered a number of generous one-time deals when he signed on with them.
Salary: $600,000
Stock awards: $1,215,193
Option awards: $404,999
Perks and other compensation: $82,529
TOTAL: $2,302,721
Sheldon J. Fox, SVP of operations and IT, Harris
Sheldon Fox is an electrical engineer by training and a lifer at Harris, the technology firm where he's worked in one capacity or another since 1984. His duties have trended more towards management than tech, as he climbed his way up through the defense contracting side of the business and helped integrate Exelis when Harris acquired it. Like several execs on this list, he's in charge of a portfolio that includes IT but goes beyond it: his purview also includes manufacturing, supply chain and quality functions.
Salary: $536,250
Bonus: $365,000
Stock awards: $675,798
Option awards: $631,220
Perks and other compensation: $108,203
TOTAL: $2,316,471
Dale Asplund, EVP of business services and CIO, United Rentals
Dale Asplund is a longtime United Rentals vet, working his way up from the supply chain and the business services section to eventually become CIO in 2012. While his compensation dipped in 2015 compared to 2014, in 2016 it shot up more than 40%, driven by a healthy seven-figure stock award.
Salary: $519,807
Bonus: $402,124
Stock awards: $1,474,422
Perks and other compensation: $3,000
TOTAL: $2,399,353
Cindy Earhart, EVP of administration and CIO, Norfolk Southern
Cindy Earhart's career at Norfolk Southern has spanned more than 30 years, and has straddled a number of silos: she's been in accounting and IT positions, and was VP of HR and Executive VP of Administration. In 2015 she took on the role of CIO, and in 2016 her income saw a 12 percent jump, so she must've been doing something right.  But 2017 saw another kind of jump: she went back to her accounting roots and took a job as the company's CFO.
Salary: $600,000
Bonus: $289,980
Stock awards: $747,159
Option awards: $402,583
Change in pension value and nonqualified deferred compensation earnings: $514,224
Perks and other compensation: $41,731
TOTAL: $2,595,677
Barbara F. Duck, SEVP and CIO, BB&T
Barbara Duck began her career at BB&T Bank in 1988, and she came up through the company's internal management training program. After stints managing bank branches, she eventually moved to operations, which provided opportunities to work with the technological aspects of running a bank, along with risk management services. Today, as CIO, she oversees all data and tech functions at the company, including IT services and the Enterprise Data Office. Duck's 2016 pay was boosted by a seven-figure bonus payout from the company's incentive plan and a large contribution to her pension. She sponsors the Women's Information Network, a business resource group within the company.
Salary: $507,083
Bonus: $1,012,059
Stock awards: $518,569
Option awards: $147,052
Change in pension value and nonqualified deferred compensation earnings: $850,478
Perks and other compensation: $76,598
TOTAL: $3,111,839
Ram Chandrashekar, EVP of operational excellence and IT, ManpowerGroup
ManpowerGroup is a worldwide staffing agency, and Ram Chandrashekar oversees its IT functions from Singapore, where he also serves as President of the company's Asia Pacific Middle East region. After getting master's degrees in both India and the U.S., Chandrashekar worked as COO for the Sterling Infotech Group of companies. He joined Manpower in 2008 and in 2012 was put in charge of IT, with the goal of improving operational performance with a metric-oriented framework. He began his current role in 2014, aiming to drive operational excellence for Manpower IT worldwide.
Chandrashekar's compensation is somewhat inflated by special payments he received to compensate for taxes he owed on income earned while living in the U.S. in previous years. He's one of the few execs on this list who earned the majority of his income this year via stock awards.
Salary: $568,035
Bonus: $370,188
Stock awards: $1,620,086
Option awards: $280,007
Perks and other compensation: $294,960
TOTAL: $3,133,276
Jeff von Gillern, Vice Chairman, technology and operations services, U.S. Bancorp
Jeff von Gillern is another high-paid exec whose roots aren't necessarily in IT; rather, he's a longtime vet of the financial services industry. He got a taste of tech working at Visa International in the 1990s in the Processing Services division; after coming to U.S. Bancorp in 2001, he served as Executive VP before adding the CIO title to his resume in 2007. He took on his current role supervising the company's technology services in 2010. von Gillern's total compensation for 2016, the most recent reported year, is 17% higher than it was the year before, mostly due to a boost in the stock shares and options he received.
Salary: $575,000
Bonus: $692,156
Stock awards: $1,320,000
Option awards: $440,000
Change in pension value and nonqualified deferred compensation earnings: $133,795
Perks and other compensation: $18,595
TOTAL: $3,179,546
Steve Van Wyk, Head of technology and innovation, PNC
Steve Van Wyk is one of the higher earners on this list, as you'd expect from someone with a long career in banking IT. Though his background is as a CPA and auditor, he spent four years as COO and CIO at Morgan Stanley before a decade in the '00s as Head of Operations and IT Banking at ING during a period when that company was a pioneer in online financial services. At PNC since 2012, he's had various roles involving technology and operations before his current expansive title; currently his team is focusing on data center consolidation and cybersecurity.
Salary: $500,000
Bonus: $1,080,000
Stock awards: $1,599,984
Perks and other compensation: $20,591
TOTAL: $3,200,575
Robert Reeg, President, operations and technology, MasterCard
Robert Reeg has held IT and business leadership jobs in a number of companies, ranging from Sprint to Conoco, but he climbed to the top of the corporate ladder at MasterCard. He had a series of jobs that oversaw tech and operations, climaxing with the lofty title of president and a remit to oversee the company's strategic processing platform and global network. In 2016, he took home a hefty paycheck, much in the form of stock compensation; this served as his swan song as a MasterCard exec, as in mid-2017 he stepped back into a consulting role.
Salary: $550,000
Bonus: $798,025
Stock awards: $925,005
Option awards: $924,987
Perks and other compensation: $50,688
TOTAL: $3,248,705
Chris Hjelm, EVP and CIO, Kroger
Chris Hjelm had his first CIO job at Cedant's Travel Distribution Services, but since 2005 has been with the Kroger supermarket chain, and now is responsible for managing the company's IT operations from sites ranging from retail stores to manufacturing plants to offices and R&D facilities. While his $3 million compensation isn't anything to sneeze at, it's a 30% drop from the previous year, driven by a much smaller bonus.
Salary: $703,367
Bonus: $326,280
Stock awards: $1,480,011
Option awards: $780,323
Perks and other compensation: $104,505
TOTAL: $3,394,486
Matt Carey, EVP and CIO, Home Depot
Matt Carey has worked at Home Depot for nearly a decade, and oversees all aspects of IT infrastructure and software development for its sprawling network of stores and distribution centers, as well as the corporate website and supply chain. 2015 saw a boost to his income that he couldn't quite maintain, with 2016's compensation dropping by about 2%, but he still made more than enough to be near the top of our list.
Salary: $730,385
Bonus: $780,074
Stock awards: $1,433,201
Option awards: $716,651
Perks and other compensation: $21,766
TOTAL: $3,682,077
Wayne Shurts, EVP and CTO, Sysco
Wayne Shurts has a CTO title but his roles at Sysco involve a lot of inward-facing tasks you'd associate with a CIO; last year, for instance, he started rolling out AWS to support the DevOps team. He came to Sysco in 2012 after serving as CIO at Supervalu and Cadbury Schwepps. A massive $2 million bonus catapulted him up the list this year, adding nearly 50% to the compensation he received in 2015.
Salary: $621,602
Bonus: $2,000,823
Stock awards: $507,821
Option awards: $844,884
Perks and other compensation: $76,057
TOTAL: $4,051,187
Neal Sample, SVP & CIO, Express Scripts
Neal Sample came to his current role on an IT track, with a Ph.D. in computer science from Stanford and leadership roles at eBay and Yahoo in his early career before moving to American Express where he was the President of Enterprise Growth. He only joined Express Scripts in February of 2016, with the goal of managing IT strategy to improve company performance and productivity. His new job paid off quickly, with a sizable salary, seven figures in stock, and more than $300,000 offered to help with his relocation.
Salary: $507,692
Bonus: $962,200
Stock awards: $2,066,667
Option awards: $533,333
Perks and other compensation: $314,271
TOTAL: $4,384,163
Robert B. Carter, EVP, FedEx information services and CIO, FedEx
Robert Carter has been with FedEx since 1993, and he sets the technology direction of the shipping giant's applications, networks and data centers. As he was last year, he's close to the top of our list, with a sizable performance bonus to thank for it. Carter's compensation was also padded by various perks, including use of a private jet and security services.
Salary: $801,564
Bonus: $2,312,023
Stock awards: $591,851
Option awards: $814,678
Perks and other compensation: $592,757
TOTAL: $5,112,873
Krishna Mikkilineni, SVP, engineering, operations and IT, Honeywell
Krishna Mikkilineni is a 25-year veteran at Honeywell, and he's worked in a number of tech projects, both inward and outward facing. That's prepared him for his current job, where's he's in charge not only of improving IT efficiency but also of keeping the supply chain and R&D running smoothly. Mikkilineni's sizable compensation reflects his long service at Honeywell: with over $4 million in stock and stock options and a $1 million contribution to his pension, he has the smallest portion of his income from cash out of everyone on this list.
Salary: $717,678
Bonus: $725,000
Stock awards: $2,942,500
Option awards: $2,181,200
Change in pension value and nonqualified deferred compensation earnings: $1,183,040
Perks and other compensation: $43,915
TOTAL: $7,793,333
Rajat Taneja, EVP, Technology, Visa
Rajat Taneja is at the top of our heap on this list in terms of earning. His pedigree includes both an electrical engineering degree and an MBA, plus stints at Microsoft and Electronic Arts. Like many of the top earners on this list, his role at Visa, where he's worked since 2013, straddles the traditional line between CIO and CTO, with both outward-facing duties like product engineering and internal ones like taking global IT and operations infrastructure in hand. His compensation was swollen by a big bonus and truly massive stock award.
Salary: $750,029
Bonus: $2,820,000
Stock awards: $4,575,318
Option awards: $1,549,999
Perks and other compensation: $17,450
TOTAL: $9,712,796
How we counted
All of these execs work for companies on the Fortune 500 list of top U.S. corporations. But they aren't necessarily the highest-paid CIOs out there. By law public companies have to publicize the pay of their CEO, their CFO, and their three other most highly compensated executives. So we've been able to dig into company proxy statements to get that information.
But the CIO in many cases doesn't reach those rarified heights on the org chart. So there might be top IT execs who make more than those listed here — but because they weren't in the top three in their company, their salaries aren't public. And of course privately held companies aren't under any obligation to reveal anyone's compensation. But we hope that the peek we've offered you here has given you a sense of what skills and job histories result in seven-figure paydays.
We've also tried to give you a little bit of context for these numbers: if proxy statements give salaries for these execs for previous years, we let you know if their compensation has gone up or down, and why.
Next Up: Check out these related slideshows