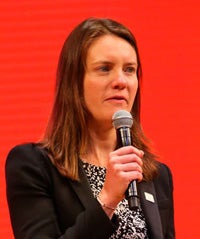 Name: Caroline Mogford
Organisation: Qualtrics
Location: London, UK
Where were you born and raised?
I was born in Alaska and raised in oil-rich locations including Scotland, Texas and Egypt. I got the taste for travel at a young age and really enjoy travelling for both work and pleasure.
What was your first job?
I was a lifeguard, events waitress and babysitter while I was at school. Babysitting was easiest.
What was the first product you got really excited about?
Either Tetris on the GameBoy or Choose Your Own Adventure books. Both amazing.
Who has been the biggest influence on your career?
I was lucky enough to work with some of the great Google EMEA leaders a decade ago. Seeing how they focused ruthlessly on their top priorities and their people has always stuck with me.
What has been your greatest achievement?
Combining a challenging and rewarding job with being a proud mum. My husband and I both combine careers we enjoy with spending as much time as possible with our son Dylan.
What has been your biggest mistake?
Not leaving Roskilde Festival in Denmark quickly enough. Image search 'Roskilde Festival mud' for more detail.
What is your greatest strength?
I'm fair and wait for the facts to make a decision.
What is your biggest weakness?
It's taken me a while to get used to delegating. I like things done my way!
What do you think is the aspect of your role most neglected by peers?
Thinking about the customer first. Often people get so focused on hitting their marketing numbers that they don't think about the customer's experience.
Which word or phrase is your mantra and which word or phrase makes you squirm?
I probably say 'Can I see the numbers?' more than any other phrase. Relatedly, I'm not a fan of anyone claiming to give more than 100%.
What makes you stressed?
Unfairness
What do you do to relax?
I really enjoy tennis and yoga. Not sure if I'd use the word relax, but I spend most of my spare time with my boisterous young son and my husband.
What is your favourite song?
Born to Run by Bruce Springsteen
Which book taught you most?
Kim Scott is on our board and I have been recommending her recent book Radical Candor since it came out.
Do you have a team or sport that you follow?
I'm a big tennis fan. I think Wimbledon is one of the greatest brands in the world: classy and high-quality while also strong at tech.
Which country would you like to work in?
I worked in Singapore for a couple of years with Google and would love to work there again. I've also always wanted to work in the US after spending some of my childhood there.
Which company do you think has the best marketing?
I really like Airbnb's marketing. They've been really clear about their comparative advantage vs hotels and they tell that story beautifully.
What do you love most about your job?
Getting to build an amazing team and business pretty much from scratch at Qualtrics in Europe. These opportunities don't come around often.
What is your favourite book?
This is the hardest question. A few old favourites: The Secret History by Donna Tartt, Enduring Love by Ian McEwan and The Road by Cormac McCarthy. I also recommend anything ever written by Anne Tyler.
What keeps you awake at night?
Reading!