It's no secret that organizations are putting more thought than ever before into their digital transformation strategies, the value of which is becoming more apparent every day as companies seek to gain a competitive edge. Failure to plan and execute transformative initiatives is no longer an option.
IDG Enterprise recently conducted research to gain a better understanding of what being a "digital business" actually means to organizations. Over 700 IT business management and decision makers from a wide range of industries were provided with nine definitions of "digital business" and asked to select the response that best aligned with their organization's viewpoint.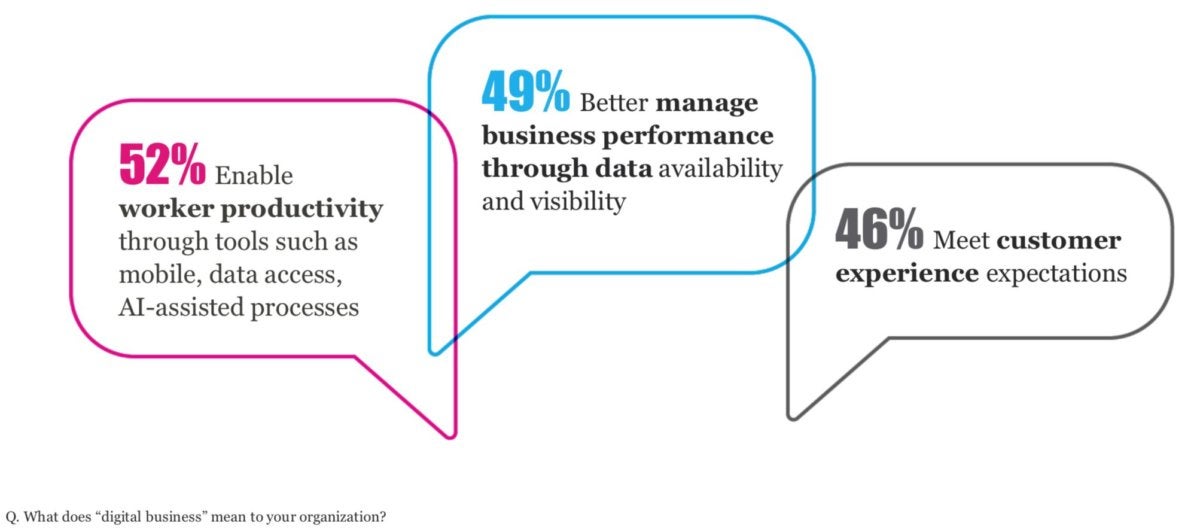 Unsurprisingly, enabling productivity through the use of digital tools came out as the top answer, with 52 percent of respondents selecting that as their primary aim. Using data to better manage business performance followed in close second, picked by 49 percent of those surveyed.
Strategic goals and technology adoption
When asked about their organization's top objectives for their digital business strategy, the majority said they expect to improve process efficiency through automation, create better customer experiences, and improve employee productivity. Some 43 percent of organizations expect digital business to drive revenue growth.
To achieve such objectives, a majority of respondents have adopted big data analytics, mobile technologies, and private cloud solutions. Close to one-third of IT decision-makers (32 percent) say that digital business has already helped their organization achieve revenue growth, with an average of a 23 percent increase. Looking ahead, most of those surveyed also declared their intent to implement artificial intelligence, machine learning, the internet of things, and SDN.
Digital transformation challenges
While the survey found that a majority of organizations have digital business plans, less than half have begun implementing a digital-first approach to business processes, operations, and customer engagement.