Packaging company Sealed Air is best known for its Bubble Wrap and Cryovac brands. The company's Food Care division targets the packaging lines and operation of food processing facilities — a highly manual world. But with the support of executive leadership, Marc Hamer, global CIO, chief digital officer, and corporate vice president of customer experience, is driving a digital transformation that helps its customers improve product yield.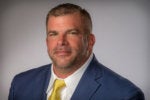 "I have never been what I would call a back-office CIO. I've never really been interested in just working on infrastructure or just cutting costs or just putting an ERP system in," Hamer says. "I really look at how you use technology to change how a company operates, to make that company run more efficiently, to help that company go to market in different channels."
That's becoming a consistent refrain in the manufacturing industry. Grand View Research forecasts the global smart manufacturing market will grow from $172 billion in 2016 to $395 billion by 2025, driven in large part by a focus on improving production efficiency and visibility across the entire value chain. The research firm predicts digital plants and advanced manufacturing techniques will power a fourth industrial revolution.
Improving performance through digitalization is the driver behind the Sealed Air's CogniPRO Services initiative, which has received a CIO 100 Award in IT Excellence.
CogniPRO consists of:
A platform of digitally enabled services built on vision technology, real-time data analysis, and machine and cloud connectivity.
A method to measure complex operations in real-time, analyze those operations based on intelligent reference standards, and provide continuous feedback based on that analysis.
Automated solutions that can inform manual, skilled processes, or be integrated into automated equipment processes.
"We sell a lot of equipment to food processing plants," Hamer explains. "We have all this equipment producing a lot of great things: bags, sealers, packaging that they put their food in. But they don't see any type of data from that. There's no value from the machines in terms of measuring."
CogniPRO is an effort to change that.