Technology disruption is a fact of life for business. There is no way to escape its impact whether it be cloud-to-edge computing, blockchain, artificial intelligence (AI), the Internet of Things (IoT) or immersive experiences (AR, VR and mixed reality). 1
In all of these cases having a robust digital platform at the centre of a digital transformation exercise will help find a solution to any disruption a business faces, allowing it to capitalise on growth opportunities associated with the new technology.
However, businesses do need to face reality. According to a report in The Australian, while 90 per cent of organisations expect to have to deal with disruption over the next couple of years, readiness for disruption is low with only 40 per cent of organisations claiming to be adequately prepared. 2 And that is why having a digital platform is vital.

What is a digital platform?
A digital platform is driven by key technologies – including big data, IoT, Integrated Communications Platform (ICP), video, and AI – and integrated into the cloud to leverage its power and capabilities.
Huawei's vision for the digital platform features three distinct features:
1) It's a full-stack
Often a digital platform is focused on the Platform-as-a-Service (PaaS) component, however, a truly powerful and compelling digital platform also features technology at the terminal, network, and hybrid cloud layers – as well as the application layer that sits on top of the stack. By working together with partners, Huawei is able to function as a "one-stop shop" in providing a platform for a complete transformation project, giving customers an easy to manage and scale, properly integrated, digital platform.
Additionally, future proofing is important. Disruption is an on-going process. Businesses need to be able to adapt to new technologies and opportunities as they enter the market, and the only way to achieve this is through the implementation of a robust digital platform.
2) It's designed around the industry
Disruption affects all industries and sectors but in different ways, so digital transformation exercises should be planned accordingly. In general, an overall sector's progress in developing digital transformation solutions and best practices is closely tied with how competitive (and, therefore, subject to disruption) the sector is.
Where the digital platform comes in is those sectors that have reached the "leading and high development stage" on the curve – those in communications, banking, government (particularly with reference to smart cities), and so on. As other sectors hit that critical point where they too need a digital platform, it's important that the platform is able to be tailored for the specific challenges and opportunities facing that sector, and here, having a "one stop shop" approach to the digital platform is critical; customisation becomes unwieldy when more parties are added into the mix.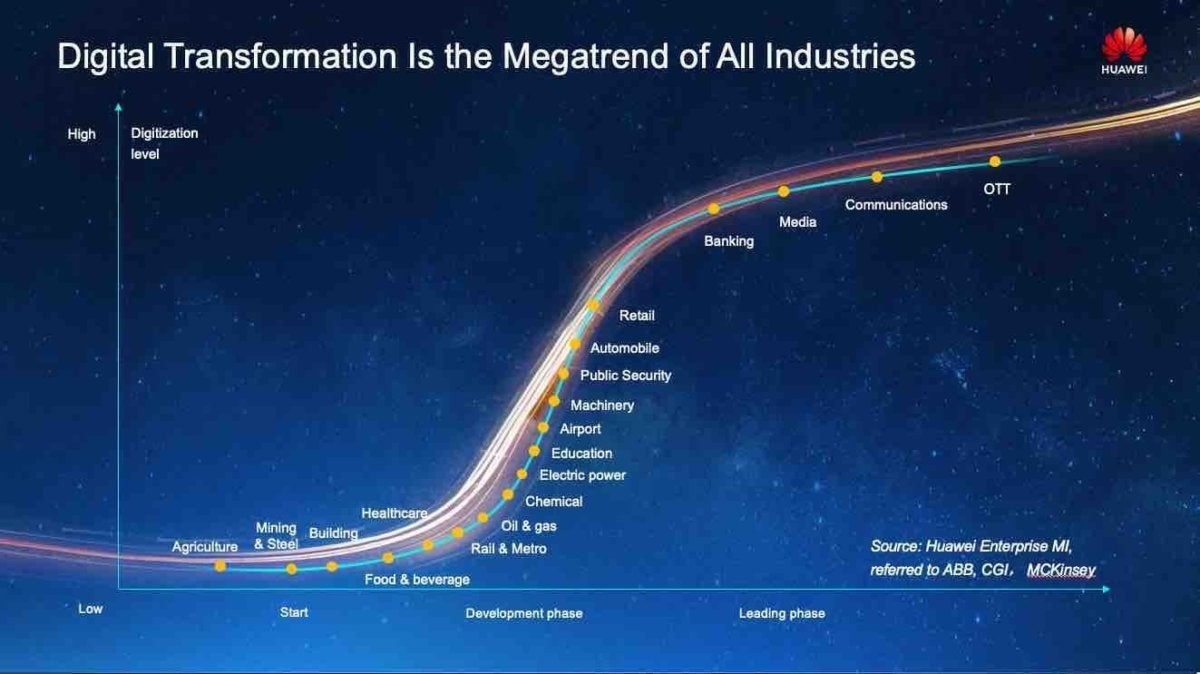 3) It's open
Closed systems are neither future-proof nor efficient. In order for Huawei to develop digital platform solutions that are tailored to the sector, as mentioned above, it is important to leverage open technology and systems to enable deep partnerships and ongoing interoperability.
Huawei's vision for the digital platform is underpinned by sheer investment – according to a global key opinion leader for Huawei, Glen Gilmore, the company will spend about $20 billion on R&D this year.[1]  That has allowed it to build a comprehensive approach to the digital platform that touches on all parts of the technology stack. Just one example of the company's efforts to find an "organic synergy" between infrastructure and applications can be seen with the Huawei OpenLab initiative, which has now been extended across all regions that Huawei operates in the world.
Duisburg: An example of the power of platform at work
Its approach to the digital platform, and transformational capability, can be seen in Duisburg, Germany, where the digital platform is being leveraged to transform the city from a traditional industrial-focus to a hub of innovation and smart city. To do so, Duisburg needs Huawei's platform to enhance smart government, smart port logistics, smart education, smart infrastructure, smart homes, and provide urban IoT and 5G technologies.
Huawei Enterprise BG President of Industry Marketing and Solution Department, Yu Dong, said of the Duisburg project, "This is a future-oriented and long-term cooperation between Huawei and Duisburg. Huawei provides converged, innovative, open, and reliable platform technologies required for building smart cities, as well as rich construction experience and localised implementation capabilities that have been applied in more than 120 cities around the world.
"We strive to transform Duisburg into an innovative and digital benchmark city in Western Europe, improving urban life quality, as well as enhancing the confidence of citizens, enterprises, and investors. We also aim to turn Duisburg into a new and open smart city ecosystem for global investors, suppliers, and partners."
The Duisburg digital platform will have at its centre a "Rhine Cloud", which will be supported by Huawei technology, and allow for the development and implementation of e-Government, transportation, IoT and unified communications solutions. This will be further complemented by Huawei 5G, WiFi and WLAN technologies to allow for sensing and monitoring of city systems in real time.
Duisburg's mayor, Sören Link, said, "We are happy to work with Huawei to transform Duisburg to a smart city. We've had many exciting projects during the process of working with Huawei and they have inspired us in our work. Duisburg already has a tight connection with China. Through the cooperation with Huawei, this partnership with China grows even stronger."
Leveraging the power of the digital platform is critical for organisations and government bodies that want to grapple with the impact of technology disruption, and the opportunities that transformation offers for innovation, efficiency, and competitive differentiation.
[1] https://www.linkedin.com/pulse/huawei-power-platform-glen-gilmore/