The adoption of hybrid cloud accelerated the development of new business models, experiences, and efficiencies across all industries. Indeed, the public cloud underpinned the first wave of digital transformation in the last decade, providing developers and IT operations with a differentiated cloud experience—as well as the speed and agility to build, learn, and scale new apps and capabilities—while also greatly simplifying IT services.
For good business reasons, more than up to 50% of applications and data remain on-premises in data centers, colocations, and edge locations, according to 451 Research. This is due to issues like data gravity, latency, application dependency, and regulatory compliance. Furthermore, while the data explosion and new ML/AI apps continuously generate massive amounts of new data, the presence of data gravity, latency, and application dependencies prevent enterprises from realizing full value from that data.
While there are many compelling reasons to keep applications and data in non-public cloud locations, the other reality is that owner-operated data centers have their own set of challenges. According to industry analysts (Gartner, Uptime Institute and 451 Research):
By 2025, 80% of enterprises will close traditional data centers in search of a better solution to support their operations.
Approximately 50% of data center outages result in significant revenue, time, and reputational damage, which is quite significant and concerning.
Approximately 57% of businesses believe that efficiency and sustainability are critical to competitive differentiation.
To address these challenges, many organizations are turning to the data center colocation facility providers who lease out data center space and infrastructure offerings such as power, network bandwidth, physical security, and cooling. Here are several factors that organizations consider when moving to a colocation services model:
Data centers play an essential role in the digital transformation of organizations when looking through the lens of the IT footprint, particularly where technical debt or capacity issues get in the way of effective transformation.
Legacy data center facilities are not designed for higher-density workloads and struggle to meet cooling requirements, while in some cases the data center is not ready to accommodate modern technology platforms. Also, difficulties in managing service level agreements (SLAs) may arise.
Enterprises and other organizations are becoming increasingly concerned about the environmental impact of data centers, which can consume significant amounts of power and, in many cases, water.
Resiliency and cost are core considerations, but sustainability is increasingly an area of concern where data center colocation providers can make a huge difference. For example, by utilizing advanced technology, sourcing renewable energy, and evaluating environmental impacts when selecting sites, providers can save potential users from having to undertake this massive commitment.
To eliminate technical debt, organizations are increasingly implementing a service delivery strategy based on hybrid or multi-clouds.
Enterprises can use the environmental footprint as a criterion for determining where to place workloads in the coming years, in addition to more traditional criteria such as cost and performance.
The data center colocation service provider offer the benefits of a public cloud-like experience, while providing their customers with full control of their IT. This relieves customers of the capital expenditures and burden of running a data center on their own premises.
Adopting the right partnership
The notion of gaining public cloud-like benefits from running compute in a colocation model can be taken even further through the right partnership. Working with trusted partners with experience, capabilities, and the right advisory and professional services can help organizations form, adopt, and run new data center facility operating models, from on-premises to off-premises, and including edge to cloud footprints.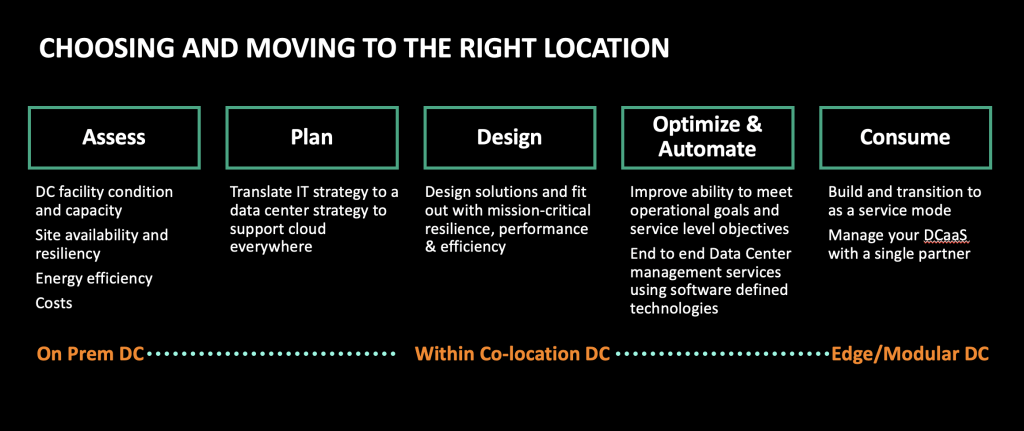 HPE
Clearly, there is a void here that many organizations are attempting to fill. What's needed is a holistic approach, a modern mindset, the ability to integrate solutions, and best practices to guide the data center stakeholders through the new wave of digital-era business requirements, including sustainability objectives related to climate change.
Furthermore, organizations need execution capabilities and experience from a trusted partner who can guide them through their end-to-end data center transformation journey. The partner can provide modern edge-to-cloud experience as-a-service to assess the customer's current state and future state requirements, and then plan, design, and build their future data center facilities on premises and off-premises. This includes providing multi-year hosting and operational service to achieve operational goals and service levels while minimizing operational burden.
Here are a few steps that organizational leaders can take to help drive the data center transformation journey.
Analyze the current data center environment and its suitability to meet business and technical objectives in a holistic manner
Identify solutions and services that cover the entire data center lifecycle, including current state assessment, future state strategy and planning, design services, construction and commissioning services, data center management and operations services, and facility-hosting service offerings
Focus on filling any skills gaps as well as capability and capacity issues that your organization may have to meet its business needs
Strive to improve business continuity and disaster recovery by migrating to a contemporary colocation data center facility
Consider how to achieve regulatory compliance standards without making a large initial investment.
One organization that used this approach competes in the automotive industry as a major car manufacturer with global operations. The company had specific business imperatives such as reducing data center costs by at least 20% over the next five years, reducing data center footprint and electricity consumption by 50%, transitioning to a colocation facility, and switching to a predictable cost model in coming years.
To make these ideas a reality, execs signed a multi-year contract with a trusted professional services partner and colocation provider to design, build, and maintain the data center facility infrastructure. The partner serves as a single point of contact (SPOC) for data center as-a-service, with clearly defined SLAs and an innovative hosting service pricing model.
This can be taken a step further with solutions for all your workloads specifically designed to dovetail with your colocation strategy. You can start small and go as big as you want. You can start with a single cabinet and grow it to full cages. The range of workloads that you can run in an as-a-service contract can support heavy-duty, mission-critical workloads like SAP S/4 HANA and database as-a-service, or cloud services for containers, virtual machines, high-performance compute, virtual desktop infrastructure, data protection, and much more.
If you're thinking about strengthening your cyber defences (and who isn't, given the ongoing wave of ransomware attacks), many offerings are all about security, protected by server security and infrastructure security solutions.
In addition, an as-a-service approach can help you achieve your sustainability goals. Because it's pay-per-use, you're not wasting energy and cooling by running equipment that you're not fully using, or that you've bought even though you won't need it for a while.
In short, colocation is great. It's even better with an as-a-service platform for all your workloads.
For further information regarding HPE Data Center Facility Hosting Services, download our Service Brochure.
___________________________________
About Mohammed Safder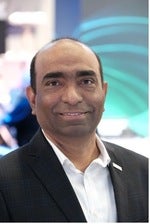 Mohammed Safder is a global business services segment manager, HPE Pointnext Services. He is accountable for solution incubation, commercialization and life cycle management of high-value services and solutions.