Despite a push for automation across businesses of all kinds, the compliance review process for medical, educational, and promotional materials created for healthcare professionals and patients remains largely manual.
As an increased number of drugs are being launched, a proportionately higher number of promotional assets are being created. This high volume of promotional assets, combined with limitations in reviewer skills, can result in an increased time to market. Also, performing repeatable review checks manually can lead to increased costs. Given the growth in the volume of digital content being produced, life sciences companies need a digitized, enterprise-grade approach to prevent errors and accelerate compliance review.
Fortunately, with the right review and approval processes in place, these companies can document every step and publish all the information they need in a timely, compliant fashion.
Why governance is critical in medical review
Medical, legal, and regulatory (MLR) review refers to the process by which life sciences companies make sure that their promotional and advertising materials comply with internal and external regulations and guidelines. This process is non-negotiable for life sciences companies to get their marketing materials to the stakeholders, medical science liaisons, patients, and healthcare providers.
Effective and efficient MLR review processes can be set with a focus on governance and processes right from the beginning. The review framework needs to represent every group involved in the content strategy. The framework also needs to define the systems and processes to manage and review the content. Finally, with therapies becoming increasingly personalized, companies can no longer count on catering to a mass market.
All this creates a demand for a modular content strategy, and a review process flexible enough to manage narrowly tailored content needs.
How the power of cloud can help
Biotech and pharma companies are increasingly turning to technology to manage the robust creation and review processes required for their content. Both established and emerging life sciences companies can benefit by creating a strong content foundation with digital asset management systems.
With a dedicated MLR system, these companies can move beyond the complex paper processes of the past and keep the reviews flowing even when the reviewers are not always at the same location. The solution can use native AWS services, such its Relational Database Service and Elastic File System for storage requirements. It also can be extended to leverage AWS native cognitive services, such as Amazon Textract, Rekognition, and Comprehend. These services are scalable and can process complex tasks, such as text extraction, optical character recognition, and natural language processing.
TCS can provide a critical integration layer, via PromoRev – an AI- and machine-learning-enabled, cloud-based, insights-oriented platform for MLR review optimization. Our secured platform can be integrated with digital asset management systems, helping organizations to accelerate the MLR review cycle time.
MLR reviews have always been crucial for life sciences companies, and this is not going to change. However, the days of executing them on paper, spreadsheets, or PDFs can now be a thing of the past. By embracing a purpose-built MLR review system on cloud, life sciences companies can better manage the process and scale it to make it more efficient as the business grows.
Author Bio 1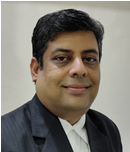 TCS
E-mail: anand.singh@tcs.com
Anand Singh is an enterprise architect and senior consultant at TCS Business Transformation Group. He has over 24 years of experience in architecting digital solutions leveraging data, analytics, and artificial intelligence. He holds a bachelor's degree in Electrical Engineering.
Author Bio 2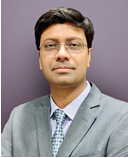 TCS
E-mail: nitin.kumar@tcs.com
Nitin Kumar is the Global Head of Data & Analytics at TCS, BTG. Prior to the current role he was the Chief Digital Officer for the LifeSciences vertical at TCS and was responsible for multiple focus areas within the vertical such as Digital, Analytics, IoT, Digital Marketing etc. He has extensive experience of more than two decades in architecting domain led solutions, innovation driven technologies and large program management.
Author Bio 3

TCS
E-mail: mk.patel@tcs.com
Mihir Patel leads business solutions for LifeSciences and Healthcare in TCS' AWS Business Unit. With more than 20 years in TCS, he has led many strategic customer engagements globally and provided key solutions to address clients' needs. His specializations include enterprise architecture and cloud technologies.
To learn more, visit us here.