There are certain truths to be had:
92% percent of organizations have a multi-cloud strategy¹
82% of large enterprises have adopted hybrid cloud¹
37% of enterprise spend more than $12 million on cloud computing annually¹
70% of digital transformation initiatives miss their objectives, often with profound consequences²
CIOs continue to seek "hybrid cloud nirvana"
Migration is a constant
While perhaps not a truth, experts predict that beyond 2022 there will be less focus on multi or hybrid cloud initial adoption, and more focus on matching workload to the right environment. Why? To cater for continued flux, growth, scalability, security, and cost control. All of that before we even think about managing data.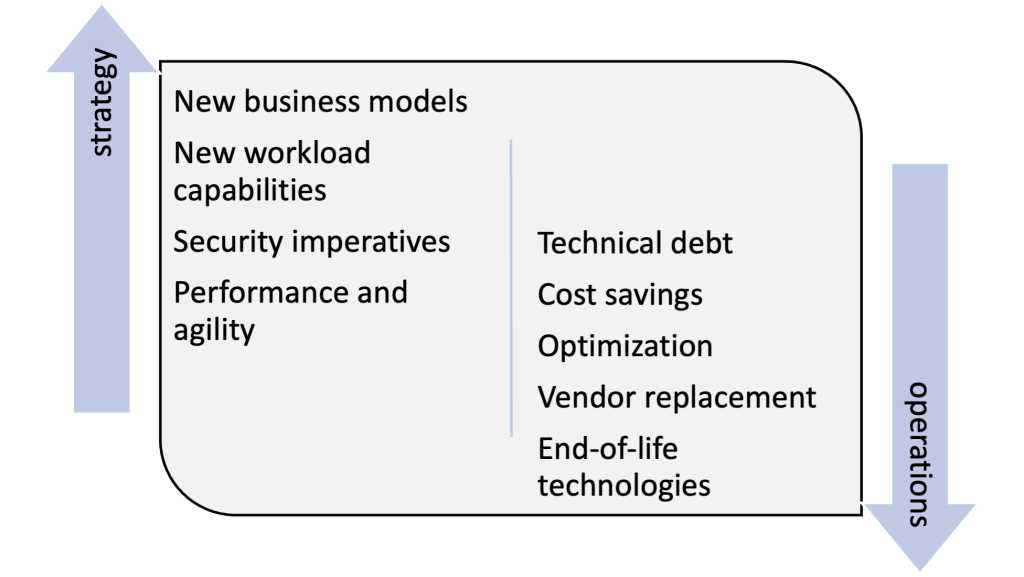 HPE
Figure 1: Triggers to migrate and modernize can be found across the organization and can come from either side: Strategy, Operational, or a mix of needs, driven by the desire to innovate and optimize.
I'd like to widen the migration pool here. A migration in the IT context can be defined as a change in location of application systems or moving data from one environment to another. Broadly, there are four categories of migrations, which are identified as use-cases in Figure 2:
HPE
Migrating workloads can involve several steps that require a thorough planning effort, spanning different functions across the organization such as application developers, IT operations, business operations, and cyber security. But wait: a workload migration project can also involve multiple sub-component level migration workstreams for each infrastructure or software component that constitutes the workload.
The key questions to ask include the following:
How do I move applications and data without impacting customers and users?
What is the best deployment model for my applications and data?
What should I consider in "People, Process, and Technology" to ensure a successful migration?
Q1: How do I move applications and data without impacting customers and users?
As soon as customers and users come into the picture it is essential to identify the reason for migration with business goals. Reflecting back to my initial list of truths, a core reason for hybrid or multicloud migration is a lack of preparation at the business level regarding what it means to have cloud as an IT provisioning platform.
The business case should be built on the competitive advantages (or the organization's mandates), operational efficiency, and both direct and indirect cost savings. It's easy enough to say "cloud" or hybrid cloud, but, without a unifying strategy, migrating to or towards cloud can just add complexity and operational impediments.
Q2: What is the best deployment model for my applications and data?
Consistency across their platforms is hardly a priority for the major cloud services providers. In the same way, the cost promise of cloud is a broad-brush concept that isn't necessarily met uniformly or even at all. Identify suitable workloads for migration, which means the importance of each application is the starting point. Next: identify the ideal platform for the application and why? Critical applications are not only notoriously the most difficult to move, but they support business operations, revenue, and profit, meaning many executives wince at the thought of migration.
A consistent infrastructure helps reduce migration challenges, which in turn enables organizations to move workloads at a much faster rate, should it be needed. The balance between applications and the appropriate platform for each, matched with portability modernization, means constant and ongoing workload rebalancing. Consistent infrastructure is better suited to consistent applications with a "build once, run anywhere" application architecture, whereas migration capabilities deliver two-way movement, as needs and business circumstances determine, subject to vendor capabilities or penalties!
In terms of migration approach, the secret sauce involves automating as much as possible and using a data-based approach in the planning and selection process. This can drastically reduce migration timelines by integrating and streamlining many parts of the process. Your approach should also include tooling for estimating migration costs. A "Right Mix" approach consists of setting a timeline with targets for migration, using software ranging from infrastructure-discovery tools, which can locate and map business processes and actions into vendor workload placement software, to automated questionnaires. Such questionnaires are meant to collate business process data and provide a way to accurately plan a migration. They can be completely agnostic regarding cloud, co-lo, or platform provider, or weighted to follow a predefined business strategy. The idea is to find the best execution venue for workloads after collecting all the relevant data automatically and make decisions based on parameters set by the business.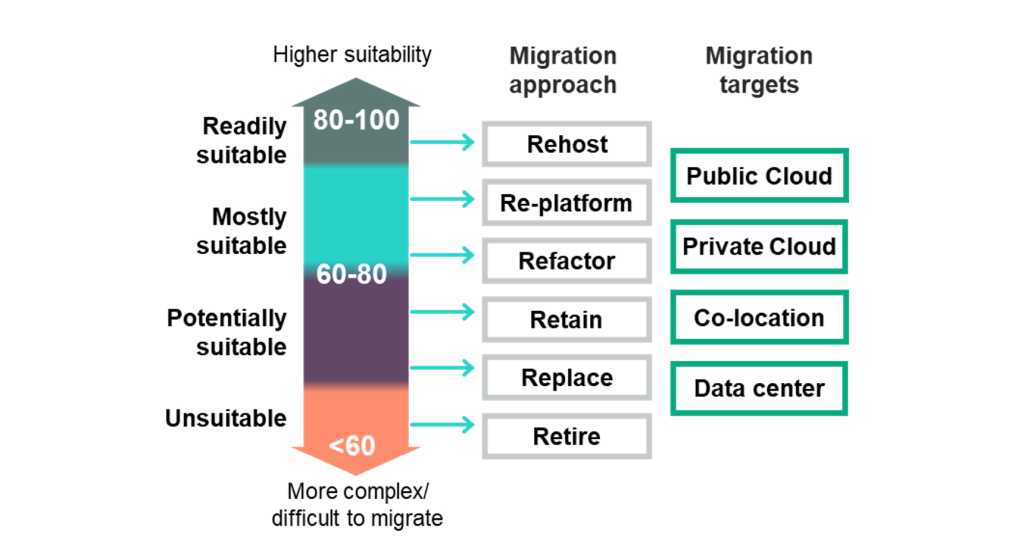 HPE
Q3: What should I consider in "People, Process, and Technology" to ensure a successful migration?
The compatibility of source and destination platforms and the selection of migration tools can impact the speed and cost of migration efforts. Enterprises have typically moved the easy stuff first, like email or CRM, for which there are very mature SaaS platforms. The remaining challenge involves untangling and trying to modernize the rest of their infrastructure or workloads.
Making an effective case for a migration project depends heavily on citing the right justifications, and those justifications are anchored in people, process, and technology aspects. The considerations should include a broad base of priorities, such as:
Agility, scalability, engineering development, and innovation as well as the geographic footprint of the business or its customers
Cost optimization and the cost benefits of workload migration in business optimization terms, such as business system availability, shorter time-to-market or project times, IT and technical flexibility, and heightened security
Meeting compliance requirements in highly regulated industries
Optimizing data center space, including attitudes and strategies around sustainability
Technical debt, perhaps twinned with a lack of server provisioning agility, plus increased reliability and availability

HPE
Diagram: illustrates migration criteria and impact comparisons from different stakeholder groups, mapping criteria to a level of confidence
Utilizing analysis tooling that assesses functional and operational impact is a great way to go. The results can then be plotted onto an "ease vs impact" graph to determine workload migration in appropriate waves.
Where does that leave us?
With the right plan, customized to your circumstances and using a tried-and-tested, standardized process, along with a steady, experienced hand at the tiller, your workload migration is more likely to be a painless process, while modernizing your IT operating model, capabilities, and business propensities. Choosing the right partner is as important as any of the criteria already I've laid out. Question them. Question their experience working with critical workloads. And question their methodologies.
Learn more about how to successfully migrate your workload here.
¹https://www.flexera.com/blog/cloud/cloud-computing-trends-2022-state-of-the-cloud-report/
²https://www.bcg.com/publications/2020/increasing-odds-of-success-in-digital-transformation
___________________________________
About Ian Jagger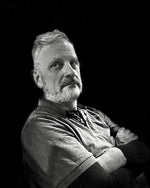 Jagger is a content creator and narrator focused on digital transformation, linking technology capabilities expertise with business goals. He holds an MBA in marketing and is a Chartered Marketer. Today, he focuses on digital transformation narrative globally for HPE's Advisory and Transformation Practice. His experience spans strategic development and planning for Start-ups through to content creation, thought leadership, AR/PR, campaign program building, and implementation for Enterprise. Successful solution launches include HPE Digital Next Advisory, HPE Right Mix Advisor, and HPE Micro Datacenter.