---

What goes into making a computer understand the world through senses, learning and experience, as IBM says Watson does? First and foremost, tons and tons of data.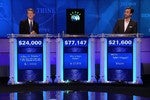 How did IBM's Watson get to where it is today? Here are some key events that happened along the way.
IBM may have originally built Watson to win at Jeopardy, but it saw potential applications in healthcare early on.

The next release of OpenStack made its debut on Thursday with a raft of new features for better scalability and resiliency.

What is it like to be a data scientist? Here's what three people currently on the front lines had to say.

Aug. 25 may be Linux's official birthday, but Oct. 5 is in many ways the day it began to make a real mark on the world.

Achieving balance between work and home life is an ongoing challenge for professionals across industries, but it turns out the IT world is doing pretty well in helping to make it happen.

It's been nearly two years since President Obama created the U.S. chief data scientist role, and the man currently in the job had an urgent message Thursday for attendees at Strata+Hadoop World: We need you.
Hard on the heels of the discovery of the largest known data breach in history, Cloudera and Intel on Wednesday announced that they've donated a new open source project to the Apache Software Foundation with a focus on using big data...
Big data is in many ways still a wild frontier, requiring wily smarts and road-tested persistence on the part of those hoping to find insight in all the petabytes. On Tuesday, IBM announced a new platform it hopes will make things...
Robots' potential to take over the world is a commonly expressed fear in the world of AI, but at least one Turing Award winner doesn't see it happening that way.
Load More
Newsletters
Get the best of CIO delivered to your inbox. Sign up for our FREE newsletters.