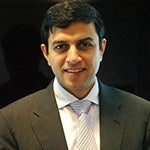 2021 Winner Profile
Jumeirah Group
Sanjay Sharma
COMPANY WHERE WON: Jumeirah Group
AWARD DETAILS:
Since joining the Jumeirah Group of hotels and resorts in 2019, Sanjay Sharma has been on a campaign to increase and enhance digital services to customers, who have increasingly high expectations for instant, always-on amenities. The hotel group itself has grown to encompass 24 Jumeirah-branded properties in eight countries, employing more than 13,500 colleagues.
Both new and existing markets have been identified for expansion across Middle East, Europe and Asia with the vision to make the brand truly global. To support this strategy, Sharma has led the group to rearchitect its IT infrastructure, which now includes a data lake, to support a variety of new services such as an eButler application, which allows guests to interact with the Hotel team in their preferred language over their preferred social channels, including WhatsApp, WeChat, and Facebook Messenger. The application enables guests to communicate with the Jumeirah team to request room service, book spa treatments, request housekeeping services, make dinner reservations, or book future stays.
The redesigned Jumeirah.com website, meanwhile, offers some unique features which are first of its kind in the hospitality industry, including guaranteed connected rooms aimed at addressing the needs of families, and integrated influencer reviews for guests who are looking to book premium products.
LOCATION: UAE
INDUSTRY: Travel and Hospitality Industry