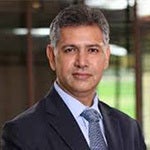 2021 Winner Profile
Evercare Group Management
Sumit Puri
RANK: #21
COMPANY WHERE WON: Evercare Group Management
AWARD DETAILS:
Based in Dubai, the Evercare Group operates 29 hospitals, 3,000 beds, 76 primary care and diagnostic centres, and employs 10,500 people across India, Pakistan, Bangladesh, Nigeria and Kenya. With a broad mandate for change and meeting the health challenges posed by COVID, Group CTO Sumit Puri launched a Coronavirus remote support and monitoring initiative in a timely and effective manner.
The launch helped Puri and his team significantly enhance patient safety by monitoring them remotely in the new work-from-home environment. A telehealth app allowed resident doctors to monitor clinical parameters on daily basis, helping provide 24/7 support and reducing the risk of infections considerably.
Otherwise, the IT team is implementing an enterprise-wide ERP platform on the cloud across India, Nigeria, and Kenyan businesses, to ensure employee learning and collaboration, financial revenue assurance and supply chain consolidation. They are working to leverage Oracle Enterprise Performance management to track financial and operational metrics to enhance business performance, and the Oracle EBusiness suite for financial and supply chain integration across the enterprise.
LOCATION: UAE
INDUSTRY: Healthcare Industry