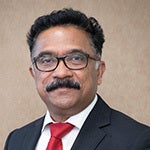 2021 Winner Profile
Aster DM Healthcare
Veneeth Purushotaman
COMPANY WHERE WON: Aster DM Healthcare
AWARD DETAILS:
Starting in early 2020 and continuing through the pandemic, Aster DM Healthcare Group CIO Veneeth Puroshotaman fundamentally revamped services by rolling out "OneAster", an omnichannel platform which allows patients to decide on the channel (mobile phone, patient portal, hospital websites or even a call to the Call Centre) they want to use. Whichever channel they choose, they have access to the same information.
The platform runs on Microsoft Azure Cloud with an FHIR compliant central database and third party connectors over RESTAPIs to ensure all data remains secure, while ensuring an open standard platform. The platform has gone live in India and Aster is now working on the UAE rollout to have Aster Hospitals, Clinics and Pharmacies all connected by the end of 2021.
The crucial challenge presented by the COVID crisis involved getting healthcare professionals access to patient data remotely — which had not been done due to compliance issues. Aster therefore created separate VPN tunnels for access to the Hospital Information System hosted on premises. Ultimately, the pandemic played the role of an accelerator, fuelling adoption of applications like tele-consult, tele-radiology, remote patient care, remote ICU as well as wearables and IOT devices to monitor health.
LOCATION: UAE
INDUSTRY: Healthcare Industry