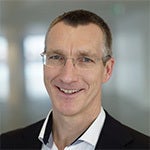 2021 Winner Profile
Abu Dhabi Airpots
John Barton
RANK: #1
COMPANY WHERE WON: Abu Dhabi Airpots
AWARD DETAILS:
During the COVID-19 pandemic, John Barton, CIO of Abu Dhabi Airports, led several initiatives that not only responded to immediate needs but also made fundamental changes to the organisation's operations. A major project involved AI technology that was implemented across airport operations to optimise passenger movement and avoid crowding.
The AI system assesses the capacity of the airport at any given moment based on known flights and booked passengers and by using footage and data from cameras and sensors. It calculates when passengers are due to arrive and, to avoid crowded halls, can advise airport staff how many check-in desks, security lanes, immigration counters, and retail kiosks to have open at any given time. The technology was introduced to enable social distancing but has helped Abu Dhabi International Airport optimise queue control to enhance the passenger experience.
Another major project was focused on developing a community app: the "ONE" App. It enables coordination and facilitates the management of the airport, for example allowing airport personnel to issue and receive alerts for a variety of issues, including changes in departure gates or tasks relating to the runway.
LOCATION: UAE
INDUSTRY: Transportation and Logistics Industry