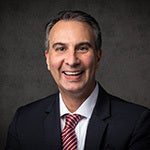 2021 Winner Profile
American Hospital Dubai
Ahmad Yahya
RANK: #3
COMPANY WHERE WON: American Hospital Dubai
AWARD DETAILS:
As with other IT professionals in healthcare, American Hospital Dubai CIO Ahmad Yahya had to work closely with business leadership during the pandemic. As the hospital's digital transformation journey extended into the COVID crisis, they put more emphasis than ever before on added-value and outcomes for patients, service efficiencies, and risk avoidance.
Too much attention to the digital side of things — and not enough to human impact and transformation of culture — does not work, according to Yahya. "It's not a technology challenge, it's a leadership one", Yahya says, regarding the management of large initiatives.
The management team had to gain the staff's trust mainly by keeping their welfare at the core of how they managed the crisis, understanding their concerns and having empathy. While this is always the case, Yahyah notes, it is especially true during times of crisis.
LOCATION: UAE
INDUSTRY: Healthcare Industry