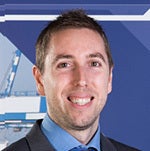 2021 Winner Profile
Abu Dhabi Terminals
Arturo García
RANK: #5
COMPANY WHERE WON: Abu Dhabi Terminals
AWARD DETAILS:
During the early phase of the pandemic, Arturo Garcia, Chief Automation Officer for Abu Dhabi Terminals, was tasked with spearheading a work from home program, overseeing a COVID tracking plan for employees and contractors, and assuring that the company's business continuity plan aligned with the particular issues brought about by the pandemic.
Excluding some operators, mechanics, and security personnel, the company has 100% of their employees working remotely. These remote workers include management, information technology, finance, commercial, human resources, and operations control center personnel.
They were easily able to transition to remote work due to the high level of automation of operations and that had previously been put into place as the IT team evolved company infrastructure and architecture. ADT is the only container terminal in the world which has been operating remotely for more than nine months. In addition, Garcia had led the charge to invest in cloud technology, which was very crucial in supporting remote operations when the pandemic struck.
LOCATION: UAE
INDUSTRY: Transportation and Logistics Industry