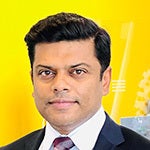 2021 Winner Profile
DHL Express
Praveen Sashi
RANK: #6
COMPANY WHERE WON: DHL Express
AWARD DETAILS:
During the past year, Praveen Sashi, Senior Director of IT & Logistics and Regional Head of Digitalisation for DHL Express, has focused on pitching digitalisation ideas to the company's global stakeholders including the global board, to obtain endorsement for major IT investments and proposals.
Sashi thinks success in this sort of effort comes down to a few basics and due diligence. First, it's important to ensure that adoption of any technology is aligned to a business priority. Secondly, tech leaders must ensure that proper feasibility studies are done. A key issue is to analyse how the proposed investment will deliver returns or benefits.
This process was key to DHL's launch, at the beginning of the year, of a major regional e-commerce platform.
LOCATION: UAE
INDUSTRY: Transportation and Logistics Industry