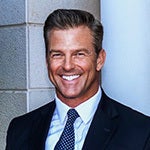 2021 Winner Profile
KAUST University
Jason Roos
RANK: #8
COMPANY WHERE WON: KAUST University
AWARD DETAILS:
Just under two years ago KAUST University launched a new function within the organization that is solely focused on utilizing the KAUST community and technology infrastructure as a living laboratory for smart city digital innovation and experimentation.
This program, steered by CIO Jason Roos, is called "KAUST Smart" and operates essentially as an innovation garage or skunk works whereby community members, staff, students, and other volunteers can come together to tackle challenges.  This is done by going through a design thinking process that ultimately leads to a prototype build and deployment within the KAUST ecosystem.
Once these experiments are determined to be viable, the product/solution is refined and tested further until it is ready for a formal pilot and ultimately developed into a commercially viable product.
LOCATION: KSA
INDUSTRY: IT Training