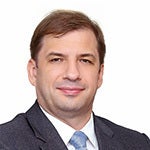 2021 Winner Profile
First Abu Dhabi Bank
Yuri Misnik
RANK: #9
COMPANY WHERE WON: First Abu Dhabi Bank
AWARD DETAILS:
Yuri Misnik, Group Chief Technology Officer at First Abu Dhabi Bank, has recently led his team on a transformational journey focusing on revamping their core technology foundations, the way they are structured and the way they work, both within the technology team as well as with the rest of the bank.
A key element of FAB strategy has been to systemically embed technology innovation within the organisation's DNA in order to turn IT into a main competitive differentiator. An example of how they have been doing that is through the bank's cloud-first strategy.
FAB is the first bank in the UAE and potentially in the region with a clearly defined public cloud-first technology strategy. The bank believes that cloud technology is a key enabler. Thanks to its inherent modularity, it allows the bank to more quickly respond to the rapidly evolving needs of their customers. Working on a cloud platform allows the IT team to adopt and roll out new applications quickly, test new functionality, and also lets the bank to simply be prepared to deal with unexpected changes along its innovation journey, Misnik says.
LOCATION: UAE
INDUSTRY: Financial Services Industry