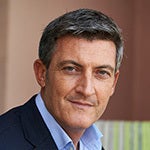 2021 Winner Profile
Atlantis The Palm
Anthony Lynsdale
RANK: #11
COMPANY WHERE WON: Atlantis The Palm
AWARD DETAILS:
One of the new developments that resort Atlantis The Palm and its VP of IT, Anthony Lynsdale, are most proud of is the development of a Resident Market Mobile Loyalty App – "The Atlantis Circle." This application was developed in collaboration with Atlantis' marketing team as well a local partner using the Hyperledger Fabric blockchain platform.
The Atlantis Circle is a bespoke mobile-app-based dining loyalty programme. Atlantis rewards its customers with a food and beverage discount starting from 15% for Blue, 25% for Silver and up to 30% for Gold members.
Those who download the app can make use of their discounts, redeem rewards, check out the latest offers, see the history of their receipts, and make all of their bookings at the click of a button. Atlantis already has 21,442 members with an average of 250 new members signing up per week. Repeat guest visits across all three tiers is around 38%.
LOCATION: UAE
INDUSTRY: Travel and Hospitality Industry