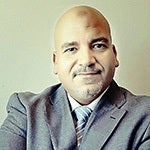 2021 Winner Profile
IKEA KSA and Bahrain
Mohamed Mousa
RANK: #12
COMPANY WHERE WON: IKEA KSA and Bahrain
AWARD DETAILS:
While IKEA KSA/Bahrain has decided that doing business on the internet is a must, they are aware of security issues. As Group Chief Information Security Officer, Mohamed Saad Mousa's mission is to introduce measures to make cyberspace a safe place for e-commerce. IKEA is considered one of the most well-known retail brands in the world, and one of the IT team's most important jobs is to keep the brand and logo, as well as customers and emplyees, secure.
Another challenge, especially during the pandemic, is to stay agile in order to meet changing needs and expectations. Accordingly the culture of the IT department has been changed, to introduce DevSecOps as a new project methodology, which in turn changes the way that the company deals with IT projects.
The new methodology was crucial during lockdown, when IKEA closed stores and the business moved to give an in-store experience to customers remotely, with the launch of a virtual store enhanced by virtual reality cloud-native technology. The project was completed in two weeks.
LOCATION: KSA, Bahrain
INDUSTRY: Retail Industry