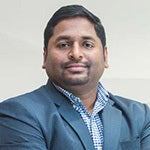 2021 Winner Profile
Petrofac
George Eapen
RANK: #15
COMPANY WHERE WON: Petrofac
AWARD DETAILS:
As CIO of Petrofac, George Eapen's many objectives since taking on the job at the beginning of 2020 was to not only drive cost and process optimization, but also to make offshore workers feel more a part of the company team.
COVID, meanwhile, made staff-wide communications more important than ever. To meet the need, the Petrofac IT team developed the Petrofac Go mobile app, ensuring that all employees get current information in a timely, easily accessible manner.
To drive efficiencies in business processes, other projects have included leveraging RPA to build a Quality IAP (Inspection Assignment Package) bot that downloads relevant documents pertaining to specific purchase orders, validating and collating relevant information in SharePoint for further processing to inspection agencies. RPA is also being used for a "BuyBot" designed for supply chain management, automating repetitive tasks to provide more time to focus on core procurement and value-added activities.
LOCATION: UAE
INDUSTRY: Energy Industry