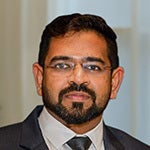 2021 Winner Profile
Emirates Specialty Hospital
Antony Vimal
RANK: #16
COMPANY WHERE WON: Emirates Specialty Hospital
AWARD DETAILS:
The IT department of Emirates Specialty Hospital came under intense pressure during the pandemic as they were the only private hospital in Dubai Healthcare City to perform in-house COVID 19 PCR (polymerase chain reaction) tests. As such, the hospital was expected to handle huge crowds with the usual staff. .
As IT director, Antony Vimal led a number of projects to meet the challenge of handling patient intake and all follow-up communications. Robotic process automation was key to dealing with the influx of work. RPA-based tools allowed hospital staff to quickly register and bill 14,000 patients in a short time.
The IT team also helped take a 250-bed hotel and essentially convert it into a hospital to manage COVID patients, struggling to extend all services remotely. Communications were enhanced by building services that for example, sent reports to patients via SMS along with the capability to download all related data. The services were based on the Laravel concept, using a web framework following the model–view–controller (MVC) architectural pattern.
LOCATION: KSA
INDUSTRY: Healthcare Industry